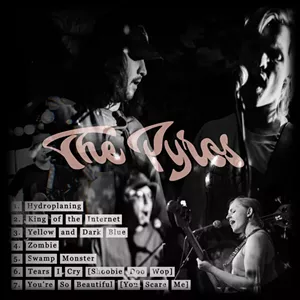 Courtesy
The Pyros, The Pyros
(Self-released, digital)
Let's start 2021 with an ending — specifically, that of Burlington rockers the Pyros. Alas, the band has unceremoniously called it quits. But before fully extinguishing themselves, last week the Pyros left fans with a pair of new releases: a self-titled LP and a companion album of live material, The Basement Tapes.
Front person and creative mastermind Steven Yardley is perhaps best known for his custom "Jammbulance," a retrofitted vintage ambulance turned mobile concert venue, which he operated, pre-pandemic, at small festivals and other live events. In an email to Seven Days, Yardley sounded wistful yet confident in the band's decision to move on — fortunately, most of its members will still be around in other local bands. With a string of quirky music videos and three solid releases under their belt, the Pyros have plenty to be proud of.
Still, what's saddest about the band's demise is its short tenure. Because the Pyros were only active for three years — actually just two, since 2020 didn't count — they didn't have quite enough time to figure themselves out. Were they a nouveau indie-rock outfit? A subversive pastiche of '60s garage and doo-wop? Something too eclectic to be pigeonholed? The Pyros' seven tracks consistently bring new ideas to the surface, each worthy of further exploration.
Slow-jam opener "Hydroplaning" is a tempered, unflinching song about feeling out of control. The gentle interplay between Liz Stafford's bass and Yardley's guitar ebbs and flows with grace and precision, solidified by Evan Raine's committed drumming. Starting the LP in power-save mode gives subsequent cuts greater impact.
"King of the Internet" interjects stinging jabs of elastic guitar chords atop 8-bit synth and old-school Super Mario Bros. coin-collecting blips. Using dated electronic sound effects in a song about contemporary internet culture is deliciously ironic and nods to the simplicity of the e-cultures that came before the hot mess we have today. The track is a bold move forward for the Pyros, a particle-accelerated collision of arena rock and electro influences.
Most of the other tracks align more closely with the scrappy garage rock of the band's 2019 Christian Mingle EP. But even in familiar territory, Yardley and co. find ways to push the sound forward. "Swamp Monster" dips a toe in psycho-surf waters, while "Tears I Cry (Shoobie Doo Wop)" is a sloppy-on-purpose ditty that sounds like it came from some kids too cool to join their square counterparts at the ice cream social and sock hop.
More bands should take the Pyros' approach to throwing in the towel. The Basement Tapes gives listeners a snapshot of what they were in the live setting, but The Pyros encapsulates all that they strove to be.
The Pyros is available to stream on Spotify.