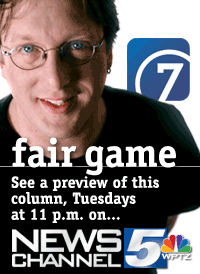 To understand why former Gov. Howard Dean didn't get a plum job in President Barack Obama's administration, look no further than the unfolding health care reform debacle. Health and Human Services Secretary Kathleen Sebelius — who holds the post for which Dean seemed destined — is no Dr. Dean.
After months of touting the need for a publicly funded and run health care "option" to keep spiraling health care costs under control, the president and Sebelius are now saying such a public option isn't critical to reform.
Riiight. The private sector is doing such a great job holding down costs and offering coverage to everyone. Even in Vermont, Blue Cross Blue Shield thought it was perfectly OK to hand its retiring CEO a $7.25 million golden parachute.
Enough to make you sick, eh?
Don't tell the insurance company about the nausea you feel when you hear of such payoffs, er, payouts. They might consider that a pre-existing condition.
A publicly run health care plan would offer people a choice if they lose insurance — or never had it to begin with — and put an end to high-deductible plans that reject people with pre-existing conditions. And if you like your current insurance plan, you can keep it, whether you're a Congressperson or a working stiff. No one is being forced to sign up for the public plan.
Either way, Congress may force everyone to buy insurance. That means, without a public option we'll be driven into the arms of the private insurance market — a scenario that boosted stock prices for the nation's for-profit, publicly traded health care firms last Monday.
On the same day, Dean made the national talk-show rounds, advocating for a public option as part of any reform effort.
The former guv told "Fair Game" that a public option is crucial to keeping costs down because it forces the private sector to compete with a public plan modeled after Medicare and health care programs for veterans.
"I think the public option will be in the final bill. The president knows this is the essential part of his reforms," Dean told "Fair Game" on the same day he appeared on NBC's "Today Show" and "The Early Show" on CBS.
Meanwhile, the South Burlington-based Democracy for America — founded by Dean and now run by his brother Jim Dean — sent an alert to its supporters calling for health care reform. The email declared, "A Healthcare bill without a public option is D.O.A. in the House. Period."
DFA touted a list of 64 House members who have stepped up to say they would reject any health care reform measure that didn't include a public option plan.
Rep. Peter Welch is not among DFA's "Heroes," although he did cosponsor the public option plan that made it into the final House version of the health care bill. He said he makes a point to never voice whether he'll vote for, or against, a bill based on a single provision.
Picky, picky.
The Vermont Way? — When it comes to discussing health care reform, Vermonters are more interested in constructive debate than joining the circus.
Last weekend, Sen. Bernie Sanders hosted forums in Rutland and Arlington, and hundreds of people turned out. A third is scheduled for Sunday in the Northeast Kingdom town of Peacham.
But while Vermont excels in debating how to improve the nation's health care system, is it a model for the nation in terms of making that change happen?
A new book, Gridlock: The Unhealthy Politics of Health Care in Vermont, claims Vermont's efforts to date — chronic disease management, Catamount Health, information technology improvements — have done little, or nothing, to cure the state's health care ills. And the authors know of what they write: The book was penned by Dr. Deb Richter, of Vermont Healthcare for All, and Con Hogan, Human Services Secretary under both Govs. Dean and Richard Snelling.
Richter and Hogan argue that incrementalism — the Vermont-favored approach and the one Congress appears to be taking — won't cut costs or cover the uninsured. Vermont has the numbers to prove it. From 2004 to 2007, health care costs increased an average of 7.4 percent per year, according to figures developed by the Vermont Department of Banking, Insurance, Securities and Health Care Administration. The national average was 6.5 percent per year. Tens of thousands of Vermonters remain uninsured, despite the publicly subsidized private health care option Catamount Health.
In 2007 Vermonters spent $4.2 billion on health care in Vermont — nearly $7000 per man, woman and child. That's up from $3.84 billion in 2006. I think the curve is headed in the wrong direction.
Richter said she sees the casualties of this injustice every day at her practice: patients putting off treatments or procedures because they can't afford the high deductibles associated with their health plan — if they have a health plan. They come to her sick, and in some cases, already dying.
"Talk about a death panel," said Richter, "this is about as bad as it gets."
The Peace Dividend — After 37 years, the American Friends Service Committee — aka the Quakers — is shutting down its Vermont office on Montpelier's Main Street.
The decision to close the state office came from the group's regional headquarters in Boston, according to Keith Hurley, the AFSC's regional director, in response to a 50 percent drop in funding for the international organization.
Each AFSC office has a committee of volunteers that guides its work. The Vermont one is "going to stay in place," said Hurley. "In a year or two when finances improve, we'll look at bringing some staffing back — maybe not full-time, but it's my goal to continue a presence in Vermont," he added.
For now, the September closure means a fixture in Vermont's peace and justice circles — Joseph Gainza — is out of a job. In fact, Gainza is currently on a two-week, unpaid furlough.
Despite closing the office, AFSC is giving $3000 to help Gainza and his volunteer committee continue work on a nonbinding referendum for 2010 Town Meeting Day. It calls for the abolition of nuclear weapons. Gainza will also continue to work — as a volunteer — to promote the rights of migrant farm workers in Vermont.
This comes at the same time the Burlington-based Peace & Justice Center has announced plans to focus more of its energies on social and economic justice issues. But the organization won't abandon its peacenik roots, assures Executive Director Nancy Lynch.
Gainza plans to convene a meeting next month with the Peace & Justice Center, and others, to talk about the future of Vermont's peace movement.
"It's unfortunate," said Gainza, "especially given that President Obama is getting us into a deeper quagmire in Afghanistan."
So much for the peace dividend.
Two Out of Three — Vermont's Progressives were on the defensive most of last week after issuing a three-part ultimatum for Democratic candidates for governor in the next election.
The Progs said they'll only support a candidate who backs single-payer health care, will protect workers and the unemployed, and will vote against relicensing the Vermont Yankee nuclear power plant in 2012. If no such Dem emerges, they're talking about running one of their own. Yikes!
"I don't think that we were clear enough about our tone, or our intention with this whole thing," said Martha Abbott, chairwoman of the Progressive Party. She said much ado was made over the statement. The missive was not a slap at the two Democrats who have already broken bread with the Progs, nor a threat.
Abbott said the Progs aren't itching to run someone for governor in 2010.
"The last thing I want to do is mount a statewide campaign in this economy," she said. "It will not be easy to raise money, and we would love to find a candidate to champion our issues and issues that are important to Vermonters."
The question is: Are Democrats willing to take them up on their offer?
To date, Sens. Susan Bartlett and Doug Racine have met with the Progs, but not Secretary of State Deb Markowitz. And, unless the Progs ask her, she says she doesn't plan on meeting with them.
Progressive-turned-Independent-returned-Progressive Anthony Pollina was on Vermont Public Radio's noontime call-in program "Vermont Edition" Friday, claiming that Markowitz's refusal to reach out to Progs was a "bad attitude."
Maybe it's just awkward for Vermont's "elections chief" to ask a political party not to run a candidate in a contest she herself will be in. After all, she regulates them.
Markowitz Goes Shopping — Easy does it: I'm not making a sexist remark about a female pol trying to find a new set of pumps or power suit.
Gubernatorial hopeful Markowitz — who raised a rather remarkable chunk of cash in the first half of this year — is looking for a full-time, professional campaign manager.
Word is she's getting help in her search from EMILY's List and others.
Markowitz said the decision to bring in a professional campaign manager is no indication that she's lost faith in the dynamic duo that has been working for her: Jason Powell and Reid DeWolfe. They have more than proven themselves. Example? You don't raise nearly $200,000 from 1000-plus people in less than six months by calling a few friends.
"They have done a stellar job for me so far," said Markowitz of the pair. "We need to build and expand on that good work because it's going to take a strong team with experience to beat a politician like Jim Douglas."
After all, the guy's been doing little else for the past 30 years.
Phoenix Rising? — Word on the street is that buyers are lining up to purchase what's left of the Eagle Times, the Claremont, N.H.-based daily that closed down earlier this year.
The paper covered a number of towns in southeastern Vermont, and the Eagle Times also published several weekly papers in Vermont.
Two suitors are preparing bids as the paper's owner heads into bankruptcy court. A new owner could be up and running by September, according to a story in the Brattleboro Reformer.
Meanwhile, Denton Publications, the former owners of the now defunct Vermont Times, is bankrolling the resurrection of one of the weeklies.
The Message of the Week was one of the smaller pubs shuttered when the Eagle Times owner declared bankruptcy. Two writers — Joe Milliken and Robert Smith — have joined forces with Denton to launch The Messenger.
Based out of Bellows Falls, the paper will cover communities throughout southern Vermont, and will even circulate as far north as Rutland. Who says print is dead?
Police Probe Flanagan Charges — State Sen. Ed Flanagan is now under criminal investigation for allegedly masturbating in front of patrons in the Men's Wellness Center at the Greater Burlington YMCA.
"Fair Game" first reported the incident last month, when YMCA member Tiki Archambeau filed a complaint about Flanagan with Y officials. "Fair Game" also talked to other patrons who had witnessed bizarre behavior on Flanagan's part. The former state auditor has denied the charges, but apologized for anything he did while naked that may have been misconstrued by others.
A formal complaint about Flanagan's behavior was filed with Burlington Police last Friday.
Contacted by "Fair Game," Archambeau said he had spoken to an investigator from the Chittenden Unit for Special Investigation on Tuesday afternoon. He declined to elaborate on the nature of the CUSI investigation.
Flanagan's membership was suspended during the Y's investigation. Flanagan said he plans to find another gym and never return to the Y. Numerous calls to the senator about the criminal probe were not returned by press time.
The YMCA has declined to say publicly whether it has completed its investigation — nor will it share any details when the inquiry is over. A formal police probe has the potential to be more illuminating. It could reveal whether Flanagan's behavior is connected to the traumatic brain injury he suffered in 2005 — an injury that some observers fear may be affecting his judgment.
But a criminal investigation is not likely to help Flanagan's chances of winning higher office, let alone reelection.
Got a news tip? Email Shay at shay@sevendaysvt.com
Click here to follow Shay on Twitter.