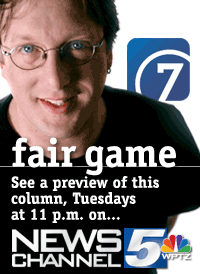 There's no end to the outrage over University of Vermont President Dan Fogel's severance package, with fresh criticism coming from Gov. Peter Shumlin and other prominent politicians under Montpelier's Golden Dome.
"When you treat pay packages and salaries more like corporate America than what we used to know about academic America, then you are making it unaffordable for Vermont kids," Shumlin said during a live call-in program on Thursday evening, July 28, on Vermont Public Television.
Perhaps Shumlin can use his position as an ex officio member of the board of trustees, and his ability to make appointments to that group, to curb UVM's appetite for outsize salaries and big buildings.
To that end, House Minority Leader Don Turner (R-Milton) suggested lawmakers should pay "closer attention" to UVM's budget requests during the next legislative session.
In 2009, arguably the worst year of the Great Recession, Fogel not only refused to take a pay cut as many other public officials in Vermont did, but he and the trustees doled out $265,000 in bonuses to top administrators, including himself. In all, UVM's six-figure execs earned $900,000 in bonuses between 2006 and 2009. At the same time, Fogel laid off dozens of employees, froze the pay of others and cut baseball from UVM's sports program.
In response, Turner tried to withhold $900,000 in federal stimulus money for the university until UVM reversed course and accepted high-level pay cuts.
Turner's effort was thwarted as a result of heavy lobbying by fellow lawmakers and UVM supporters. Turner eventually backed off, and chided UVM from the House floor, instead.
From a distance of two years, Turner explained, "I went off and focused on other things, given the assurance that the message had been received. Now this happens, and I'm not so sure." He believes it might be time to revisit the tradition of having legislators on the UVM board of trustees: Nine of the 25 are elected lawmakers.
"I just don't know how you can objectively make decisions when you're also sitting on the board and agreeing to these compensation packages," said Turner. "It doesn't make sense to me that we're laying off people, and UVM is cutting budgets, and yet we approve this fat compensation package and then agree to pay him for 18 months after he decides to leave."
The legislators who officially weigh in on UVM matters are Reps. Bill Botzow (D-Bennington), Carolyn Branagan (R-Georgia), Joan Lenes (D-Shelburne), David Potter (D-North Clarendon), Kesha Ram (D-Burlington) and Donna Sweaney (D-Windsor); Sen. Jeanette White (D-Windham); and former Democratic Reps. Christopher Bray and Harry Chen. Bray and Chen are no longer in the House, but their terms on the UVM board have not yet expired.
Gov. Shumlin gets to appoint three people to the board, each for a six-year term. He reappointed Frank Cioffi earlier this year. Cioffi, a "Democrat for Douglas" and then a "Democrat for Dubie," was first appointed by Gov. Howard Dean — an actual Democrat. The terms of the other two gubernatorial appointees — developer Jeff Davis and banker Mark Young — don't expire until 2013 and 2015, respectively.
Which ones approved Fogel's golden parachute on July 20? Chen, Sweaney, Botzow, Branagan, Bray, Cioffi, Davis, Lenes, Potter and Ram. Although White attended the board meeting, she left before the unanimous vote was taken.
The group opted to give Fogel an additional five months of paid leave and benefits, which means he'll earn roughly $35,400 per month over the next 17 months. That includes a housing allowance to cover the $2000 monthly mortgage payment on his $1.2 million lakeside property in Colchester. And, no, neither UVM nor Vermont taxpayers hold an equity stake in the home, despite all the payments we've made toward it over the past nine years.
While Fogel gets $35,400 per month, the trustees are asking some of UVM's lowest-paid workers to accept a three-year contract that will net them a whopping 1 percent raise over the course of three years.
Maintenance workers represented by United Electrical Radio and Machine Workers of America Local 267 may also have to contribute more to their health care premiums. If they don't opt for early retirement by July 1, 2012, their future retirement payouts could be reduced.
The union and UVM negotiators have been at an impasse for about three weeks. "This was probably the worst bargaining session we've had, and I've been at this for 10 years," said Carmyn Stanko, president of UE Local 267. Stanko has worked at UVM for 26 years.
"Every Vermonter should be outraged by his severance package," said Stanko. "That is not what Vermont is about. We don't get a $20,000 wellness premium, and every single one of us can talk about something in our life that has been difficult. If he's got a personal issue, why should that be paid for off our backs?"
Lorber's Launch
State Rep. Jason Lorber (D-Burlington) is about to make it official: He's running for mayor of the Queen City.
Lorber is the first pol to formally announce his intention to seek the city's highest office. Mayor Bob Kiss, a Progressive, has hinted he may run again, as has Republican Kurt Wright, who is both a state representative and a city councilor. Wright said he'll make a formal announcement in the fall.
Whether Lorber can secure the Democratic nomination remains to be seen. It's still very early, and Chittenden County State's Attorney T.J. Donovan has not ruled out a run for the mayor's job. Other mayoral hopefuls include Councilor Karen Paul (I-Ward 6) and State Sen. Tim Ashe (D/P-Chittenden). Rep. Mark Larson (D-Burlington) is out of the race; he was recently appointed to the Shumlin administration.
Lorber filed paperwork at the city clerk's office because he's already raised — or spent — more than $500 on the campaign. He's been holding "Backyard Brainstorms" to meet with Burlington residents, business owners and nonprofit leaders.
"I'm doing my homework," said Lorber, 44, who lives with his husband and 5-year-old son in Burlington's Old North End. "For now, my job is to engage in listening and form relationships across the city," he said. "I want to be able to hit the ground running, and that means understanding the city from the grassroots on up."
Lorber, who has an MBA from Stanford University, supplements his legislator pay by offering marketing and strategic-planning advice to businesses and organizations in Burlington and elsewhere. He's also a standup comedian. A few jokes sure could help lighten up Monday-night council meetings.
Lorber said his business and marketing background would allow him to help restore trust and fiscal stability to Burlington and "celebrate what makes Burlington unique."
God vs. Bernie
Republican State Auditor Tom Salmon has increased the number of missives he sends to state and national political writers challenging the rhetoric and effectiveness of Sen. Bernie Sanders (I-VT).
In an email to "Fair Game," Salmon said for now it's "in God's hands" whether he runs against Sanders or Gov. Peter Shumlin. He'll make a final decision after Labor Day, when former Lt. Gov. Brian Dubie makes his own political plans known.
A recent poll of 1200 Vermonters conducted by North Carolina's Public Policy Polling quantified Salmon's upstream battle against Sanders: In a head-to-head matchup, he'd lose by a whopping 34 points, 28-62.
PPP discovered that, of 85 senators, Sanders is the third "most liked." Sixty-seven percent of the people polled approve of the job he's doing. Just 28 percent disapprove. Damn.
PPP matched Sanders against seven other potential Republican opponents, and he bested them by anywhere from 18 to 39 points.
The closest competition was former GOP Gov. Jim Douglas, who trailed Sanders 56-38.
Douglas shouldn't feel too bad, though. In a primary contest between Sanders and President Barack Obama — in Vermont, no less — Sanders would lose by 19 points. Former Gov. Howard Dean would fare even worse, losing to Obama by 37 points.
I guess Vermont liberals are still holding out for that hope and change.
Blowin' in the Wind
Environmentalists were peeved by comments made by former fish and wildlife Commissioner Steve Wright in last week's "Fair Game." Wright was quoted as saying that the state's enviros were standing by while Lowell's ridgeline is being "blasted away into rubble."
Among them was Paul Burns, executive director of Vermont Public Interest Research Group. Burns also felt "Fair Game" should have given wind proponents more ink to balance out the piece.
To equate lowering the tops of Lowell's ridgelines by 40 feet with removing entire mountaintops to extract coal is unfair, said Burns.
"I think it is patently offensive to suggest that this is even in the same league [as] mountaintop mining removal," said Burns.
For many years, Vermont has exported its energy footprint to natural-gas plants in New York and Pennsylvania, as well as large hydro dams in Québec.
"It's a moral issue. We should be developing new sources of renewable energy that create as much power as we consume — right here in Vermont," said Burns.
VPIRG is a big proponent of wind power and claims Vermont could produce as much as 25 percent of its energy from roughly 145 turbines sprinkled across Vermont's ridgelines.
"That said, our position isn't all wind, everywhere, all the time," said Burns. "We support projects that are appropriately sited and go through the permit process. That doesn't mean there are no environmental impacts."
Burns empathizes with Northeast Kingdom residents who feel besieged by ridgeline proposals while power-hungry Chittenden County sees few, if any, in its backyard.