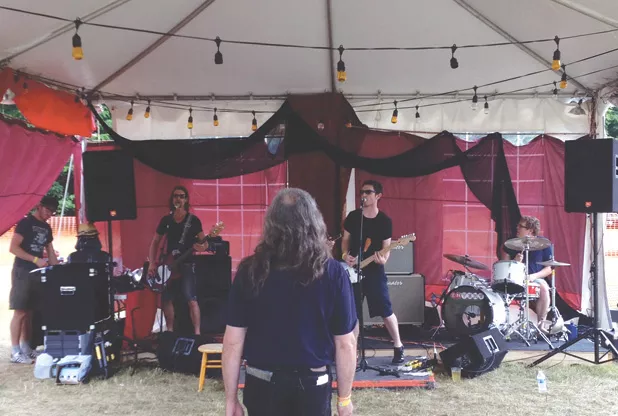 Tim Lewis watching Vetica
I don't know about you, but my head is still spinning from the unbelievable three days and nights of music that was the Precipice festival last weekend. (Also, my ears are still ringing, my feet are still sore, my bug bites are still itchy and my liver is still … er, never mind.)
Since departing the festival on Sunday evening, I've been attempting to distill my thoughts and feelings on the Precipice into some semblance of a coherent column. But I honestly haven't been able to, which I believe is a testament to just how spectacular and unprecedented an event it was. So here are my admittedly scattered observations from the weekend, presented pretty much unfiltered and in no particular order — and, due to space limitations, with some necessary omissions. There was far more great music last weekend than one li'l column can hold.
To any local T-shirt makers out there, I think we, collectively as a music scene, need a shirt that reads "BTV Rocks" and has a silhouette of the back of Tim Lewis' head laid over the text somehow — maybe in place of the "o." Anyone who's been around the local scene for a while knows there is no bigger fan or more ardent supporter of local music than Lewis. But he took it to a new level last weekend. Dude was seemingly everywhere, and I'm pretty sure he caught more sets than anyone, fest organizers included. In fact, if you told me he saw every single set at the fest, I'd believe you even though that's physically impossible. Here's to you, Tim.
I really dig Vetica. I caught the local alt-rock band at an afternoon Waking Windows set a few months ago and again for an afternoon Precipice set. Someone seriously needs to give those guys an evening time slot. Part of me feels like if they had been around in, say, 1998, they would have been one of the most popular bands in town. But that fuzzy slacker-rock sound still gets me going, and Vetica do it exceedingly well.
I've said it before and I'll say it again: Rough Francis' Urian Hackney is the most entertaining drummer in Burlington. Hell, he might be the most entertaining musician in town, period. Taking nothing away from the rest of the band — including lead singer and Seven Days designer Bobby Hackney — the youngest Hackney brother is simply a force of nature.
Heck, while I'm writing about bands with members in the employ of this esteemed paper — vocalist Diane Sullivan is also a Seven Days designer — the Dirty Blondes' set was a deliciously off-color treat. With so many bands investing in complex arrangements and dense instrumental setups lately, there is something refreshing about three-chord punk songs played well and clever, bluntly efficient lyrics delivered with a wink and snarl.
That said, holy fucking Ryan Power. While I enjoyed his recent solo foray into bizarro electro-karaoke, I've always preferred him with a full band, especially live. His new group is a perfect mesh of electronic and organic sounds. The music on his latest record, Identity Picks, is as complicated as anything he's ever released. But somehow his band not only manages to recreate those complex pop suites live, they do so with impressive energy and immediacy that makes for a truly compelling live show. In particular, their performance of "The Prize" was one of my single favorite moments of the whole weekend. (Another favorite: discovering that Power's guitarist, NNA Tapes founder Toby Aronson, stays in shape by doing workout videos in his living room. Awesome.)
As psyched as I am about their surf-rock side project the High Breaks, it was great to see Lendway play live again. Their Sunday afternoon set was the cherry on, well, the sundae that was the "Prec." It's been too long, guys.
By the way, we need to come up with a better nickname than "the Prec." We have a year to work on it.
Bella's Bartok, I don't know who you are or where you come from. (Actually, I do. Northampton, Mass.) But I think I love you. And don't let the inevitable comparisons between your bassist/co-front man Asher Putnam and Gogol Bordello's Eugene Hütz get you down. Around these parts, that's high praise. Also, I hear enough of a woozy ska influence in your particular brand of gypsy punk to render such comparisons relatively moot. Come back soon.
Speaking of energetic bohemians … Hey, Vermont Joy Parade! You guys are really fun. You oughta stick around a while! Or let me come hang out on your new bus.
Hey, Brett Hughes! Record something already. Sincerely, Monoprix fans.
If you asked me to bet on the next band to make some waves outside of Vermont, I think I'd have to lay my money the DuPont Brothers. I've long been a fan of Zack DuPont's solo endeavors. But as their beautiful Saturday afternoon set revealed, he and brother Sam have stumbled onto something special. Stay tuned.
I've stopped proposing to Miriam Bernardo in these pages, mostly because she keeps saying no and it was starting to get creepy. But if Steady Betty continue their remarkable progression, I might have to ask the entire band to move with me to Utah and live happily ever after in polygamous, rocksteady bliss. Joking aside, every time I see them, SB seem to have improved exponentially, and their set Friday was no exception. In fact, my big regret this weekend was being too exhausted to go see them open for the Slackers at Higher Ground on Sunday. By the way, the fact that I passed up a chance to see one of my all-time favorite bands, the Slackers, with one of my new local favorites, Steady Betty, should tell you just how much I enjoyed the Precipice.
Perhaps the real star of the festival was the venue itself. Descending the hill to the hidden field tucked away behind Burlington College was like entering a local version of the Secret Garden. Especially after dark, seeing the twinkle of lights dotting the landscape and being lured toward the mélange of sounds emanating from below was something close to magical. To wit, I ran into Higher Ground's Kevin Statesir on Saturday afternoon and I don't think I've ever seen him smile so broadly. He honestly couldn't stop talking about how cool the setup was. And this is a guy who knows a thing or two about outdoor music festivals — like, for example, Wilco's Solid Sound, Grace Potter's Grand Point North and Ben & Jerry's Concerts on the Green, among others that HG has a big hand in producing. Statesir hinted that HG might look into producing their own concerts at the field, which would undoubtedly be excellent. Here's hoping Burlington College doesn't do something silly in the meantime, like develop the space … ahem.
The early reports on attendance figures for the Precipice are that about 1000 people showed up over three days. That's twice what the festival drew last year at the Intervale, but about half of what organizers had hoped for. Still, it would be hard to call the Precipice anything but a success. And there is no reason to think that, should Lee Anderson, Sarah Grant and Joe Adler decide to go ahead with year three, the festival wouldn't continue to grow and draw more interest.
So congratulations and thanks to everyone involved in making the Precipice the most stunning weekend of local music … well, maybe ever. It was a truly special event …one of those unique happenings that make you feel lucky, even blessed, to live here.
Now, about that nickname…
BiteTorrent
Since I blew this entire column fawning over the Precipice, your regularly scheduled BiteTorrent news roundup will appear on the Seven Days arts blog, Live Culture. Check it out at 7d.blogs.com/liveculture.