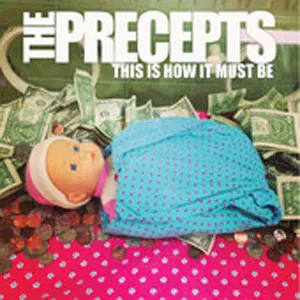 (Self-released, CD, digital download)
Hip-hop, as a genre, can be polarizing. Antagonists readily downplay its musicality and deride its lyrics, writing them off as promotions of chauvinism, crime and violence — and with some reason. Trap music and hip-hop club anthems are often vulgar, full of braggadocio, and can be downright tasteless. But that is not the case with any of the songs on This Is How It Must Be, the new album by Burlington hip-hop group the Precepts.
OK, so the spare curse word gets used here and there for emphasis. However, atop beats that are thoughtfully composed and arranged by longtime collaborators Jer Coons and Eric B. Maier, MC Devon "Learic" Ewalt raps with a remarkably informed range of literary, historical and pop-culture allusions. The Aztext cofounder and accomplished battle rapper has an amazing ability to play with language, letting rhythm and the sound of words guide his lyrics without ever abandoning the song's message and narrative. These narratives insightfully explore break-ups, the need to stay true to oneself against the demands of society, and broader questions of love and independence — all with the swagger of a hip-hop veteran.
The third track, "Dignified," demonstrates the thumbprint sound of the album. With a quintessentially philosophical lyrical topic, Ewalt rhymes, "Don't lose sight of the intangibles. / People are much more than what they own. / Of course you want a nice home, that's understandable. / But that's your residence. / Don't let your fear of living in the present tense take precedence over your better sense." Giving his words life, Coons and Maier lay down a catchy and uplifting beat that sways with pop simplicity as verse begets verse.
Mid-album, the MC's intellectualism and lyrical astuteness thrive on "Blood Into Wine." Here, Coons and Maier craft a slow-moving beat that sounds like latter-day Eminem, alongside which Learic ruminates on the contradictions of our national culture. To him, it is one that is simultaneously idealistic about upward mobility and brutal in the enforcement of its socioeconomic status quo. He observes, "We ask for music but never turn the jukebox on."
On "Remember," the Precepts lament, "I remember how it used to be, when everyone sang so truthfully." In some ways, This Is How It Must Be is a throwback to a more innocent and even wholesome era of hip-hop. The album weaves together universally themed and rhythmically adroit lyrics with well-crafted beats that often take a shape more similar to a pop tune than a hip-hop song. Blast this album with the windows down, inundating yourself with the carelessness of summer — for, as the Precepts say, "I don't need the good life, I just want a good ride."
This Is How It Must Be by the Precepts is available at iTunes.