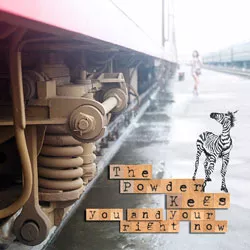 (Self-released, CD, digital download)
'Twas a muggy summer night in the city of Winooski, and tensions would soon run as high as the temperature. The scene was the Monkey House, a curious little watering-hole-in-the-wall in the heart of the Onion City's curious downtown. On the bar's small corner stage stood a scruffy troupe of wandering minstrels called The Powder Kegs. The capacity crowd anxiously awaited a blistering set of the twang-infused newgrass for which the group had become renowned. But then a funny thing happened. Not elegant uptempo acoustic picking but gritty electrified strains filled the beer hall. Rock music. Loud, hooky rock music caught the crowd off-guard, as if a sonic sucker punch. Spirits were crushed. Mellows were harshed. Hippies were dazed and, ahem, confused — more so than normal, even.
What unfolded that evening was the Phoenix-like birth of a power trio. And rising from the ashes of a (broken) string band, comes The Powder Kegs' terrific second album, You and Your Right Now.
The record opens with "Love Has Gone." Lead vocalist Ryan Dieringer croons earnestly over folksy acoustic guitar. If you didn't know better, you might think the remainder of the record would follow in pseudo old-timey suit. That is until the chorus, which explodes with a soaring electric guitar line doubled by fiddle. The transformation is abrupt, jarring and absolutely stunning.
The album continues in chameleonic fashion. Even when The Powder Kegs revisit their old-time roots, as on "Love in a Time of Terror" and "I Break for the Union," they infuse definitively rock influences, much like twang-pop contemporaries The Avett Brothers. While there is enough twang and down-home sensibility sprinkled throughout to sate Americana purists, You and Your Right Now is a pop record, plain and simple.
As is often the case in rock 'n' roll lore, the opening tale is a fable rooted in a modicum of fact. The Powder Kegs, long a darling of the Yonder Mountain/String Cheese set — especially when they summered in Vermont — did "plug in" that fateful night in Winooski. And while the event is hardly on par with say, Dylan going electric in Newport, according to those who were there, they were met largely with dumbfounded disapproval. However, in the wake of unrequited expectations and refund demands, a remarkable thing has emerged: one of the finer local(ish) pop-rock groups in recent memory. And the irrefutable evidence of that marvelous transformation is You and Your Right Now.