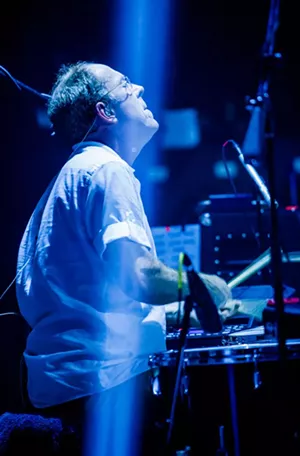 Courtesy Of The Pixies
David Lovering
Here's an interesting factoid about the Pixies. The band reunited in 2004, following an 11-year hiatus, and has been active ever since. That means that the Pixies, who formed in Boston in 1986 and broke up in 1993, have now been back together longer than they were initially a band.
What does that mean? We're not sure, exactly. But given that the band didn't release any new material until 2013's EP1, it might speak to the Pixies' incalculable influence that they were able to tour for so long solely on their iconic back catalog. The band's aggressive fusion of hard rock, psychedelia and surf was groundbreaking in its time and influenced bands from Nirvana to Weezer to Radiohead. They remain a cornerstone of modern alt and indie rock.
Last year, the Pixies released Indie Cindy, their first full-length recording since 1991's Trompe le Monde. It was a collection of the band's 2012-2014 extended play releases, EP1, EP2 and EP3. Indie Cindy was also the first Pixies album without original bassist Kim Deal, who left the band in 2013.
In advance of the band's show at the Flynn MainStage in Burlington on Thursday, May 21, Seven Days spoke with Pixies drummer David Lovering. We asked him about the latest record, the band's legacy, Deal's departure and his own interesting side gig. (Spoiler: magic!)
SEVEN DAYS: I obviously want to ask you about the Pixies. But first things first: How did you become a professional magician?
DAVID LOVERING: If you had told me years ago before I became one that I'd be a magician, I would have rolled on the floor laughing. But, years ago, when the Pixies broke up and I had a lot of free time, my friend Grant-Lee Phillips, who is a fellow musician and also a magician, brought me to a magic conference in Los Angeles. I didn't think much of it going in, but I saw a magic trick that just blew me away, and I was hooked. I couldn't explain it. So I bought every book and video. I joined the magic council, took classes. I slept on a deck of cards. Then I started doing shows at parties and developed a stage show.
SD: Which is more challenging, magic or music?
DL: You've heard the phrase "the starving musician," which is true. Well, I can write the phrase, "the dying magician." It's hard to make a good living at it.
SD: But you did, at least to a degree. How did you develop your magical persona, the Scientific Phenomenalist?
DL: I just did what is me, basically. I'm kind of a science geek. So it's all physics experiments and science experiments and blurring the line between science and magic. And I did that for a number of years. I opened up for the Pixies and the Breeders. I toured with it, opening for other bands, and brought it to Europe. But with the Pixies back together, and we've been so busy, and I'm also a dad of a 6- and a 3-year-old, I think the Pixies pay more of the bills. So that's more of the priority now. But I'll still do some tricks, close-up magic, maybe after the show backstage or at the bar. And that's my favorite, because it's much smarter and more personal.
SD: When you're drumming with the Pixies, you're kind of buried back there behind the kit. But with magic, you're the star of the show. So is the performing rush different?
DL: It's interesting. The first show we ever played as the Pixies, back in Cambridge, Mass., probably in 1985 or '86, I was nervous. I think everyone was. It was just us and, like, 10 people, who were all our friends. But since then, after however many shows and in front of however many people, it doesn't matter and I don't get nervous. But when I did my first magic show, it was in front of 10 people, and I never sweated so much in my entire life. And the more I've done it, it's given me a confidence.
SD: The Pixies released Indie Cindy as three EPs. What was the thinking there?
DL: 2011 was the seven-year mark of the Pixies reunion, which started in 2004. And we were shocked, because that was a longer run than we were a band originally. It was also a kick in the pants that we should do something new. So we started discussing an EP, maybe four songs, which we tried to record secretly. But after a year we had a whole album. So we thought, Let's try to surprise people and just release a few songs here and there. So we released EP1, which doesn't suggest anything. Then EP2 comes, then EP3. It was funny, because I just figured Indie Cindy would be EP4.
SD: Was it surreal to be in the studio together after so long?
DL: It was like nothing had changed. The only difference was the medium, going from analog to digital. The work itself was different, more convenient and faster. Other than that, it was four of us in a studio again, like nothing had changed.
SD: You were the one who suggested the band could go on without Kim Deal. Was that a difficult decision to make?
DL: We had recorded about five songs when Kim left the band. And all we could really do was go into a state of shock and wish her well. There was nothing else to say. It was a tough day or day and a half where we just didn't know what to do. We just were going to call it quits. But we agreed to continue on and finish it, and we did.
SD: You write a lot of the set lists for Pixies shows. Are you conscious of finding a balance between playing the new stuff and still giving fans the older stuff you know they want to hear?
DL: We have about a 70-song master list that we can play live. We can't play all of them great live, but we've got a mess of songs. [Laughs.] You obviously know what songs the fans want to hear. And I also know you can't just jam the new stuff down their throats. So the idea is to create a flow between new songs and older songs where no one feels shortchanged.
SD: It sounds like you approach it from the perspective of a fan.
DL: Absolutely. They want to hear us for a reason, and they want to hear those old songs, and maybe some of the new stuff, too.
SD: Do you ever think about the legacy of the Pixies and the influence the band has and continues to have?
DL: That's a hard question, and I can never really answer it. But I understand it. I think it was at Coachella during the 2004 reunion and there was this sea of kids who weren't even born when we started, yet knew all the words to the songs. And I think other bands have turned them on to us. And that's a nice thing, which is really all I can say.
SD: Charles [Black Francis] has written some pretty crazy tunes over the years. Has he ever brought anything to the band that even you guys thought was too out there?
DL: Not really. Even this record, Indie Cindy, there was a lot of trepidation because a lot of people were going to judge it. It was the first record we've done in a long time, so we knew we had to set the songs ourselves and be democratic about it. And there were some that didn't go on the album, which always happens. But we've never turned him down on anything.
SD: Indie Cindy was the first Pixies album released in the internet era, when feedback is immediate and not always pleasant. Did some of your trepidation stem from how shitty a place the internet can be?
DL: A little bit, I think. But we were able to do the record ourselves, which was entirely because of the internet. I think we're learning to use the internet as a tool ourselves, like everyone else.
SD: You started the Pixies in your twenties. If fiftysomething you could go back and give twentysomething you one piece of advice, what would it be?
DL: Good one. Maybe just to loosen up. I think I was a little bit of a prude back then.
SD: So I went through your Wikipedia page and found a couple of things that struck me as kind of funny and/or maybe not true. The first was that "Make Believe," the "Velouria" B-side on which you sang lead vocals, was about your obsession with Debbie Gibson. True or false?
DL: True! I actually got a note from Debbie Gibson about it fairly recently, in fact.
SD: Well played, Wikipedia. The other one was that you turned down an invitation to join the Foo Fighters. True or false?
DL: That one's a little mixed up. I think I was in the running, but I don't think we actually met or talked. I think Dave [Grohl] was interested, but that's all I can really remember about it.
SD: Last question: Why does the Pixies material have such staying power?
DL: The only explanation I can give is that I just think the songs are good. It's hard for me to judge if they stand up, playing them night and day and having known them since they were born. But they seem to, and I never get tired of playing them night after night. So I guess they're just good songs.