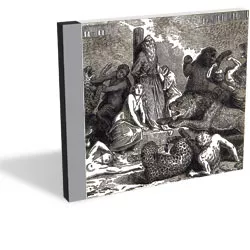 (What Doth Life, CD)
If you had to guess where the next great Vermont musician's cooperative might come from, what town/city/gore would you choose? Burlington, in all its artsy Queen City glory, would seem the obvious choice. You could make a case for Montpelier, as well, even post-Langdon Street Café … sigh. But my guess is that the next awesome crew of likeminded songwriters and rockers won't emerge from the state capital or Vermont's most populous city. Instead, keep your eye on Windsor, and newish collective/label What Doth Life.
That's right. The supposed birthplace of Vermont, original state capital — free history lesson, kiddos — and sleepy Upper Valley town might just provide Green Mountain music fans with the next local rock boom. Proof: Nobility by Windsor-based power trio the Pilgrims. It's actually the 13th project released by WDL, but the first to make it to the Seven Days music desk. The verdict: Keep 'em coming, Windsor.
The brisk, six-song EP is a rollicking, punk-tinged rock-and-roll introduction to a surprisingly vibrant rock scene off I-91. The disc kicks off with "American Eyes," which grabs hold with unabashed '80s rock swagger and doesn't let go. Vocalist Chris "Rusty" Goulet has a meaty, high-toned delivery that well suits his band's no-frills, torn-denim aesthetic. His interplay with fellow guitarist Davis "Daggers" McGraw proves he's a capable axeman to boot.
The Pilgrims don't blow you away with virtuosic chops or life-altering lyrical profundity. But what they do, they do very well and without apology. "Pearl Street Blues" is straightforward pop-punk sneer. I want to compare it to a track by cheeky 1990s pop-punk band Nerf Herder, but that wouldn't do WDL justice. The tune has a similarly light, snarky attitude, but the Pilgrims seem a touch rougher around the edges — especially on the gloriously singsong line "Fuck you, I'm moving to Canada."
The Pilgrims are certainly informed by 1980s and '90s alt-, punk and indie rock. But they rise above simply rehashing dated sounds to produce something both current and reverent — and often irreverent. "Snowstorm," a goofy love song, sounds like what might happen if Joe Jackson replaced Rivers Cuomo in Weezer. "Skint Cats" follows a similarly offbeat tack. "Butter" closes the record with bouncy, rockabilly snarl.
Nobility is short and sweet. But if the rest of the What Doth Life scene is anything like the Pilgrims, northern audiences will need to make their own Windsor pilgrimages very soon.
Nobility by the Pilgrims is available at whatdothlife.com.