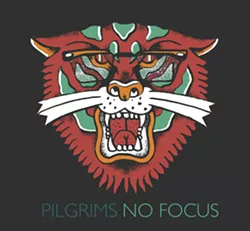 (What Doth Life, digital download)
I don't know what makes a record feel "American." Perhaps it's an aesthetics thing — though I've always associated it with a populist tinge to songwriting. It's an illusion, of course; American rock can be anything from Kiss to Fishbone. But, for better or worse, when I put on the Pilgrims' new record, No Focus, I Mellencamped in my head. That is, I immediately murmured, "Ain't that America?"
To be fair, I might be influenced by the presently dire state of the ol' US of A. So, too, are the Pilgrims. On "KimPossible," for example, vocalist Chris Rosenquest proclaims, "Time after time, I'm fucking miserable." There's trouble around every corner on No Focus — lost loves and hipsters and dying cities and slide guitar.
No Focus is the Windsor band's third album. And it's got its sound down. Guitarists Kiel Alarcon and Chris Goulet are locked together. The rhythm section of drummer Chris Egner and bassist Brendan Dangelo provides a muscular, driving backbone. Rosenquest has a grainy gravitas to his voice, not unlike Steve Earle in both delivery and intelligent, heart-on-sleeve lyrics.
The playing is great, and the production is exceptional — the latter thanks to Future Fields engineer Jer Coons. The songwriting is mature and thoughtful. But there's something missing. No Focus feels like Paul Westerberg's first solo record. All the talent was still there, but you wanted the fucking Replacements. The Pilgrims feel agonizingly close to making a leap. No Focus isn't quite it, but there are moments that suggest it's coming.
You can hear it on songs such as "The Millenial Whoop." The standout is a scathing riposte to baby boomers' love of blaming American decline on their offspring and their kids. It features some of Rosenquest's strongest moments. "Haha, you thought you'd make it?" he mocks with honest fury.
"Barely Alive" is another tantalizing highlight. The band stomps hard over dystopian lyrics: "This city keeps us barely alive / when it falls, we are buried inside."
There's just one last, short yard to go for the Pilgrims to cross the goal line. No Focus is a solid record. But I'm greedy when it comes to bands that possess more potential than they consistently show — especially knowing how good they are live.
No Focus by the Pilgrims is available at pilgrimsvt.bandcamp.com. They play the Monkey House in Winooski on Friday, March 10.