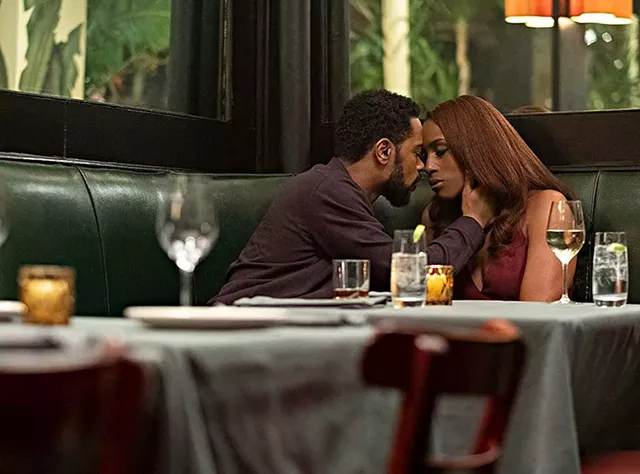 PICTURE PERFECT Stanfield and Rae make a glamorouspair in Meghie's multigenerational romance.
If romantic comedies are having a moment right now, romantic dramas are largely a thing of the past, a subgenre woefully dominated by Nicholas Sparks adaptations. Yet there was a time when earnest adult romances were big business, with people flocking to watch, say, Bette Davis and Paul Henreid falling in glamorous love in Now, Voyager (1942).
Nowadays, the closest equivalents to those films (such as Todd Haynes' Carol) tend to be relegated to the art house, where their makers often embrace a pictorial, trance-y aesthetic. So it's nice to see a wide release for writer-director Stella Meghie's The Photograph, a movie that embraces the old model of romance while giving it a modern arty sheen. Its characters are adults with adult baggage. Its mood is wistful but not pessimistic, much like the smooth, soulful jazz on the soundtrack. While its themes never quite gel, the film still offers a pleasant escape from real life.
The plot unfolds in dual narratives, each involving lovers. In the present, journalist Michael (LaKeith Stanfield) spots a radiant, youthful image of a celebrated photographer named Christina Eames (Chanté Adams) while on assignment in Louisiana. Back in New York, he seeks out the late Christina's daughter, museum curator Mae (Issa Rae), and the two begin dating.
These scenes alternate with flashbacks to the 1980s, in which we watch Christina make the fateful decision to leave rural Louisiana and her first love, Isaac (Y'lan Noel), to pursue her dreams in the big city. The photographer was always more wedded to her work than to her family, we're told. Cautious and guarded in romance, her daughter may be repeating the pattern, yet Mae and Michael have palpable chemistry. Can they overcome obstacles of their own making?
Those obstacles are human-size, not Hollywood-size, as is the pair's courtship. Their first-date conversation is smart and relatable, and their doubts make sense; when passion sweeps them away during a hurricane, we know it won't solve all their problems.
By contrast, the 1980s scenes have an impressionistic, montage-y feel, suffused with an almost generic romantic regret. Their most interesting element is the relationship between Christina and her mother (Marsha Stephanie Blake). Yet the parallel relationship between Mae and Christina remains underdeveloped.
These two threads of The Photograph — romance and mother-daughter issues — end up competing more than they reinforce each other. Meghie seems to want to explore the price of choosing an artistic career — especially for women — yet we don't learn whether Mae shares Christina's ambition or suffered from her neglect. In this generation, it's Michael's career that poses a threat to the budding romance. As a result, those compelling questions about work and love never really land.
If The Photograph fails to cohere on a thematic level, the soundtrack and the performances hold it together. Adams gives Christina a powerful presence despite her underwritten character, while Stanfield and Rae generate convincing sparks. Lil Rel Howery offers the film's only real comic relief. Rob Morgan, who was so powerful in Just Mercy, shines again in what's essentially a cameo as the older Isaac. In his brief screen time, he conveys Isaac's intense regret at not being able to follow Christina, but also his reasons for staying.
As a Valentine's weekend affirmation of love, The Photograph works. Yet sometimes it feels like a moodier, more difficult film — closer to a Moonlight — forced into a romantic mold. Either way, this glossy, old-school love story offers a welcome reminder that cinematic romance doesn't have to be cute.