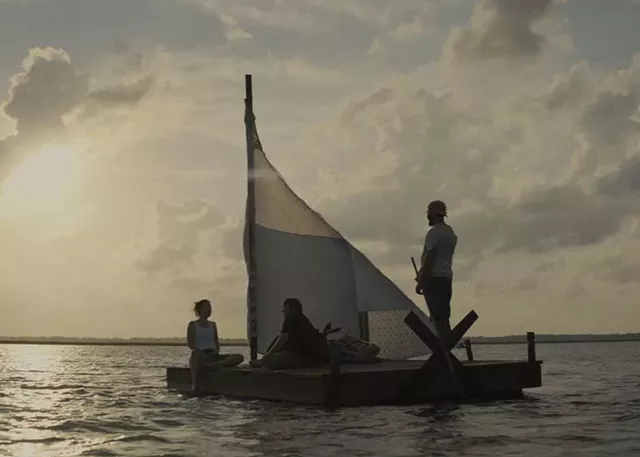 SENTIMENTAL JOURNEY Nilson and Schwartz's first feature about an unusual friendship is best when it floats with the tides.
The marketing for The Peanut Butter Falcon calls it "set in the world of a modern Mark Twain." That would be fine — the mismatched heroes do travel by raft — if the screenplay didn't drive the point home by having a character draw the Twain comparison, too. The homespun whimsy is there, but the sharp edges are not. With a rambling, feel-good plot and meditative banjo strumming on the soundtrack, this first feature from writers Tyler Nilson and Michael Schwartz won the Audience Award at the SXSW Film Festival. It may gesture at literary forebears, but it's a modern indie movie through and through.
The Peanut Butter Falcon is at its best when it simply lets the unlikely, touching friendship at its center unfold. Zak (Zack Gottsagen) is a 22-year-old with Down syndrome who dreams of being a pro wrestler like his idol, the Salt Water Redneck (Thomas Haden Church). With no family, he sits dejectedly in a retirement home — but not for long.
With the help of his crafty roommate (Bruce Dern), Zak makes a break for it. Wandering the beaches and wetlands of North Carolina's Outer Banks, he stows away on the boat that petty criminal Tyler (Shia LaBeouf) is using for a getaway.
A mumbly string bean with a temper, Tyler is grappling with grief, poverty, shiftlessness and a guy he wronged (John Hawkes) on his tail. He initially tells Zak to get lost, but when he sees the young man getting bullied, he can't help sticking up for the underdog. Zak has a winning smile and something Tyler lacks: a goal.
The filmmakers deserve plaudits not just for casting an actor with Down syndrome but for writing his character as a person instead of a poster child. (Neither of those choices should be notable, but they are.) Outgoing and likable on screen, Gottsagen has a natural rapport with LaBeouf, who seems perfectly at home in the seedy Southern setting. When Zak admits to Tyler that he can only visualize himself as the heel, and Tyler urges him to be the hero, the moment of uplift feels genuine.
As long as these two are just shooting the breeze, The Peanut Butter Falcon has an easygoing charm that recalls Mud. But when it tries to hit traditional story beats, it runs aground. The biggest misstep is the treatment of Eleanor (Dakota Johnson), the caseworker sent by the home to retrieve Zak.
Indie movies about male friendship need to move past the Obligatory Girl character who's basically there to giggle and be charmed by the bromantic antics. (This pattern goes all the way back to Butch Cassidy and the Sundance Kid.) Nilson and Schwartz give Eleanor a monologue that indicates they know she needs to have a mind of her own, but once she's said her piece, she goes back to mostly being an adoring audience.
This movie doesn't need supporting characters to tell us how awesome the leads are. Nor does it need an Obligatory Dramatic Climax that falls flat because the filmmakers don't seem to know how to move from there to the last frame. So many indies pivot on the tension between fantasy and reality — will Zak achieve his wrestling dream or fall flat on his face? While some filmmakers go dark and others go light, this movie cops out by just ending. It's a sweet piece of Americana, all right, but it goes down too easy to be a Twainian tall tale.