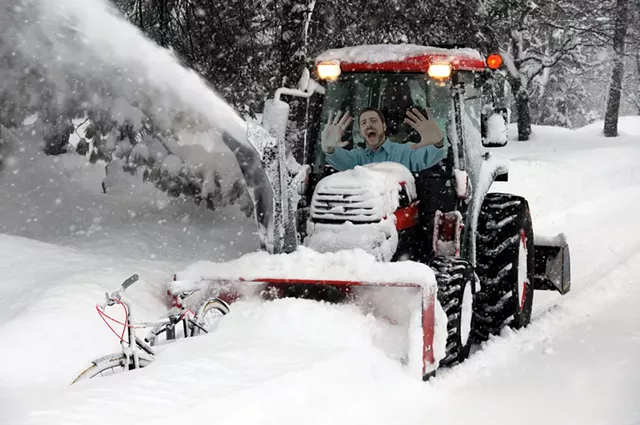 Dreamstime | Bryan Parmelee
One lucky Burlington resident was awarded a once-in-a-lifetime opportunity to share a hidden talent with the world thanks to a generous online contest organized by the city's Department of Public Works.
The challenge was to see who could leave the most condescending, passive-aggressive and ultimately pointless comment on the department's Facebook page regarding its efforts to clean up the more than 30 inches of snow dropped by Winter Storm Stella. Whoever left the winning whiny comment would receive the incredible chance to put some of that superior plowing knowledge to use by operating a city sidewalk plow himself.
After reviewing what must have felt like an endless supply of entries, the department declared software programmer and anonymous men's rights online activist Chad Nosall the winner for his comment, "Hey, maybe you guys should actually try plowing the sidewalks when it snows! #FAIL!"
"It's a truly remarkable comment," explained department spokesperson Shane Alphanza. "It not only conveniently overlooks the fact that Stella was the second-largest snowstorm in our city's history, but also completely ignores the fact that plow crews had already been working through the night just so people like Mr. Nosall could still walk down to the corner store and buy some Red Bull and beef jerky in the morning."
Nosall was notified of his victory at 3 a.m. Wednesday, as plow operators who were about to begin their 16-hour shifts came knocking at his door.
"We really wanted to surprise him," said plow operator and all around unthanked hero Sarah Pluffingberg. "Like, not only do you get to do this yourself, you get to do this yourself at three in the morning, because that's when our insane shifts start!"
The crew said they had to forcibly drag Nosall out of bed, who was noticeably reluctant to get to work despite his apparent expert knowledge of the fine art of sidewalk plowing. Eventually, they were able to get him into one of the city's BTVSnowDragon sidewalk plows, where he would finally have the chance to show the public how to clear the city's 130 miles' worth of sidewalks in a more timely fashion.
Unfortunately, his radiant display of sidewalk plowing perfection didn't last very long.
"Within about 15 minutes of plowing, which frankly was a little crooked, Nosall began to complain that he couldn't feel his fingers or toes," said Pluffingberg. "This was a little off-putting, because we plowers live and die by the saying 'You're not here to have feeling in your limbs. You're here to clear these streets!'"
Shortly after lodging numerous additional complaints, Nosall tried and failed to steer the sidewalk plow, which was traveling at a speed of roughly one mile per hour, out of the way of a bicycle that was chained to a parking meter. The neglected bicycle got caught up in the plow's blades, which irreparably damaged the unit and ultimately slowed the city's efforts to clear the sidewalks by at least an additional 12 hours.
"To be honest, it was a disappointing performance, especially coming from a prodigious plow expert like Chad Nosall," said Pluffingberg. "But we all have those days, right? My only hope is that this experience gives Mr. Nosall a better understanding of how stupid people look when complaining about an extremely challenging public service that our city is lucky to have."
The Parmelee Post is a weekly series featuring tough investigative reporting on news that hasn't happened.