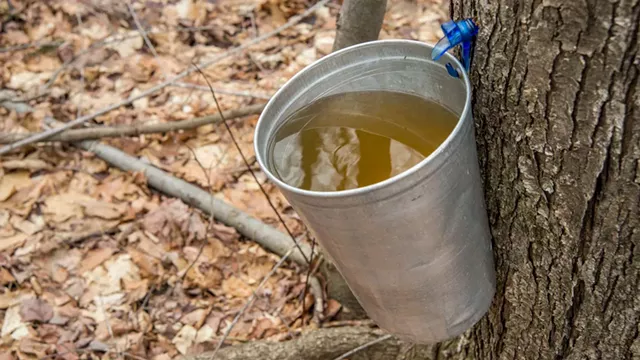 Following a spate of unseasonably warm days, Vermont's maple taps are once again flowing and state officials have issued a boil advisory.
"We advise you get that there sap over a flame ASAP, bud," said Vermont Agency of Agriculture, Food and Markets spokesperson Lee "Quid" Goldrush. "You can't get that sweet without giving it a little heat, bud."
The state is recommending that residents boil their sap buckets for several hours before attempting to ingest their contents.
"219 degrees brings the saccharine out the trees, bud," said Goldrush.
Some of the state's most prominent maple producers say the boil advisory is both highly unusual and unnecessary, considering Vermont is already the top maple producer in the nation.
"This ain't my first sugar shack, bud," said Mountain Maple owner Richard "Sticky Ricky" Seerup. "I don't need the government telling me how to handle my buckets, bud."
"If the sap is flowing, we already boiling, bud," said Green Mountain Glucose co-owners Amber Color and Rich Flavor in a statement.
The early spring-like conditions could potentially result in a shorter sugaring season, but that doesn't seem to concern Viscous Vermont owner Valerie "May" Pell.
"These sap runs couldn't have come at a better time," she said. "I needed something to take my mind off the fact that we're
facing a global pandemic
and the presidential race
is now less diverse than the state of Vermont
."
Pell says that in times of great uncertainty and frustration, it becomes even more critical to be able to find joy in simple things.
"I just drilled a hole in a tree, boiled down its juices and was left with one of the most delicious substances on Earth," Pell said. "That's fucking magical. I'm gonna go ahead and savor this for little bit before I go back to fighting like hell for an America in which people are no longer forced to ration their insulin, bud."
The Parmelee Post is an occasional series featuring tough investigative reporting on news that hasn't happened.