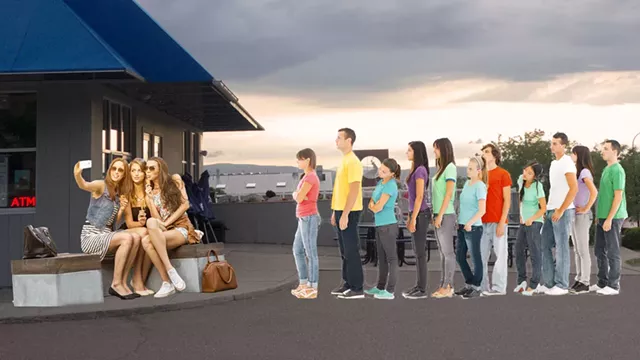 Dreamstime | Bryan Parmelee
A groundbreaking study released last Thursday has shined a light on the impenetrable menace standing between thousands of Vermonters and their favorite frozen concoction. According to the Vermont Department of Economic Development report, at least 90 percent of all creemee lines are the direct result of social media usage.
After several years of observation, researchers determined that in most cases creemee lines wouldn't even exist if not for the insatiable desire of most patrons to take a photo with their frozen treat immediately after it was served.
"Apparently no one is just going to take your word for it that you're currently eating a delicious maple creemee," said VDED head Aisha Kremmer. "The power of social media allows creemee lovers to definitively prove to their followers that they are actually ' hashtag summering' also while earning life-sustaining 'likes' in the process."
Kremmer explained that longer lines are just an unfortunate side effect of generally harmless digital documentation.
"Creemees melt fast, especially on really hot days," she said. "So obviously you need to pose with your creemee as soon as possible instead of moving aside so the people waiting behind you can complete their order. Otherwise you risk having slightly melted ice cream in your photo, and no amount of carefully chosen filters could possibly compensate for that loss of texture."
The results of the study came as welcome news to many of the state's hardworking creemee servers, who are often wrongfully accused as responsible for the long wait times.
"People see the massive lines outside our stand and assume the service must be slow," explained professional creemee drooper and hard ice cream scooper Clarissa Maloone. "Truth is, we bust our asses back here. And if I didn't have to constantly beg people to take their selfies further away from the service window the line would go even quicker."
Other employees seemed thankful for the photo takers, who they claim make the workload just a little more bearable.
"Honestly, if it weren't for creemee selfies slowing down the flow of people, I'd barely be able to take a breath in between pumping out creemees," said creemee specialist and promising young underhand fast pitch softball star Trudy McDoodle. "The demand on summer days is ridiculous, and Instagrammers are the only thing standing between me and a complete and utter mental breakdown!"
If the creemee selfie takers who spoke with the Parmelee Post are any indication, the study's results are unlikely to deter any future photoshoots.
"Boring people say I'm only thinking about myself, but I'm actually thinking about each and every one of my 2,137 followers," said Instagram user YasssQueen100. "Whoops, better make that 2,138. You jelly? Hashtag living my best life!"
"Seriously, it's not our fault people actually enjoy seeing photos like this," added Instagram user TheBabetriot1776. "If no one bothered clicking the 'like' button we wouldn't even bother taking a selfie every time we got creemees. The reckless likers are truly the ones to blame here!"
After snapping a few more photos and taking only a few small few licks of their small raspberry maple twist cones, the girls promptly threw the remainder of their creemees into the trash. "We got what came here for," said TheBabetriot1776. "And it was sooooo worth the wait!"
The Parmelee Post is a weekly series featuring tough investigative reporting on news that hasn't happened.