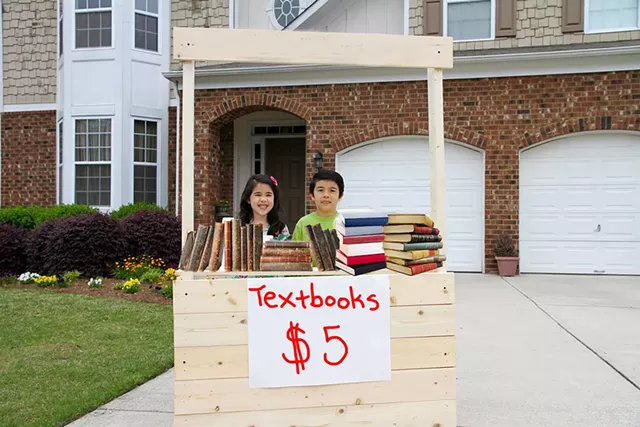 Dreamstime | Bryan Parmelee
K-12 students around the state have courageously offered to help prove the viability of Gov. Phil Scott's education plan by volunteering to sell their textbooks.
In a series of coordinated pep rallies this week, student leaders from a number of public schools pitched the idea to their fellow pupils. Reports indicate that the response across the state was overwhelmingly positive.
"If every public school student in the state sold their textbooks, we would remove an estimated gazillion bajillion dollars from school budgets and make our backpacks way lighter!" shouted Vergennes Union Elementary School student body president Gertrude Maluda to thunderous applause. "Not to mention it would save my dad, who told me that liberals are taxing him to death!"
Critics have derided Scott's
ambitious education budget proposal
as
cynical voodoo
, but students seem to have embraced the idea of fundamentally rethinking the state's approach to their education.
"Donald Trump clearly spends more time
watching television
than he does reading, and look where it got him!" exclaimed South Burlington High School student Judy Grizzler. "He's one of the most powerful people in the world, and he did it all without the help of stupid books! If he don't need 'em, we don't need 'em!"
"Traditionally, we've always asked teachers to bear the brunt of balancing school budgets, but that usually only leads to strikes," explained education reform advocate Mitchell McGuntis. "It's nice to finally see the students themselves doing their part to try and keep education costs as low as possible by challenging the assumption that textbooks and other school supplies are necessary to gain an education."
Selling off textbooks would not only force public schools to fundamentally rethink their approach to education, but would also achieve Gov. Scott's stated goal of raising new revenue without raising any taxes.
"The money we make by selling these textbooks could be put toward other uses, such as repairing leaky roofs or burst pipes," said budget analyst Todd Gertrudy. "This would allow smaller schools to continue to operate if and when unexpected expenses arise after a big budget freeze."
Removing expensive textbooks from education costs would also make future cuts to school budgets considerably more manageable.
"Secretary of education nominee Betsy DeVos has
a well-established history
of steering money away from public schools," explained amateur educator Lucas Schuster. "Gov. Scott's budget plan, combined with the students' remarkable textbook-selling plan, shows once again that Vermont is ahead of the curve. We will be well prepared by the time public education funding is frozen or slashed at the federal level."
When asked how students could possibly continue to learn in a classroom without textbooks, many teachers admitted that most textbooks are woefully outdated anyway.
"We're finding that most, if not all, of our textbooks do not contain any 'alternative facts,' rendering them completely useless in this day and age," bemoaned high school science teacher Veronica Sinclair. "What's the point of teaching from the text when a wealth of alternative facts is readily available on the internet? Why pay for hundreds or thousands of books when you can buy one internet subscription that would better prepare these kids for the world in which they live?"
"I commend what these kids are trying to do," said education voucher advocate Wayne Beshouten. "I'm sick of special interests groups like logic and critical thinking trying to dominate the education reform conversation. Nonfiction books have been known to have a liberal bias, so it's great to see kids so eager to get rid of them and avoid learning any fake facts."
A coalition of student leaders is working tirelessly on a formal proposal to submit to the Scott administration in time for Town Meeting Day.
The Parmelee Post is a weekly series featuring tough investigative reporting on news that hasn't happened. Yet.