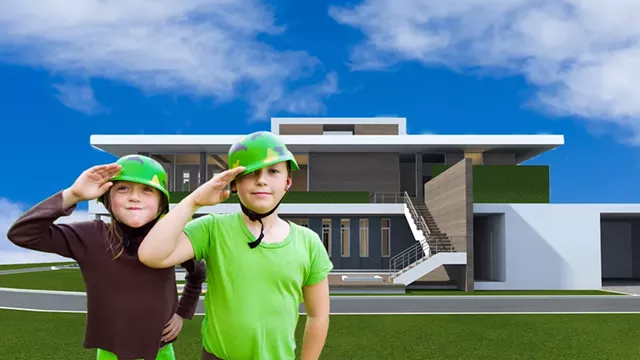 The administration of Gov. Phil Scott is proposing that Vermont contract with a private company to build a $140 million military training complex for the state's public school students and faculty.
The proposal came just days after Gov. Scott
said the state should focus on providing more training and drills for staff and students
rather than consider limiting access to firearms.
Instead of taking practical steps to try and prevent school shootings, said administration spokesperson Belinda Sorryfam, it is more important to convince students that these tragedies are unavoidable by encouraging them to train harder for the day when it inevitably happens in their school. "It's literally the best solution this administration has to offer your children," she stated.
The state-of-the-art facility would provide a range of training programs designed to keep Vermont's students competitive in the modern job market. These include lessons on classroom camouflage and how to dress wounds using only the school supplies your teacher had to purchase with his or her own money.
"I think it's a great proposal," said Vermont House representative Chad Lockenstoc (R-Hartland). "It's not like we're constantly asking students and teachers to do more with less or anything. I don't think it's unreasonable to add 'dodging bullets' to their list of responsibilities."
Lockenstoc added that responsible gun owners could also help the cause by going online immediately after school shootings to tell concerned parents that they don't know enough about guns to voice an opinion.
"What we don't need are new laws," Lockenstoc continued. "Laws don't change anything anyway, which is why I became a lawmaker, obviously."
"We need a fundamental shift in the way we approach education in this state," echoed Rep. Sammy Auto. "Students and faculty get so hung up on the idea of obtaining a quality education that they forget to spend more time worrying about whether or not they're prepared for a deadly encounter in the very classrooms they're required to attend five days week.
"And, just like the Governor himself said,
Vermont
.
Is
.
A
.
Safe
.
State
."
Auto acknowledged that the proposal faces an uphill battle in the Statehouse and encouraged lawmakers to focus on areas where there already seems to be bipartisan agreement.
"For example, I think we can all agree not to talk about, you know, the 'G-word,'" he said. "We must never forget that a specific group of adults' sense of freedom is far more important than the lives of our children."
The Parmelee Post is a weekly series featuring tough investigative reporting on news that hasn't happened.