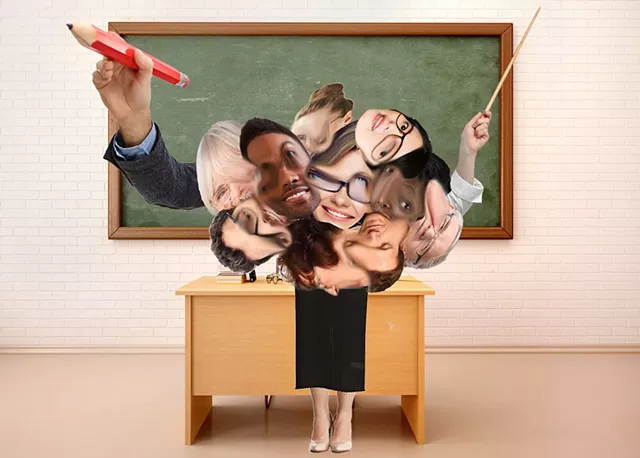 Photo illustration: Bryan Parmelee | Dreamstime
The administration of Gov. Phil Scott is considering a drastic reshaping of Vermont educators, according to a planning memo acquired by the Parmelee Post.
The memo,
the second in a week
, calls for the formation of a single, unified teacher to handle the education needs of Vermont public schools.
"It's more of a thought experiment than a practical use of time," admitted one of the memo's authors, Marge Aldistricts. "If we're serious about slashing education spending, we must keep all options on the table — including forced teacher consolidation."
The memo concludes that, through a little gentle human splicing, Vermont could consolidate all of its teachers into one heaping mass. The resulting teacher would increase the state's overall student-to-staff ratio to an impressive 90,000 to 1.
"Critics will be quick to write off human splicing as not politically viable, but you've got to give us credit for at least thinking about this stuff," said Aldistricts. "I mean, just think about how much easier it would be to cut teacher pay and health benefits if we only had to impose — er, negotiate — a contract with one other person."
Education advocates say schools still need time to adjust to the changes resulting from the Act 46 district consolidation law before they can entertain thoughts of human blending.
"Perhaps we should take some time to fully examine Act 46's impact before we start toying with the very fabric of life," said teacher and huge fan of education in general, Claire Yermine. "I will admit though, merging with other teachers would certainly make carpooling much easier."
Administration officials acknowledged that now may not be the time or place to physically conjoin educators, but seemed confident the idea could eventually gain traction.
"When people hear 'consolidation,' they think top-down uniformity," Aldistricts said. "But this lab-made 'super teacher' would theoretically be the most unique, diverse teacher you could ever hope to hire. And virtually overnight, you'd go from dozens of teachers being forced to purchase school supplies with their own money to just one."
The Scott administration said its plans to release a more detailed planning memo in the future, but for now just wanted to reiterate that human splicing was "pretty cool to think about."
The Parmelee Post is an occasional series featuring tough investigative reporting on news that hasn't happened.