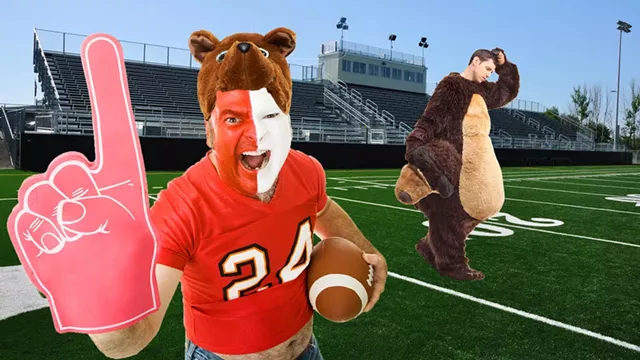 Something was noticeably amiss at the South Bennington Bears' varsity baseball game Thursday night. According to multiple accounts, the usually spry school mascot "Bobby the Battling Bear" seemed withdrawn and distant throughout Bennington's 5-3 victory over the Wyndham Windfarms.
Following a series of formal complaints, Tim Scrumbly, the South Bennington High School senior who portrays Bobby the Battling Bear at all school functions, was summoned before the South Bennington school board to explain his apparent lack of school spirit.
"To be honest, I'm more than a little freaked out about how much this bear still means to residents like Mark McChard, who graduated back in 1977," he testified before the board. "Last week I ran into him in the chip aisle at Hannaford's and he started screaming, 'Go Bears! Bears for life! Don't ever lose your pride!' Needless to say, I wasn't even wearing the bear suit at the time."
McChard is a 58-year-old South Bennington High School alum and founder of the Brotherhood of the Bear Facebook group, which encourages members to share what being a Bennington Bear means to them, so long as it involves varsity football.
"It's a tricky situation," school board member Michelle Tribble told Scrumbly. "Most of our graduates do go on to find meaning in things like family and career. But some consider never letting go of that high school pride to be the best way to serve their community."
"But if he actually wanted to serve the community, shouldn't he join a school board or something?" Scrumbly countered. "He only comes to football games, and he seems to take an unusual amount of pride in voting down school budgets."
When reached for comment, McChard told the Parmelee Post that he would vote in favor of a school budget, but only when absolutely every line item aligned his personal beliefs. "It's
my
vote, after all, so it should be all about me and not the students who are selfishly only interested in getting a quality education," he added.
Scrumbly went on to tell the board that his biggest concern was how McChard would react once the Bennington school district merges with Rutland's as a result of Vermont's Act 46 law.
"We can't just assume Rutland students will be cool with being the Bears," he said. "Things are changing whether we like it or not, so we may need to come to some sort of compromise to make sure all students are comfortable with the unified school's mascot. I'm not convinced McChard is capable of understanding that, given his history."
Scrumbly seemed to be alluding to an episode in 1993, when South Bennington briefly considered changing its mascot to the Black Bears, which are the only species of bear actually found in Vermont.
"We were simply trying to be inclusive and more representative of the great state of Vermont," explained superintendent Rick Floss. "But McChard effectively led an opposition against the change, claiming it was racist against the predominantly white population of Vermont.
"He told the school board at the time that he didn't even 'see' race," Floss continued. "And when filling out government paperwork, he checks off the 'Other' box and writes in '100% Bear.'"
"This is a man who has clearly decided for himself that if the name of a high school team isn't exactly the same as it was when he was in school, then his identity is somehow under attack," Scrumbly complained to the board. "No one warned me when I volunteered for this job that this stupid mascot also serves as a proxy for larger cultural battles in the minds of some residents. It distracts from decisions that should ultimately be left up to the students and the school board."
Before the school board could respond further, Scrumbly grabbed his bear mask and said he needed to leave. "I just realized it's already 6 p.m. and I have a final to study for. I literally don't have time for this shit."
The Parmelee Post is a weekly series featuring tough investigative reporting on news that hasn't happened.