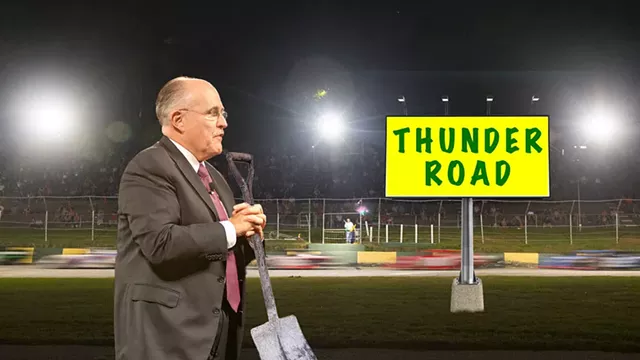 Dreamstime/Bryan Parmelee
Rudy Giuliani at Thunder Road
Former New York City mayor Rudy Giuliani was spotted carrying a shovel at Thunder Road International Speedbowl in Barre on Thursday night. The attorney-turned-self-appointed-foreign-intelligence-official was reportedly seeking to dig up dirt on Gov. Phil Scott.
Witnesses say a visibly distressed Giuliani was overheard mumbling to himself something along the lines of, "I'm a hero. They'll see. They'll
all
see," as he wandered aimlessly around the race track.
The sighting came just hours after Gov. Scott
became the first Republican state leader to voice support for an impeachment inquiry
into President Donald Trump.
A source, who asked to remain anonymous because "this administration
threatens to kill whistleblowers
," said Giuliani was ordered by President Trump to investigate the Vermont governor. The investigation appears to be an attempt to discredit Gov. Scott before he has a chance to make any other perfectly reasonable statements to the press.
Vermont GOP officials have already derided Scott's statement on impeachment as a shameless political stunt. "The Governor is clearly just trying to attract Democratic voters by implying that powerful white men should have to follow the law just like everyone else," said party spokesperson Wylie Shipsincs.
A spokesperson for Gov. Scott said the fact the President Trump sent an American citizen instead of a foreign leader to investigate a political rival was "the most presidential shit Trump has done in almost three years."
Whether or not Giuliani found the dirt he was looking for remains unclear. Witnesses say the frantic shoveler only got "three or four holes in" before security guards were able to lure him off the premises using a fishing line with a $5 bill attached.
Track officials say they declined to press trespassing charges against Giuliani because doing so would be unfair. "This is clearly a disturbed individual who is unable to comprehend the basic concept of law," they said.
The Parmelee Post is an occasional series featuring tough investigative reporting on news that hasn't happened.