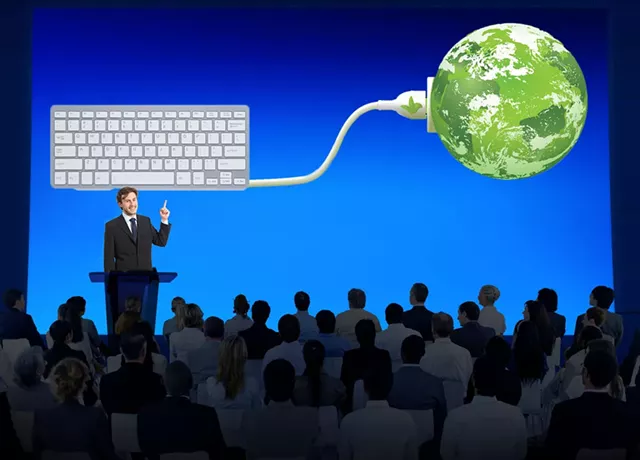 Dreamstime | Bryan Parmelee
A Burlington tech startup has introduced a revolutionary new product that it claims has the potential to completely eradicate the use of fossil fuels for generating power.
In what was billed as a once-in-a-lifetime event Friday night, the founders of Gandhi Tech Enterprises unveiled JuiceStrokes™, a computer keyboard that converts angry internet comments into a renewable clean energy source.
"I don't think the average internet user realizes how much energy goes into leaving an angry comment," cofounder Kyle Filishinmick told the rambunctious crowd. "Every angst-ridden stroke of the keys requires an outpouring of kinetic energy that can be stored and used for something way more productive."
Underneath each key of the JuiceStrokes™ keyboard is a tiny generator that creates an electrical current every time you press it. The harder a key is pressed, the stronger the current it generates, which means the angriest commenters will naturally create the most power. When the caps lock is engaged, that energy output nearly doubles.
"We initially tested the keyboard on a friend of ours, a devoted 4chan user living in his parents' garage … sorry, I mean his own place that happens to be connected to his parents' house," cofounder Spencer Letrull told the Parmelee Post. "Anyway, after only an hour of spewing hate toward people he has never met before, he had generated enough electricity to power 800 homes for eight hours. That's when we realized we were onto something big."
The duo said the idea came to them after noticing an overabundance of angry comments on every single website or social network they happened to visit. "Even communities that are traditionally aligned by common goals have been at each other's throats of late," Filishinmick explained. "It's like a baseball team swinging their bats at each other instead of keeping their eyes on the ball."
"There is literally a bottomless supply of angry commenters on every side of every issue," added Letrull. "We realized that if we could just harness some of the energy that people were wasting writing these comments, we might be able to create the first truly bipartisan renewable energy source."
"Obviously, the absolute last thing anyone needs right now is another straight white male telling them to 'stay positive' or 'just get over it' during these frightening times," said Filishinmick. "So we thought,
Why not embrace that rage and channel it toward a common problem?
We chose to focus on renewable energy because I think we can all agree that we'll need a hospitable planet to live on in order to continue treating each other like shit on the internet."
The startup is already in talks with numerous venture capitalists, with the hopes of one day having its keyboard preinstalled on every computer on the market.
"Normally, when a tech startup says they're going to change the world, it means they've developed an app that makes life slightly more convenient for the already comfortable middle class, like a parking spot finder or something," said tech investor Richard Macherio. "But I think these guys are really onto something here. After all, the only things that are certain in this life are death, taxes for the non-wealthy, and truly awful angry internet comments."
The Parmelee Post is a weekly series featuring tough investigative reporting on news that hasn't happened.