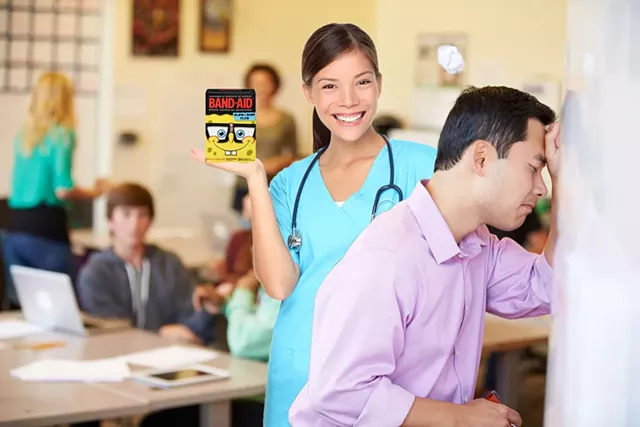 Dreamstime | Band-aid.com | Bryan Parmelee
As the 2017 legislative session heads into overtime next week, one state lawmaker believes he has found a viable alternative approach to reducing teacher health care costs. He hopes the measure might finally appease Gov. Phil Scott and avert a potential veto.
In a late night meeting at the Econo Lodge Montpelier on Friday, Sen. Henry Squatinthrope (D-Bellows Falls) introduced an eleventh hour plan that would require all public school teachers to change their primary health care providers to their school's designated nurse.
"My research suggests that one of the primary drivers of health care costs is actually going to the doctor's office or hospital," Squatinthrope said. "School nurses generally don't charge their patients. So if teachers utilized them instead, we could save a significant amount of money and finally get the governor and House Republicans to support the budget they overwhelmingly supported less than a month ago."
Squatinthrope admitted that without further study he couldn't be sure precisely how much money his plan would save per year. But he suggested that that hasn't impacted any of the budget discussions up to this point.
"For the sake of bringing the legislative session to an end, I'm going to say it will save $26 million. But in reality we will be saving considerably more than that," he explained. "Most importantly, it will achieve this administration's primary goal of removing teachers' ability to negotiate or even choose the health care plan that best suits them in an effort to maximize tax relief for all Vermonters."
School nurse and part-time puppeteer, Beth Bofongle, was cautiously optimistic that she and her fellow school nurses could meet the health care demand of the Vermont's teachers.
"Normally we specialize in tummy aches that inexplicably arise moments before an important test," she told the Parmelee Post. "Still, I'm fairly confident that there are very few medical conditions teachers have that couldn't be improved with a hearty serving of Pedialyte or a Spongebob Band-Aid."
Vermont teachers didn't sound terribly excited about the proposal. But some seemed to think it was still better than what the future of health care could bring them.
"This whole budget standoff is just so confusing to me," said teacher and, well, actually just a teacher because being a teacher is a shit ton of work, Jane Mahlane. "A Republican governor is delaying a budget he once supported to maximize the savings achieved by a former Democratic president's health care law that Congressional Republicans are actively trying to repeal. You could literally choke on the irony if you were lucky enough to be able to afford the medical bills you'll incur after someone resuscitates you.
"Still, visiting the school nurse during work hours may actually be the only form of health care I could afford anyway if Trumpcare passes," Mahane continued. "Because I suffer from a preexisting condition called being a living, breathing human being."
Squatinthrope plans to introduce his proposal to the full Vermont Legislature
when they reconvene sometime next week.
The Parmelee Post is a weekly series featuring tough investigative reporting on news that hasn't happened.