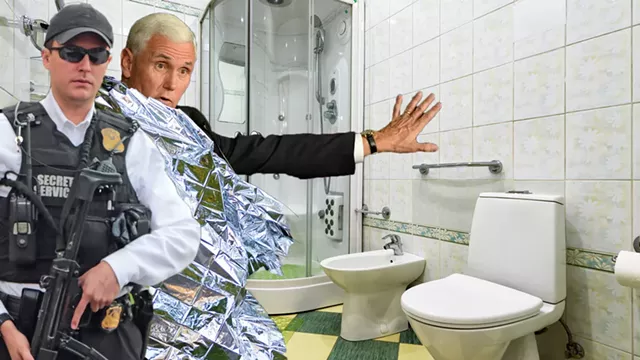 Photo Illustration: Bryan Parmelee
Vice President Mike Pence's Vermont vacation was cut short after a harrowing restroom mishap in his Lake Hortonia vacation rental.
The future president demanded his family be immediately escorted back to Washington after he discovered that the bathrooms in the charming 1865 farmhouse were not clearly designated by gender.
"The vice president is absolutely livid, not just with the homeowners but also with Airbnb for not requiring its hosts to clearly label their bathrooms as male or female," said his personal assistant, Praise Gaisaway. "Mr. Pence certainly would not wish the trauma he has experienced today on anyone."
According to Gaisaway, Vice President Pence had been drinking the tears of separated migrant families for the entire duration of his flight to Burlington in order to stay hydrated.
"Mr. Pence was politely 'holding it' for close to an hour so he could relieve himself in the privacy of his vacation rental — with no one there to see but our Lord and Savior," she said.
Pence was reportedly in such a rush to empty his cloaca that he barged into the lake house's first-floor restroom before he could ensure that it was, in fact, the men's room.
After hearing a series of ear-piercing shrieks, bodyguards were able to barge into the gender-neutral bathroom to find a pale-faced Pence shaking on the floor.
"You might assume people lock doors, or knock before entering a restroom, but, in this day and age, you never know," said secret serviceman Chester Hedshot. "There could have been anyone in that bathroom, and I don't think most people will realize just how close our vice president came to being in a room with a woman without the supervision of his wife.
"If nothing else, this Vermont trip will force us to refine the vice president's potty procedures."
Pence is said to have chosen Vermont as a vacation destination after learning about the state's increasingly overt racism.
"While other states are nominating diverse candidates ahead of the 2018 midterm elections, Green Mountain racism
caused Vermont's sole female lawmaker of color to withdraw
from her reelection bid," said Gaisaway. "Mr. Pence took that as a sign that he would now be welcome in one of the nation's most self-proclaimed progressive states."
Clearly, the vice president
was mistaken
.
The Parmelee Post is an occasional series featuring tough investigative reporting on news that hasn't happened.