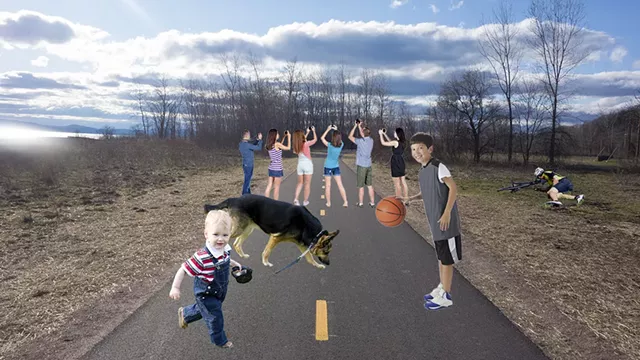 Dreamstime | Bryan Parmelee
The excitement surrounding a recently repaved portion of the Burlington Bike Path has come with a warning from city officials: The improved path is slightly harder for pedestrians to block.
In social media posts on Friday, Burlington's parks, recreation and waterfront department noted that the repaved path is slightly wider than before, making it harder to stymie the flow of cyclists who are attempting to use the path for its intended purpose.
"We just want to make sure the walking community understands that they'll have to double down on their efforts to make the bike path more dangerous for cyclists than riding in the streets," department spokesperson Meredith Ovslovski told the Parmelee Post.
"For all its imperfections, the previous bike path needed only a family of four walking side-by-side to completely bottleneck it," Ovslovski said. "Our engineers have determined that it will now take as many six or seven pedestrians to effectively obstruct the path. So we're encouraging walking families to band together in order to make cyclists struggle to pass them."
Ovslovski went on to explain that smaller walking groups could still block the path, but would have to be more creative and determined.
"Sometimes all it takes is a few pool noodles, or even the dribbling of a basketball, to force a cyclist off the path and into a tree," she said. "People should not be afraid to experiment and find what works best for them."
Despite these new challenges, pedestrians are encouraged to keep up their tried-and-true methods. For example, the department strongly recommends they continue to completely ignore the sound of bike bells or desperate cries of "On your left!" as they mosey along.
"I can't stress enough how important this warning from the city is," said habitual walker and stay-at-home son Clint Duckerman. "I don't think people realize how much effort goes into being completely oblivious to your surroundings.
"I know for a fact that some walkers see those lines painted down the middle of the path and assume they represent separate lanes for traffic traveling in different directions," Duckerman continued. "It's like they have no idea that you have to erratically zigzag across the entire width of the path if you want to risk harm to yourself and the cyclists trying to pass you. It takes a lot of effort to stay in the way!"
The Parmelee Post is a weekly series featuring tough investigative reporting on news that hasn't happened.