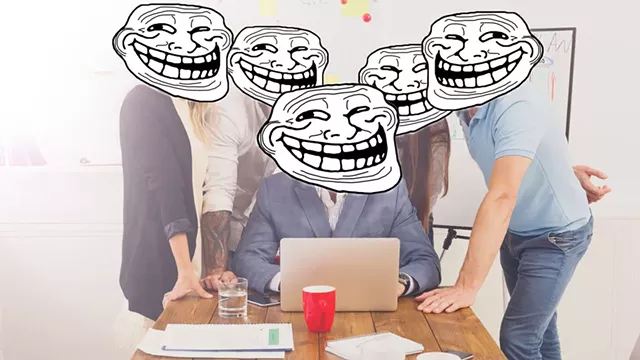 Dreamstime | Bryan Parmelee
Vermont's newest tech incubator is seeking to help nurture the state's most talented and passionate internet users: its online trolls.
Montpelier startup the Sewage Beneath the Bridge aims to provide the state's aspiring internet trolls a safe place to hone their skills and help preserve Vermont's reputation as one of the worst places to be online in the country.
"I think the
WIRED
article proved to the world that we have some serious tech talent here in Vermont," said SBTB founder Simon Whirleybits in reference to
a recent study
that found that state has the highest proportion of nasty internet comments in the country. "It's an incredible honor for the state, but I don't think the average internet user realizes how much pressure this puts on our beloved troll community. Suddenly they have a reputation to uphold."
Several anonymous trolls echoed Whirleybits' concerns to the Parmelee Post.
"I don't think people truly understand how much effort goes into helping others completely lose their faith in humanity," said internet commenter TheMightyCucks83. "It's a daily challenge to try and find new and exciting ways to make sure people know how much of an insufferable asshole I am."
"Do you have any idea how hurtful it is to work so hard at trying to make people feel awful about themselves only to have them ignore you and assume you're just a Russian bot?" asked internet commenter LockerUp4Putin. "Sure, my 'contribution' to society could easily be replicated by a simple algorithm, but I put a lot of effort into this."
Whirleybits said internet trolls also live under the constant threat of being "doxxed" — having their true identities revealed by other internet users who believe people should face some form of punishment for being among the most vile creatures on the planet.
"The Sewage Beneath the Bridge will not only protect the identities of Vermont's most promising trolls, it will also make sure they stay online," he said. "When a well-meaning mother revokes her son's internet privileges, it can disrupt his trolling activities for days or even weeks at a time. Vermont can no longer afford such a precipitous drop in productivity or else we'll risk losing our prestigious position as the state with the most toxic internet comment sections.
"This incubator will allow our trolls to spread the hate until the Monster Energy runs out," Whirleybits continued. "Which won't happen because I have several kegs of the stuff on tap."
Whirleybits said every member of the incubator will be required to wear a mask at all times to extend the anonymity into the real world and reduce the risk of infighting.
"No one wants to risk a confrontation or having their ideas challenged in the real world," he said. "We're not monsters after all — we're just trolls."
The Parmelee Post is a weekly series featuring tough investigative reporting on news that hasn't happened.