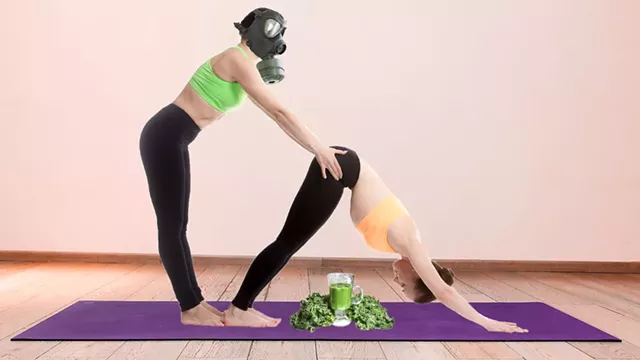 The Vermont House introduced a bill on Friday that seeks to limit the ingestion of kale prior to attending yoga classes. The "Namaste Clean Air Act" would require yogis to wait a minimum of five hours after consuming kale in any form before publicly participating in the ancient practice.
Believed to be the first of its kind in the nation, the bill has already been embraced with open arms and chakras by yoga teachers and practitioners alike.
"Honestly, it's about time lawmakers began taking this issue seriously," said yoga instructor Sky Inswaylia. "Ever since
those kale stickers
started showing up on bumpers across the state, we've noticed a substantial decrease in air quality — and therefore mindfulness — in our studios."
"Obviously we want our students to feel calm and relaxed, but sometimes when they get a little
too
relaxed, they inadvertently release toxins into the air," added fellow instructor Rain Malone. "This can make it next to impossible for the other students to effectively focus on their breathing."
Kale, a cruciferous vegetable, contains not only a broad range of nutrients but also a difficult-to-digest sugar known as raffinose. After ingestion, the sugar remains perfectly intact until arriving in the large intestine, where it is eventually fermented by bacteria in a process that leaves kale consumers bloated with a category IV poison.
"Everyone seems to tout its health benefits, but no one seems to want to acknowledge the darker, gassier side of this so-called superfood," said Malone.
"To the non-practitioner, it probably sounds like a good thing that yoga has been shown to reduce bloating," explained feathered peacock pose specialist Enrique McClover. "But this is really only good news if you don't happen to be sharing a studio with a bloated yogi.
"It's easy to forget that, while our dogs face downward, warm gases spread upward and outward," continued McClover, "and there is not enough essential oil in the world to overcome the stench of a diet rich in kale."
The bill seems to enjoy quite a bit of support in the Vermont Statehouse. That should come as a welcome surprise to voters who worry that legislators aren't usually yoga types.
"Given
the uncertain future of the Environmental Protection Agency
, I think it's absolutely imperative that states do whatever they can to preserve their air quality, even if only in traditionally safe spaces like yoga studios," said Rep. Skipper Alloway of Newport.
Like any ambitious piece of legislature, though, the Namaste Clean Air Act has its critics.
"This is another egregious example of government overreach!" exclaimed Chuck "The Truck" McGruff, a man who has never attempted yoga and is still impressed at his grasp of the word "egregious." "Keep the government out of our large intestines!" he demanded.
Despite a few vocal opponents, the yoga gas bill is expected to pass later this month.
The Parmelee Post is a weekly series featuring tough investigative reporting on news that hasn't happened. Yet.