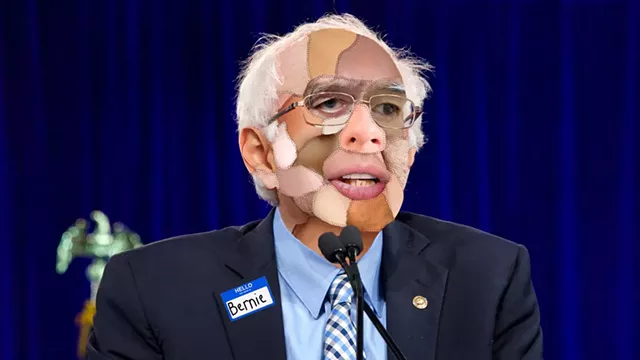 Bryan Parmelee | Dreamstime
The Sanders Senate decoy
The presidential campaign of U.S. Sen. Bernie Sanders (I-Vt.) says it has stitched together more than 1 million individual organ donations to create a life-sized Sanders replica. The Sanders Senate decoy will sit in the U.S. Senate chamber for the remainder of the impeachment trial of President Donald Trump, allowing the real Sanders to remain focused on the Democratic primary while his Senate colleagues determine how long to act "troubled" before deciding blatant extortion is what the founding fathers would have wanted.
The Sanders campaign says it did not make a direct appeal for fleshy donations, but that supporters took it upon themselves to get the candidate back on the campaign trail.
"I think some supporters were upset to learn that Bernie isn't allowed to do much during the impeachment trail other than sit there and
drink milk
," explained campaign staffer Erma Fonebank. "They initially tried to find Bernie a stand-in, but Larry David was unavailable. Naturally, they decided to take a more, uh, grassroots approach."
The Parmelee Post spoke with several donors who were thrilled to have found a new way to support their favorite candidate.
"I understand that cutting off my own arm probably seems extreme to some," said Sam "the Saw" Sawyer of Scarville, Iowa. "But considering that I'm still paying off the medical debt I accumulated after breaking that arm several years ago, it seemed like a pretty straightforward decision."
Patricia Patella of Keene, N.H., says she still owes nearly $100K in student loans despite graduating from college nearly a decade ago. "American society has already kneecapped me, so why not donate a kneecap or two to the person who is actively trying to do something about that?"
"When it comes to defending the working class, Bernie has always had my back," said Larry Lumbar of Landrum, S.C. "Now he has the skin off mine."
The Sanders Senate decoy may be more unsettling than it is a convincing replica, but campaign staffers weren't concerned that other Senators will find anything amiss.
"At least half the people in that chamber have clung to power by outright ignoring the truth staring them right in the face, said Fonebank. "So no, we're not exactly worried anyone is going to suddenly notice that what they're looking at is closer to a puppet than a real leader."
With his Senate decoy now in place, Sanders returns to the campaign trail with only a week to go before the Iowa Democratic Caucus. His campaign says it will continue to focus its efforts on door-knocking, phone-banking and laugh-out-louding at the relentless onslaught of
op-eds claiming Sanders can't win
.
The Parmelee Post is an occasional series featuring tough investigative reporting on news that hasn't happened.