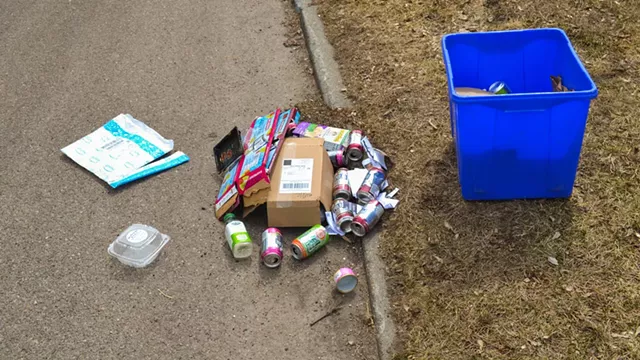 Bryan Parmelee
Recyclables
Recyclables across the region poured out into the streets Thursday to protest what they say are reckless containment practices.
What began as "just another windy recycling day," quickly erupted into one of the largest assemblies of discarded containers, cardboard and paper in Vermont history.
"In an area known for its unpredictable and often extreme weather, it is simply unconscionable that we continue to be thrown in coverless bins," said an empty box of Annie's Certified Organic Shells & White Cheddar Macaroni & Cheese. "Far too many of my relatives have seen their dreams of rebirth shattered by an untimely recycling day rainstorm that left them soggy and unwanted."
The cardboard box's sentiments were shared by hundreds of other recyclables, who joined in a daylong march that began in coverless bins and ended wherever the wind happened to carry participants.
"Every week, we are brought out to the curb with no guarantee that we will ever actually reach the furnaces of reincarnation," said an empty can of Fancy Feast Sliced Chicken Hearts and Liver Feast in Gravy. "All it takes is one gust of wind and suddenly you're out of the bin, lost and left to fend for yourself in a throw-away society. If you're lucky, someone might notice you on Green Up Day."
The protesters are calling on officials across the state to make covered bins the standard recycling receptacle.
"We are sick and tired of being treated as less than trash, which is always stored in covered bins," said an empty can of Polar 100% Black Cherry Natural Seltzer. "It's about time we guarantee universal coverage for all Vermont recycling bins."
In Burlington, recyclables said they plan to bring their case to city hall, just as soon as the wind starts blowing in that general direction.
The Parmelee Post is an occasional series featuring tough investigative reporting on news that hasn't happened.