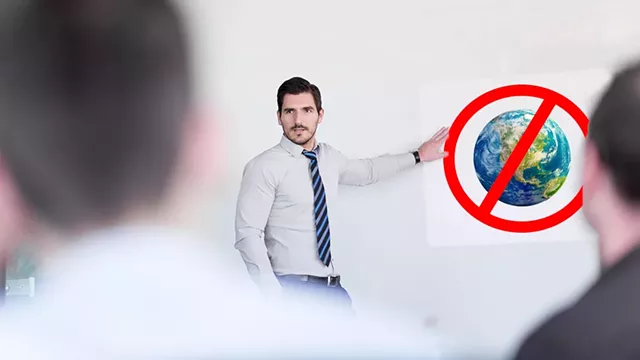 Bryan Parmelee | Dreamstime
Lobbyists from the fossil fuel, chemical and plastic industries have called on local lawmakers to prohibit planets that serve only a single purpose: supporting life as we know it.
The testimony appeared to be an attempt to outmaneuver the Vermont Senate as it considers
a ban on single-use plastic bags
.
"The time has come to put an end to planets that have become so existence-driven that they completely ignore the long-term risks they pose to our spreadsheets," said Brad Braddon, the general manager of a plastics company that puts the "fill" in landfill.
Braddon says it has become increasingly clear that the problem lies not in his company's products, but in the Earth's efforts to sustain biodiversity.
"We make products that were designed to last — for thousands of years, in fact — and what thanks do I get? A
bunch of children suggesting I'm destroying their futures
!" he complained. "Well, what about the future of globally integrated companies focused on developing and manufacturing innovative packaging materials?" Braddon continued. Then he added, "Did I mention we also make medical devices capable of keeping your debt alive for several generations?"
Lobbyists say a planetary ban would allow the fossil fuel, chemical and plastics industries to operate on places like the moon, where they could focus on business without hearing from pesky lifeforms who are only concerned with survival.
"Our profits, which once roamed the Earth freely, now risk getting entangled in and suffocated by concepts such as 'rising sea levels' and 'food systems collapse,'" said one lobbyist who, judging by the stain on his collar, had crude oil in his coffee mug. "We deserve to operate in a truly free market, where petty concerns such as 'mass extinction' won't interfere with all our sweet business stuff."
Lawmakers, who audibly groaned throughout the testimony, eventually informed the lobbyists that the Vermont legislature lacks the authority to enact a planetary ban. Undeterred, Brad Braddon responded by challenging the proposed plastic ban.
"If plastic bags are so harmful to wildlife, than why hasn't my cat suffocated yet?" he asked. "And maybe if sea turtles spent more time learning to use straws instead of swimming in the ocean they wouldn't die so often."
"On second thought," said Sen. Greta Beciddenme (D-Orange), "maybe we
should
send all these lobbyists to the moon."
The Parmelee Post is an occasional series featuring tough investigative reporting on news that hasn't happened.