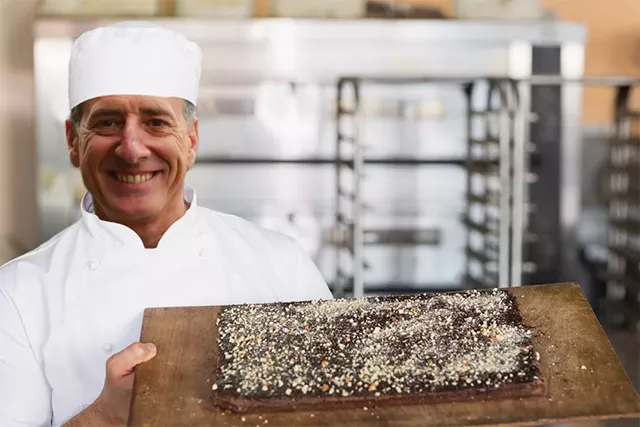 Dreamstime | The Office Of Gov. Peter Shumlin | Bryan Parmelee
In a highly unusual move, Gov. Peter Shumlin has announced that his final act in office will be to prepare a batch of what he calls "ultra-super-extra-special" brownies. The chocolate-y delights will be served to the state's Representatives when the House reconvenes on January 4.
"I ask that each and every member of the House eat one — seriously, though, just one — of these delicious brownies when they return to the Capitol on the fourth," the outgoing governor announced in a press conference Thursday. "Consider it my farewell gift to you and to the people of Vermont."
Shumlin offered few details as to what makes his brownies so special, insisting that the recipe is a closely guarded family secret. But he noted that they were made using only the finest locally sourced, organic ingredients. The governor added that his brownies would enable lawmakers to view the challenges ahead in a whole new light.
Body-language interpreter Taylor Bellvo said of the announcement, "I'm no specialist, but if I had to guess, I'd say Shumlin is trying to get House members to come to their senses about marijuana legalization."
Bellvo said the governor's intermittent chuckles and gleaming grin throughout the press conference suggested to him that the brownies were somehow related to marijuana reform.
"
Offering pardons for marijuana convictions
was a nice first step, but I think he has finally realized that other people could use some help on this issue, too," Bellvo added. "That smile says to me that Gov. Shumlin has come up with a last-minute solution to one of the biggest problems standing between Vermonters and a sane marijuana policy: the House."
Political analyst and part-time dessert specialist Patricia Cremsworth agreed.
"You don't make somebody 'ultra-super-extra-special' brownies unless you're trying to change their minds about something, right?" she asked. "With a new Republican governor on his way to the Statehouse, Shumlin is clearly throwing a sweet Hail Mary in hopes he can transport the House into the 21st century on his way out of office. He seems to think those brownies are magic."
During the last legislative session,
the House resoundingly defeated a bill
that would have legalized the sale and possession of marijuana, despite
consistent public support for legalization
.
While many legislators seem keen to just wait and see how other states handle legalization, Shumlin may be taking matters into his own baking pans. Ulterior motives aside, though, offering the House special brownies is an unprecedented gesture of appreciation at the end of his six-year run as governor.
Shumlin ended the press conference by saying, "At the very least, these brownies should give you temporary comfort in a world in which our Tweeter-in-Chief tries to reignite a nuclear arms race. That's how they work for me, anyway."
The Parmelee Post is a weekly series featuring tough investigative reporting on news that hasn't happened. Yet.