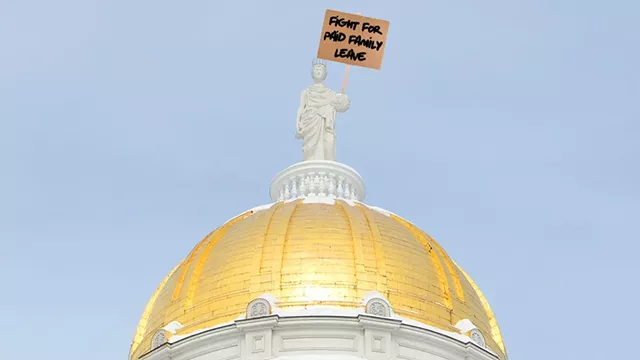 Photo illustration: Bryan Parmelee | Dreamstime
Ceres, the Roman goddess of agriculture, fertility and motherly love, says she is prepared to sit atop the Vermont Statehouse dome for as long as it takes to give working mothers a break.
The goddess
will be hoisted up onto the Statehouse dome Friday
, where she says she will remain until Vermont establishes a paid family leave program.
"I show you how to nourish young crops and humans, and how do you repay me?" the goddess asked at a press conference Monday. "You make having babies so Zeus-damned expensive that
nobody even bothers making them anymore
?!"
Ceres told reporters that she knew the situation had grown especially dire when Vermonters reelected
the man who vetoed a paid family leave bill last year
.
"Seriously, what kind of godess-less heathen would force mothers to choose between staying home with their newborns and being able to afford to provide for them?" she asked. "And this is what is passes for 'a nice guy' in Vermont? No wonder you can't convince more people to move here!"
The ancient Roman goddess admitted to "resting on her laurels" since she gifted humankind with agriculture, but said she was now fully committed and ready to brave even the harshest of Vermonter winters in support of paid family leave.
"Just like crops, babies must be tended to constantly," Ceres explained. "Turns out that's pretty hard to do when you're busy out there making $5.25 an hour to serve cocktails to an entitled birthday boy who
refuses to tip you because you didn't quite make him feel special enough
."
With a
veto-proof Democratic supermajority
set to take over the Vermont House in January, it is possible that paid family leave could become the law of the land as soon as next year. If that were to happen, Ceres says she still doesn't anticipate climbing down from the Statehouse dome anytime soon.
"Why would I ever leave the top of this golden dome?" she said. "I've finally found the one place in the entire Statehouse where I won't
have to worry about sexual harassment
."
The Parmelee Post is an occasional series featuring tough investigative reporting on news that hasn't happened.