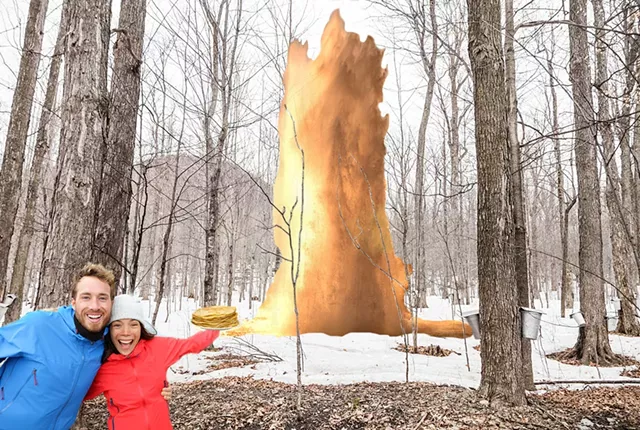 Dreamstime | Bryan Parmelee
Vermont maple producers predicted a particularly productive year in 2017, but no one could have foreseen how truly explosive the sugaring season would be.
For the first time in recorded history, a massive maple syrup geyser has spontaneously erupted in the woods of Jericho, blasting thousands of gallons of the sticky liquid gold high into the air.
"I was just making my morning rounds and checking my sap lines when, all of a sudden, I felt the earth below me begin to tremble and quake," described longtime maple producer and competitive waffle eater Phil Bellingturt. "Our annual town square dance isn't for another three months, so I immediately knew something out of the ordinary was causing all that ruckus."
Seconds later, a massive column of steam and syrup violently emerged from the ground below, launching Bellingturt hundreds of feet into the air.
"I thought I had stepped on a land mine, bud!" he exclaimed. "Thankfully, I was wearing my lucky Carhartts and landed relatively unscathed in a fluffy mound of snow."
As word quickly spread throughout town, dozens of residents ventured into the woods to witness this unprecedented phenomenon firsthand. Among them was noted maple taste tester Dirk Sucrosia.
"I just laid there on my back with my mouth wide open, letting all that gooey gloriousness land on my face," he explained. "Judging by the taste, I'd say it's close to what we formerly called grade B, but it flows easily like grade-A golden fancy. We could be looking at a whole new type of syrup here."
Maple syrup producers must meet strict density and purity requirements in order to sell their product in Vermont, but, technically, no law prohibits the consumption of syrup that spews from the earth.
"People began to arrive with massive plates filled with pancakes to catch some of that delicious nectar as it fell," said Betsy Dweller of Underhill, choking back tears. "It was beautiful. I never believed in miracles until today."
The geyser also attracted the attention of geologists, who are still trying to understand what caused this presumably all-natural sugary eruption.
"The more a maple tree freezes and then thaws over the course of a single year, the more sap it produces," explained geologist and inventor of the maple sauna Sheila McFeesia. "The erratic temperatures we've experienced throughout the winter must have created a massive, volatile lake of Vermont's finest flowing just below the surface. It was just waiting to bust through when the pressure increased enough.
"As our planet continues to experience its warmest years on record, it's only natural that we will witness previously unseen natural occurrences," McFeesia added. "Best we can do is enjoy it while it's still sweet."
The Parmelee Post is a weekly series featuring tough investigative reporting on news that hasn't happened.