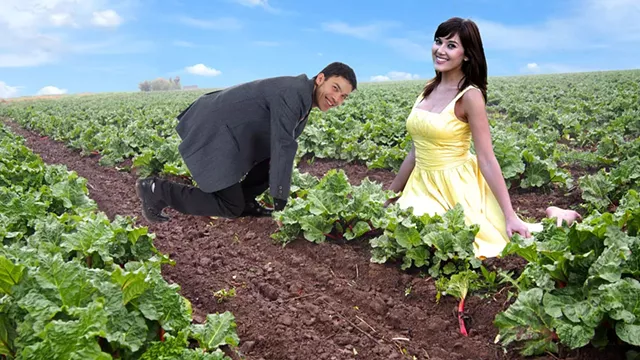 Dreamstime | Bryan Parmelee
Maggie Oldenfold walked deliberately through the seemingly endless rows of crops at Nature's Other, Other Valley Farm in Tunbridge. After careful consideration, she stopped, at long last spotting her prize: the most beautiful stalk of rhubarb she'd ever seen.
Oldenfold is part of a large and perpetually growing group of Vermonters who demand to know — with
exact
precision — the source of the ingredients in their meals.
To help accommodate this demand for increasingly specific crop-sourcing information, a number of Vermont restaurants have turned to letting their patrons choose — and harvest — their own ingredients from a farm conveniently located near their dining establishment.
These so-called "farmhand-to-table" restaurants have replaced the traditional predetermined menu with a choose-your-own-adventure-style dining experience. What you end up eating depends entirely on what happens to be growing on the farm, and what you are willing to harvest yourself.
"We're bringing diners right to the farm, instead of the other way around," explained chef and owner of Overlocalé restaurant, Bastien Allouve. "At the end of the day, 'organic' and 'locally sourced' are just words printed on a menu," he continued. "How can you ever truly know where your food is coming from until you get your hands and face all up in that soil?"
Some restaurant patrons even bring along testing kits to check for pesticides and proper pH levels before finally settling on a crop, Allouve added.
"Everyone has their own unique standards when it comes to the food they consume. This way, people can take their time and find only the ingredients that are right for them," he said. "I encourage folks to bond a little bit with their vegetables before ripping them out of the ground and bringing them to our chefs to prepare."
Industry experts say the farmhand-to-table model not only brings even the most persnickety restaurant patrons the ultimate peace of dining mind; it's also saving locally sourced restaurants quite a bit of money.
"It's incredibly hard to sustain a farm-to-table restaurant when you're constantly paying farmers to bring their fresh goods to and fro," said restaurant owner and kale evangelist Gwenith Whisk. "We finally decided to let the farmers do the growing and to let the diners do the fro'ing."
No dining evolution comes without its own unique challenges, however.
"It's pretty daunting when a couple returns from the farm with an entire head of bibb lettuce, a parsnip and a handful of dry beans and says, 'Make us something delicious!'" said Allouve. "But that's also part of the excitement. With no set menu, every day is like an 'Iron Chef' competition, where judges who know next to nothing about cooking get to choose all the ingredients."
A few farmhand-to-table restaurants have toyed with the idea of letting patrons choose and slaughter their own meat products, but quickly abandoned the idea.
"To be honest, we were a taken aback by the overwhelming number of people who expressed interest in slaughtering farm animals with reckless abandon," explained Whisk. "I'm not convinced most were even interested in eating the meat afterward. For now, we've implemented a 'bring-your-own-meat-no-questions-asked-as-long-as-you-eat-it' policy."
Whether these farmhand-to-table restaurants are just another passing fad or the beginning of a full-scale dining revolution remains to be seen. But for early adopters like Oldenfold, eating out has never tasted better.
"It feels amazing to be one of the localest localvores in this locale!" she exclaimed.
The Parmelee Post is a weekly series featuring tough investigative reporting on news that hasn't happened.