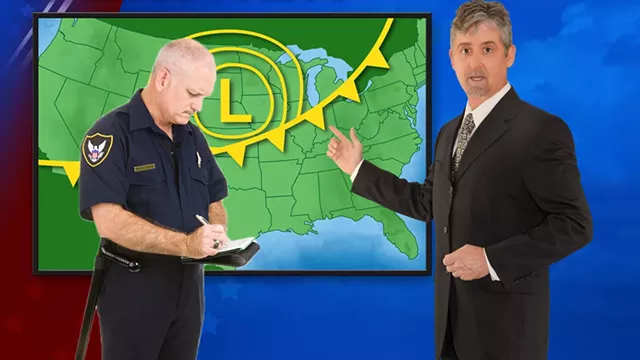 dreamstime/bryan parmelee
State economists wasted no time formulating plans to help Gov. Phil Scott achieve
his pledge for a "bold" campaign to attract more workers to Vermont
. In a preliminary report released just moments after the governor's first State of the State address on Thursday, the economists recommended a swift statewide ban on the practice of meteorology.
"Our research determined that the greatest deterrent to convincing prospective workers to relocate to Vermont is their ability to check the state's weather forecasts and seasonal averages at any given time," said renowned economist and $2 bill collector Quan Tativees.
"If it weren't for these so-called 'scientists' constantly tracking temperatures and weather patterns, it'd be a lot easier to convince qualified prospects that Vermont winters only last a few months instead of for several lifetimes," Tativees exlained.
"As it stands, if we're lucky enough to find a Silicon Valley worker who is looking to both relocate
and
increase his odds of contracting hypothermia, chances are he's going to move to Canada instead where at least the health care is cheap," he added.
"Somehow we need to keep our climate a secret," Tativees continued. "I'm not trying to point any fingers here, but … isn't that a meteorologist
right there
? Get him!" he exclaimed before chasing after a man with only a passing resemblance to NBC5's Tom Messner.
Tativees' recommendation was met with trepidation by some state lawmakers, who found the proposal a bit extreme.
"An outright ban on meteorology would result in the loss of at least five or six jobs across the state," said Rep. Belle Ozero (D-Franklin) before suggesting the problem isn't meteorology, but marketing.
"For example, 'bomb cyclone' sounds terrifying," she continued. "What if meteorologists used phrases like 'fluffy puffy white joy explosions' instead to help soften the blow?"
Rep. Hank Errdown (R-Addison) advised the state to reconsider its dependence on the Fahrenheit temperature scale.
"It's just that all those negative temperatures sound so … well, negative," he said. "What if we just add 40 degrees to every temperature reading? That way minus 10 degrees becomes a balmy 30 degrees. This is the kind of 'out-of-the-icebox' thinking we need to really drive more workers to our state."
Despite the handful of alternative proposals, Tativees remained steadfast in his opposition to meteorology.
"Based on my calculations, nothing short of the complete eradication of all the state's meteorological records is likely to draw in more workers," he stated.
"If you're serious about attracting talent, keep weather a mystery — get folks to move here in the summer, " Tativees continued. "That way it'll already be too late once they realize what they've gotten themselves into six months later."
Tativees was due to present his full findings before the Senate Committee on Economic Development, Housing and General Affairs on Friday. But he was forced to reschedule after his car slid off the road.
The Parmelee Post is a weekly series featuring tough investigative reporting on news that hasn't happened.