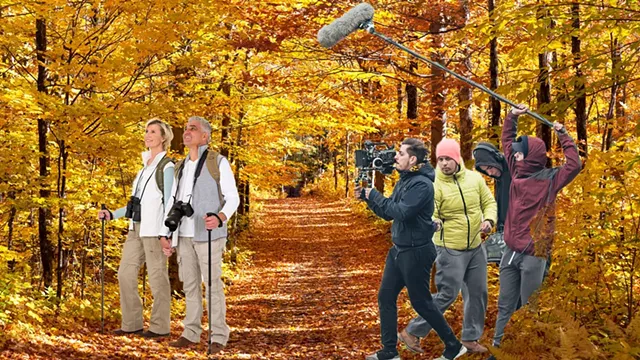 Biologists from the Vermont Fish and Wildlife Department have teamed up with a documentary film crew from East Calais to produce what is expected to be the most ambitious nature documentary series ever filmed in the Green Mountain State.
The series, "Peepers Creepers," will feature previously unseen footage of exotic foliage observers — aka "leaf peepers" — during their annual autumnal migration through the forests and roadways of Vermont.
"We've all seen the occasional peeper, or
autumnus instagramis
, out there in the wild this time of year," said wildlife biologist and cricket collector Sally Manderfind. "But there's still so much we don't know about their movements and habits. All we really know is that they tend to arrive in October to fertilize the Vermont economy."
Biologists such as Maderfind have long assumed that the peepers arrive at that time because they are helpless to resist the allure of Vermont's fall foliage. Most believe the stunning shades of red, orange and yellow trees throughout the state draw the organisms here every year so that mom-and-pop shops and craft breweries can extract their coveted green nectar.
However, the overwhelming presence of peepers during a decidedly late and lackluster 2017 fall foliage season has forced biologists to reconsider their beliefs.
"Much to our surprise, the peepers appeared right on schedule this season despite the fact that the peak season has either been delayed or bypassed altogether," said Manderfind.
"I mean, they've seen the postcards — they know how it's supposed to look," she continued. "Do they not realize this is a subpar season? Do they think this season is perfectly normal and most fall foliage pictures are just heavily Photoshopped? We clearly have much to learn!"
Some wildlife biologists theorize that the peepers are returning before the foliage really has a chance to "pop" because they tend to reserve their nesting grounds months in advance.
"It's survival of the fittest out here in the woods," explained biologist and exotic birdsong impersonator Bert Nocular. "The harsh realities of natural selection mean these peepers have no choice but to secure their nests long before their migration actually begins. Most peeper families are unable to survive the exorbitant 'convenience fees' nature charges you for changing or canceling your reservations last minute."
Nocular conceded that more data was needed before he could properly test his theory. He believes the documentary crew has begun their work not a moment too soon.
"The fact that we are already challenging our assumptions proves just how vital this documentary is," said Nocular. "We owe it to ourselves to learn as much as possible about a species that helps Vermonters to thrive."
Production of "Peepers Creepers" is expected to wrap up in late November. A GoFundMe campaign has been launched in hopes of raising enough money to hire David Attenborough narrate the series.