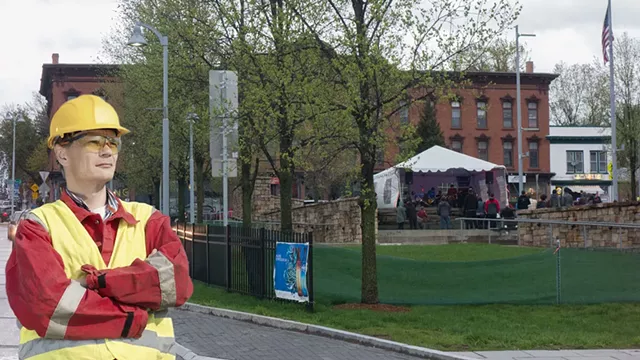 Dreamstime | Bryan Parmelee
"In my 30-plus years of designing roads and bridges, I can assure you I've never seen anything remotely like this," exclaimed veteran civil engineer and sidewalk advocate, Charles Enfarsi. "Everything I thought I knew about urban engineering fails to explain what lies before my very eyes."
The bewildered and bespectacled engineer stood motionless on the sidewalk at the bottom of the Winooski traffic circle. It wasn't the elliptical flow of traffic or even the freshly paved asphalt that caught his attention. Rather, it was the presence of human life gathered on the space inside of the circle.
"Whoever designed this 'rotary' clearly had one goal in mind: To keep pedestrians out of the public space it surrounds," opined Enfarsi. "Any schmuck can design a 'keep off grass' sign. It takes a real passive-aggressive genius to instead surround that grass with two lanes of traffic and a confusing array of yield signs that are apparently open to interpretation.
"I have no idea how this crowd of people made it safely into the center," he continued. "But I hope they realize how lucky there are to be a part of something so remarkable."
The human activity also gained the attention of bridge builder and doomsday bunker enthusiast, Todd Reglund.
"For years I tried to warn the city that this traffic circle wasn't quite dangerous enough," he said. "I told them that unless they installed a fiery moat, or an elaborate series of booby traps, people could and would still find a way to get into the park at the center. Maybe now they'll take me more seriously!"
Drivers seemed equally impressed that dozens of pedestrians had somehow safely crossed the speedway.
"Honestly, anytime I drive through that circle without hitting another car it feels like a tiny miracle," said frequent commuter and occasionally religious-while-driving mother, Anne Randly.
"I'm so focused on trying to figure out who's yielding or who's merging that it's never even occurred to me to
also
be on the look out for pedestrians," she added. "Or to figure out what those blinking yellow lights are supposed to mean."
Randly said she was so hypnotized by the bravery of the individuals inside the circle that she completed an estimated 14 laps around the speedway before remembering to change lanes without looking in order to exit.
Witnesses close to the circle told the
Parmelee Post
that a group of neon-vest-clad volunteers holding makeshift stop signs made the dangerous trek into the center possible.
"It truly was a community effort to get these individuals safely inside the circle," said longtime Winooski resident, Eleanor McCradle. "It sure takes a lot of flashing lights and hand waving to fool traffic into thinking that the lives of individuals trying to cross the road are more important than getting to their destination as quickly as possible."
McCradle paused, clearly swelling with civic pride before continuing.
"I think Winooski showed itself and the world today that there is no limit to what we can accomplish if we work together," she said. "There is no wall high enough — or speedway speedy enough — to divide us. It just takes a lot of organized and selfless work to make great things happen."
The Parmelee Post is a weekly series featuring tough investigative reporting on news that hasn't happened.