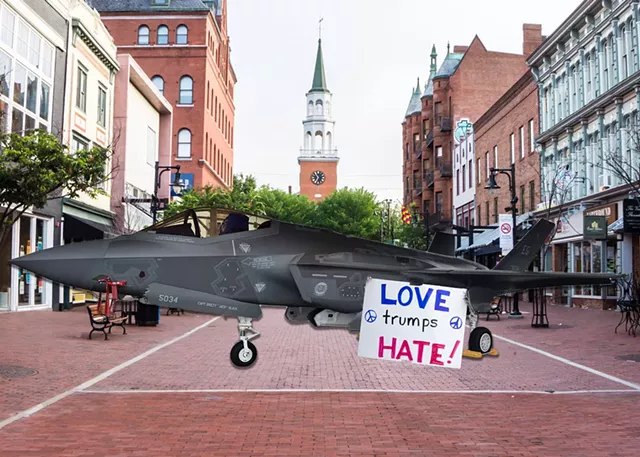 Dreamstime | Bryan Parmelee
A Vermont judge has ruled in favor of designating Chittenden County as a sanctuary county for Lockheed Martin's F-35 Lightning II fighter jets.
The decision, which comes two years before the jets are
scheduled to arrive
at Burlington International Airport, is an effort to put protections in place for the beleaguered planes before the inauguration of president-elect Donald Trump.
In December, the president-elect
released a statement
through an official government communications network called "Twitter" lambasting the F-35s as out of control. He promised to save the government billions of dollars once he takes office.
"Based on his previous rhetoric, we assume president-elect Trump's plan for saving billions of dollars most likely involves deporting these jets shortly after they arrive," explained South Burlington City Councilor Jude Berouth. "Obviously that would present a significant challenge, since F-35s can fly over even the most tremendous of walls, but it's better to be safe than sorry. The ruling codifies various protections for Chittenden County's newest citizens."
The F-35 fighter jets have long been the subject of contentious debate regarding their significant cost overruns and ongoing development issues. Chittenden County's sanctuary status guarantees that municipal employees will not question the status of the controversial jets, or comply with any federal orders to round them up for deportation.
"Imagine being told that you are going to be functional by a certain date for a certain cost, and then consistently fail to meet those deadlines," said Burlington City Councilor Tom McLemons. "That can really affect your self-esteem and make you feel like you're nothing but a massive waste of tax payer money. Frankly, these jets have been through enough and could use our help."
"Even in diverse places like Winooski, you'll find resistance to welcoming this new population into our community," noted Winooski city spokesperson David Golithia. "I don't think people realize how hurtful it is when they point out that the trillion dollars the U.S. has spent on these jets could have been better spent repairing our crumbling infrastructure. That's not exactly the welcoming attitude Winooski is known for."
Golithia went on to explain that, as with many Winooski residents, the F-35's culture is rich. "The jets sing an enchanting song of freedom at an impressive 115 decibels," he said. "That's four times louder than an F-16 choir. Talk about serious pipes!"
Adding to the jets' dismay has been the constant threat of having their jobs replaced by automated machines.
"Now that the war on terror is primarily being fought by unmanned drones, many fear that it's only a matter of time before these jets lose their jobs to labor automation, which is substantially cheaper," explained South Burlington resident and common-sense specialist Joanne McQuill. "We need to be able to guarantee that these jets will not only have a home here in Chittenden County, but will continue to receive an unlimited infusion of our tax dollars."
It remains to be seen whether Chittenden County's sanctuary status will be enough to protect the jets from president-elect Trump, who has already
threatened to cut off any federal funding
to designated sanctuary cities.
In a
follow-up tweet
, Trump said he has asked Boeing to price out a comparable jet that would presumably replace the F-35. Details surrounding these replacement jets are still scarce, but sources say he has requested that they be be able to drop thousands of gallons of warm liquid onto unsuspecting populations below.
The Parmelee Post is a weekly series featuring tough investigative reporting on news that hasn't happened. Yet.