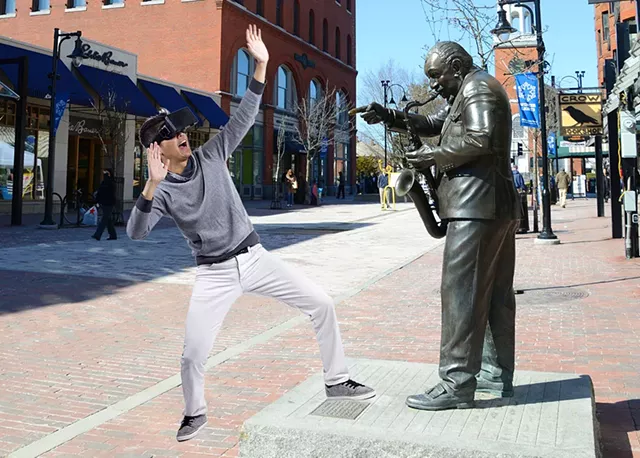 Dreamstime | Bryan Parmelee
A demonstration of the Pacifist headset on Church Street
A game-design collective consisting of Champlain College alumni have developed what tech industry insiders are already calling a whole new class of virtual reality gaming.
Burlington-based Soft Particle have created the first "augmented virtual reality" device that allows users to view and experience the world exactly the way they think it should be.
"It's a simple idea with a profound impact," explained lead designer Gregory McGreggerson. "By and large, people think that life is unfair and the world doesn't work the way they think it should. So we developed technology that allows users to live in a world that is perfectly aligned with their own personal beliefs and outlook."
The device, aptly called the Pacifist, is essentially a virtual reality headset with a camera embedded in front. Though the user still sees the everyday world around him or her — aka real reality — the view is virtually enhanced to remove any thing he or she might find unpleasant.
McGreggerson said the idea came to him when he opened his first student loan bill. "I wanted to create a world where I wouldn't be crushed under insurmountable debt just for having the audacity to earn a quality education," he said. "I figured that's not going to happen any time soon in this country, so, why not leverage technology and make it my reality today? Virtually."
Now, at least while wearing the Pacifist headset, McGreggerson said he sees only zeros, or sometimes even a massive refund, when he looks at his student loan statements. "Sure, that outrageous debt still exists in the boring and predictable real world," he acknowledged, "but, thanks to the Pacifist, I don't have to actually experience it unless I choose to."
What makes the technology especially powerful is how it adapts to whoever happens to be wearing it.
Hate rainy days? You'll likely see nothing but sunshine while wearing the Pacifist. Sick of men constantly interrupting you and telling you that you're wrong? Perhaps all men will become mute while you wear it. Don't want to look at a 14-story mall? You'll see nothing but blue skies and Lake Champlain smiling back at you.
I'll admit I was more than a little skeptical of the concept — until I tried out the Pacifist myself.
I decided to road test it while watching Wednesday night's presidential debate, and, sure enough, right there on the screen was none other than Sen. Bernie Sanders, standing behind a third podium, talking about global warming and campaign finance reform.
"Our biggest concern isn't the effectiveness of the device," explained engineer Budly Widdletrope. "It's that people are never going to want to take the thing off."
[ Ed. note: If it weren't for the surprisingly robust security squad at Soft Particle, the author might have never returned his prototype.]
According to Widdletrope, the applications of the Pacifist are nearly limitless, since it can be worn anywhere. I asked if he thought people wandering out in public while wearing the Pacifist could pose any significant safety risks. He responded, "Only if you believe it should! That's the beauty of it. Now, we just need to find out how to create a reality where people can actually afford one."
The Pacifist is in the final stage of development and is expected to hit the market in late 2017.