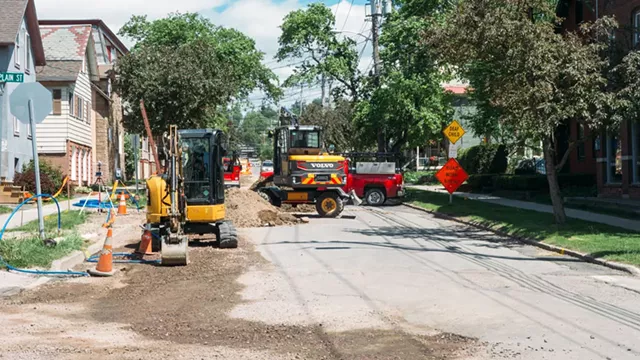 Bryan Parmelee
Burlington, Vt.
Time
magazine published its annual "Best Places to Raise a Family in the U.S." report Wednesday. The Queen City took home the top spot in a brand new category.
Burlington surpassed nine other work zones, including the eastern parking lot of the Harbor Square Mall in Egg Harbor Township, N.J., to be named the best construction site in the country in which to raise a family.
"This 15 square mile construction site by the lake has no shortage of hard-hatted fun to offer the entire family," the report begins. It goes on to list a variety of family-friendly activities, including the hugely popular "guessing game."
"This is where Burlington families entertain themselves for hours by trying to predict which roads will be closed on any given day or where the next sinkhole will pop up," explains the report.
Time
cited quality of education as one of its primary metrics. Local residents did not seem surprised that Burlington received such high rankings.
"Our daughter, Aster, can barely read three-letter words," Dr. Sue Suss told the Parmelee Post. "But since we moved to Burlington, she can suddenly read longer words such as 'detour' or 'warning gas pipeline.'"
"It seems like only weeks ago that our son, Xavier-Lavender Smith III, could barely tell the difference between a bus and a bicycle," said Chelsea Orland. "Now he can differentiate between a long reach excavator and backhoe loader just by the sound it makes outside his bedroom window each morning!"
The report also praised Burlington for its overall safety rating. It found that traffic accidents decreased by nearly 100 percent after all cars and bicycles were replaced with heavy machinery.
"An overabundance of 'local traffic only' signs not only serve to further reduce traffic, but create an aura of exclusivity that allows residents another opportunity to feel superior to visiting tourists," states the report.
Although this is first year
Time
has ranked U.S. construction sites, there is plenty of reason to believe the Queen City will remain in the top 10 for the foreseeable future. "Our research indicates that more buildings are being born in Burlington than actual babies, guaranteeing that it will remain a top construction destination for many decades to come," the report concludes.
The Parmelee Post is an occasional series featuring tough investigative reporting on news that hasn't happened.