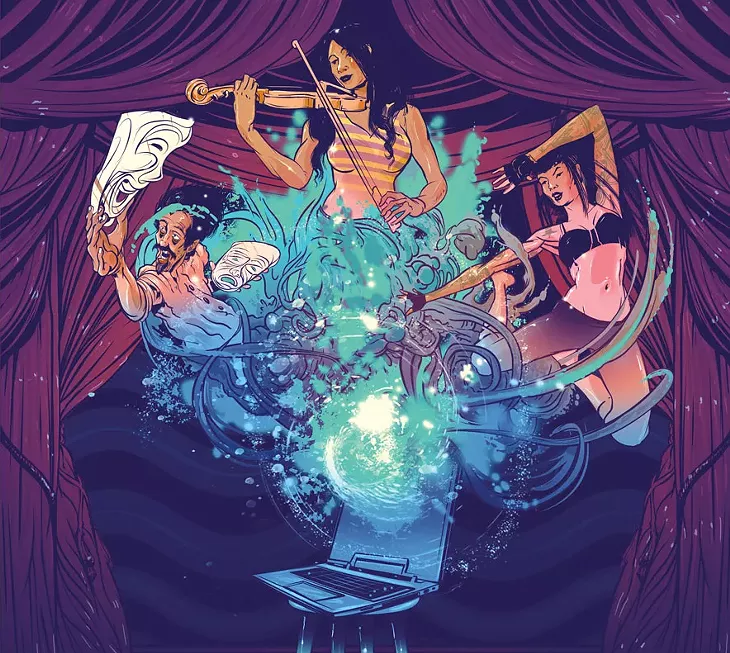 Kathleen Kanz had a great idea. The Montpelier comedian was prepping for a Labor Day weekend standup showcase at the Reynolds House, a Barre inn with an events hall large enough to accommodate a socially distanced crowd. The Kanz-produced show, "It's Safe to Laugh," also featured Vermont comic Tina Friml. It would be Kanz's first performance in front of a live, in-person audience in nearly six months.
In the weeks leading up to the event, she'd had the Diana Ross song "Reach Out and Touch (Somebody's Hand)" stuck in her head. Kanz planned to open by inviting the audience to sing an adaptation of the lyrics. She imagined it as an icebreaker to ease an anxious crowd, many of whom would be attending their first show in person since the coronavirus pandemic struck Vermont in March.
"I thought, Let's all sing this together at the beginning of the show and start with the word 'don't,'" Kanz explained. "'Don't reach out and touch somebody's hand, / Make this room a safer place, if you can.'''
Though he agreed the gag was funny, innkeeper Jeffrey Tuper-Giles nixed the sing-along. "He said, 'You know, we can't have people singing,'" Kanz recalled. "I'd completely forgotten."
The veteran comic, who's produced comedy shows in Vermont for more than a decade, could be forgiven for overlooking that particular bit of pandemic-era protocol. After all, the world is a very different place from the one where Kanz played her last show in late February. That's especially true for performers like her, as well as organizers and patrons of the performing arts.
The coronavirus has devastated industries of all kinds, throughout the U.S. and around the world. But some would argue that few sectors have been as profoundly damaged as the performing arts. For art forms that by their very nature require people to gather en masse, often in enclosed venues, a virus that spreads best when people share space is ... well, it's not good.
In mid-March, well before Gov. Phil Scott's executive order directed Vermonters to "Stay Home, Stay Safe," local performing arts organizations of all sizes began canceling their programming, and many wiped out entire seasons overnight. A flicker of hope survived that summer festivals and other live events might be salvageable. By April, though, the grim reality had set in: The pandemic wasn't going away, and remaining event calendars were all but erased.
According to estimates from the National Independent Venue Association, about 95 percent of live events have been canceled across the U.S. since April. Now, at the traditional start of the new performing arts season, the looming threat of winter makes that number look unlikely to improve for a while.
"Performing arts venues were the first to close when the pandemic hit," Vermont Arts Council executive director Karen Mittelman said, "and they will be the last to reopen."
Even when they do — in spring 2021, by the sunniest projections — it's impossible to say how many arts organizations will be left standing or what the performing arts landscape in Vermont will look like.
"The national numbers say that a quarter to a third of our arts organizations are not going to be here a year from now," Mittelman said. The predictions for closures in the performing arts sector are even grimmer — about 45 percent, she said.
While restaurants, schools and other institutions have started to reopen with at least some hope of an eventual return to normalcy, optimism in the performing arts is harder to find — though it exists if you know where to look.
"No one who runs a theater would be in this business if they weren't tremendously optimistic at heart," Mittelman said. "Are they afraid? Yes, they're really afraid. They're staring winter in the face in Vermont when they don't know where their revenue is going to come from."
Despite emptied coffers, she added, the performing arts community is flush with a different sort of capital, one that could light a way through the darkness: creativity.
"They have been incredibly creative at trying to keep their audiences engaged, find new business models that are going to work in this crazy COVID environment, and figure out how to navigate through all this uncertainty," Mittelman said.
Whether livestreaming events and educational offerings or trying outside-the-black-box approaches to in-person shows, Vermont's performing arts community has shown itself resilient. Modest successes, such as Kanz's comedy show, offer some small proof that audiences will show up for indoor live performances, albeit with reduced capacity.
According to Kanz, the crowd that attended "It's Safe to Laugh" was "delighted" — and safe. The showcase will return on a monthly basis until at least December.
Recent indoor shows at the Chandler Center for the Arts in Randolph and a smattering of other venues have reportedly gone smoothly, too. Northern Stage in White River Junction is planning a production of Stephanie Everett's one-woman play It's Fine, I'm Fine this fall that will mark the first in-person theatrical performance in the country approved by the Actors' Equity Association since the pandemic started. Forty-four masked and distanced audience members will be allowed in the 240-seat Barrette Center for the Arts for each performance.
In the music scene, South Burlington nightclub Higher Ground is likely to remain closed until next spring at the earliest, but it has produced a successful series of drive-in concerts at the Champlain Valley Exposition in Essex Junction. In downtown Burlington, Nectar's is one of a handful of venues to offer music indoors and has also begun staging outdoor concerts in its back alley, with bands playing on the roof.
How and whether the performing arts sector survives the bleak months ahead will depend on many factors, not least of which is the course of the pandemic itself. Performers' and organizers' creativity and resilience — two things over which they actually have some control — will be crucial. (Of course, as most will tell you, a little help from Uncle Sam wouldn't hurt.) Though theater marquees remain blank, Vermont's performing arts scene does show signs of life.
Full Stream Ahead
File: Luke Awtry
Hurly Burly with KeruBo in Burlington's Smalley Park
Vermont arts organizations of all sizes have adapted to the era of face masks and social distancing. Or not. Some small outfits, such as the Off Center for the Dramatic Arts, have folded up shop until things blow over. The Burlington theater nonprofit left its space in July and "will wait patiently offstage for the cue to start our next act," a message on its website announced.
Most theaters that have remained operational have done so with skeleton crews. The Flynn in Burlington laid off or furloughed 12 employees. Other organizations around the state report similar cutbacks, and many now rely on one or two full-time employees and a handful of part-time staffers or volunteers.
It doesn't take a full production staff to livestream events or air past shows, as many organizations have been doing. The Hopkins Center for the Arts at Dartmouth College in Hanover, N.H., for example, streamed events through its spring and summer terms with encouraging results.
"It's a fine place for experimentation," Hop director Mary Lou Aleskie said of livestreaming, noting that student shows and works in progress have been received particularly well. "No one expects anything to be perfect," she added.
Presenting events unbound by brick-and-mortar facilities has also expanded the Hop's reach and given access to new audiences. That includes both far-flung members of the school's international community and people whose physical or financial conditions might prevent them from attending performances in person.
Later this month, the Hop will roll out "Weeks of Welcome," a streaming kickoff to its 2020-21 performing arts season. Among the exclusive virtual offerings are a fireside chat with the host of "The Daily Show With Trevor Noah," an event with Dartmouth alum and CNN reporter Jake Tapper, and a musical collaboration of Chris Thile and Aoife O'Donovan.
Not everyone has gone the streaming route, however. Take the state's most prominent arts organization, the Flynn. In June, with the annual Burlington Discover Jazz Festival shelved, the venue produced a virtual alternative, the Burlington ReDiscover Jazz Festival, which featured a mix of livestreamed artist interviews and rebroadcasts of performances from previous fests. Beyond that, the organization has eschewed streaming — so far.
"We may rethink that strategy this winter," acknowledged Steve MacQueen, the Flynn's artistic director.
Instead, the Flynn has focused its energy and hopes on the 2021 jazz fest, while producing smaller outdoor events in this summer and fall. These include a handful of upcoming performances at Shelburne Museum and a new pop-up concert series featuring local artists of color called Hurly Burly, under the Burlington Discover Jazz Festival banner. To keep crowds a safe size, the time and location of each Hurly Burly show is announced day-of on social media.
"I've never hoped for a small crowd before, so that was weird," MacQueen said.
Hurly Burly is a copresentation of the Flynn, the jazz fest and the University of Vermont's Lane Series. Lane Series director Natalie Neuert said that, like the Flynn, her organization initially resisted streaming.
"It used to be that live performance was the respite from our computers," she said. "People are exhausted from looking at their screens."
But, after exploring the possibility of producing in-person shows on campus, and even having one plan approved, the Lane Series leadership decided to shift to a streaming model for five events this season. Some of those will feature curated content recorded elsewhere. Others will be beamed live from the UVM Recital Hall, possibly with audience members from UVM. Once the students return home at Thanksgiving — they won't be back until the following semester — the shows might be open to the general public.
"We've always been strictly about live performance," Neuert said. "This is a new world for us."
All the World's a Stage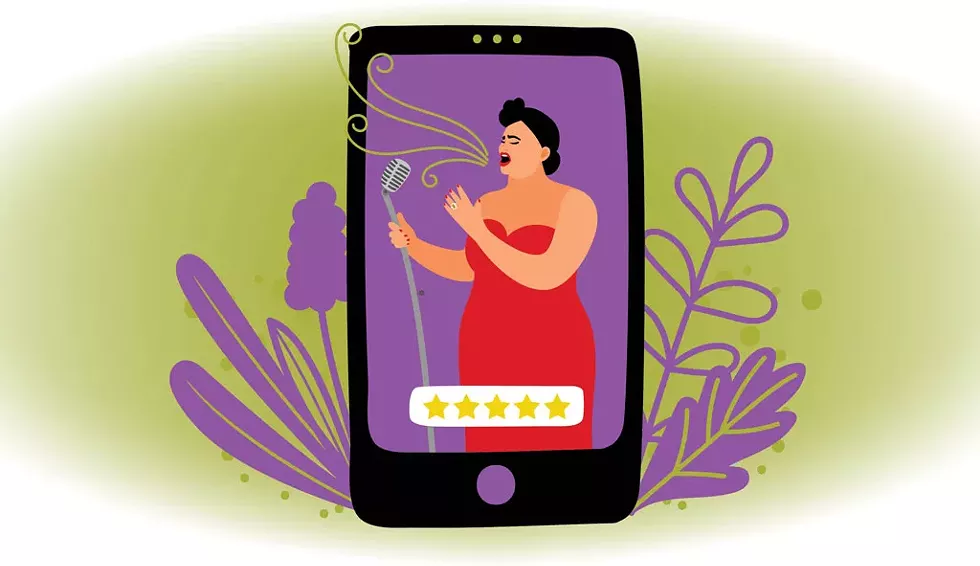 © Ssstocker | dreamstime.com
It's not just a new world for presenters. The pandemic has forced performers of all kinds to reevaluate their artistic processes, the ways in which they connect to their audiences and, in some cases, their very relationship to their art.
Many musicians have migrated online to streaming concerts. The Vermont Comedy Club in Burlington has built a robust following for its online comedy offerings, and its improv and talk/variety shows have found a particularly strong niche. But not every artistic medium translates as well to the virtual stage.
Every summer for the past decade-plus, the Vermont Shakespeare Festival has staged open-air productions of Shakespeare plays around the state. Though outdoor events are now relatively feasible, the festival's organizers opted in April not to go ahead with their 2020 production, The Merry Wives of Windsor.
Instead, the festival has pivoted, to use pandemic parlance, to an offbeat new performance model: Shakespeare to You, with the tagline Bringing the Bard to Your Yard. Throughout the summer, the company's actors have staged some 70 intimate mini performances in the yards, driveways and back decks of Shakespeare fans throughout the Green Mountains. Once they even performed in the middle of someone's field, making the most of the natural resources of "fair Vermont, where we lay our scene."
On the VSF website, patrons can choose from a variety of classic Shakespeare scenes, sonnets and monologues — think "Shakespeare's Greatest Hits." Actors show up at a prearranged time and place and get their Hamlet on — or As You Like It, or Romeo and Juliet, or whatever.
"We wanted to find a way to respond to the isolation of the pandemic and the lack of connection we were all experiencing," VSF cofounder and co-artistic director Jena Necrason said. "We're missing that spark of a person-to-person connection."
Necrason, who is also an actor, explained that Shakespeare to You has an improvisational element that both performers and crowd enjoy.
"It's been a really meaningful performance experience," she said. "Being in the outdoor space of someone's home, there's sort of an intimacy that transcends the usual performance format with a larger crowd."
Still, some facets of Shakespeare to You have taken some getting used to.
"As performers, we all have our processes — warming up backstage, getting dressed in the dressing room," Necrason said. "For this, you're warming up in your car."
Shakespeare to You is free, though the VSF does accept donations. Necrason has chosen not to monetize the program because she sees a different form of value in it.
"It's a great opportunity to get more exposure with folks who may not have known about us before," she explained. "What we hope is the outcome is that next summer these folks will come see our show."
The Merry Wives of Windsor was well into rehearsals when the pandemic hit in March, and VSF plans to remount it in 2021. In the meantime, Necrason and the VSF board are also exploring ways to do Shakespeare to You through the winter — Valentine's Day sonnet, anyone? The company now offers Zoom and phone versions of the program and has been approached by schools, including a college in India, to perform for students.
"We are not doing what we love in the way that we normally do it," Necrason said. "You feel really underwater when you're not able to perform."
Do the Math
Courtesy Of Erin Alexis Randolph
In August, the Vermont Arts Council published findings from a Brookings Institute study called "Lost Art: Measuring COVID-19's devastating impact on America's creative economy." Vermont ranked as the sixth hardest-hit state in the country, with losses between April and July of more than 8,000 jobs and $215 million in sales. Those figures include a variety of creative organizations, not just the performing arts. But the pandemic has especially severe immediate and long-term repercussions for that sector.
"The creative sector in Vermont accounts for a larger share of employment than [in] other places, so the impact is greater," Mittelman, the VAC director, explained. Further imperiling the sector is the fact that Vermont's arts organizations tend to be small; most operated on razor-thin margins before COVID-19.
"We're not talking about the Met[ropolitan Opera] and Lincoln Center," Mittelman said. "We're talking about small- and medium-sized organizations that don't have the cash reserves, the large donor bases or endowments [of large organizations]."
The potential economic fallout of a crippled arts sector goes well beyond those organizations themselves. Vermont Creative Network chair Jody Fried noted that, in rural areas that are trying to attract tourists and a younger workforce, the arts serve as economic drivers. People who come to a small town to take in a show usually spend money on other things while they're there.
"We have economic data that shows it's roughly 25 bucks per person that someone spends in addition to their ticket price if they're a Vermont resident," Fried said. For tourists, that number doubles.
"So, if you figure all of the performing arts that normally take place just in the summer months not taking place, and then the events that are happening being reduced in size, the economic impact is huge," he continued.
Fried is also executive director of Catamount Arts, which is based in St. Johnsbury and produces events all over the Northeast Kingdom. He pointed to its reduced season as an example of how significantly the pandemic has kneecapped the arts.
Pre-pandemic, Catamount Arts had 33 summer shows booked on stages throughout the NEK, which is about average. In the past three summers, those shows have accounted for $5.5 million in revenue, Fried said, and averaged anywhere from 700 to 1,200 attendees per event. This summer, Catamount Arts focused on a drive-in events series at the Northern Vermont University campuses in Lyndonville and Johnson, alternating between movies and concerts. Crowds at the 20 events were limited to 150 people.
"Do the math," Fried said, before adding it up himself: 150 people times 20 events equals 3,000 attendees this summer, compared with a pre-pandemic average of 30,000 attendees — a 90 percent reduction. And that's just one organization in rural Vermont. Fried suggested that impact can be extrapolated to communities across the state.
"The arts are a huge economic driver in rural communities," he said. "If you look throughout the country at rural communities that are thriving, one consistent thread that you'll find is that they have a thriving creative sector. You can go town by town throughout Vermont, and the heart and soul of a community is usually some form of the creative sector."
Because of limitations on crowd size — 150 outside, 75 indoors — performing arts organizations are particularly constrained in how they can operate and how much revenue they can take in.
"There's [currently] almost no way to do what we do in a way that can be monetized to the point where it can be done in a self-sustaining way," Fried said. He noted that other traditional revenue streams for arts organizations, such as donations and sponsorships, have slowed to a trickle because money is tight everywhere.
"Without support, it's going to be very hard to maintain over the long haul," Fried said.
In July, the state announced that it would distribute $5 million to nonprofit arts and cultural organizations as part of the $96 million economic recovery package. The help was welcome. But, with projected losses in the performing arts of up to $50 million, according to Fried, it was also a drop in the bucket.
"There is still so much more need, because the loss is so great," he said.
MacQueen, the Flynn artistic director, projected that his organization would be able to survive without producing shows for up to three years, thanks to its sizable endowment and other factors. But most performing arts organizations in Vermont don't have those resources.
Especially for organizations that have a lot of overhead, such as a theater to maintain, Fried said, "this winter is going to be a very challenging time for live performing arts."
Mittelman pointed to the vital role of historic downtown theaters such as the Barre Opera House, the Chandler Music Hall in Randolph and the Latchis Theatre in Brattleboro. These aren't merely economic anchors for their towns, she said, but "part of the cultural infrastructure of our state," and they have seen decades of public and private financial investment.
"All of that investment in our cultural infrastructure is in jeopardy right now," Mittelman said. She echoed the sentiments of arts heads around the state in calling on political leaders to step in and help preserve that investment — and, by extension, the cultural vitality of communities throughout Vermont.
"We need political leadership on the local, state and national level, because private philanthropy is not going to be enough to save our arts sector," Mittelman continued.
"That's the reality of the performing arts in this current situation," Fried said. "It's an existential threat."
The Not-So-Grand Finale
Courtesy
Daniel Bernard Roumain
While organizers and performers paint an understandably bleak picture of the state of the performing arts in Vermont, they also see some silver linings.
"There are opportunities in any sort of disruption to come up with creative solutions and innovative ways forward," said Lisa Mitchell, executive director of Town Hall Theater in Middlebury. Her organization has experimented with a variety of online and outdoor performances, from concert series to play readings. Post-pandemic, she said, "I could see us doing more outdoor performances, especially."
"We've been inspired to be more creative," MacQueen said. "We're feeling better than we have in a while, because we see sort of a path."
One innovation at the Flynn happened more in response to the ongoing social justice movement than to the pandemic per se: the creation of a new position called "creative chair." Musician and activist Daniel Bernard Roumain — aka DBR, who was the Flynn's most recent artist-in-residence — will hold it for a two-year appointment.
MacQueen explained that DBR will be involved in every department at the Flynn, with a particular focus on connecting its programming "more deeply" to social justice issues. "I think he can help us on that issue and every other issue," he said.
Aleskie, the Hopkins Center director, noted that the pandemic has been especially hard for performing artists of color, as it has disproportionately affected people of color in general. She believes that the accessibility afforded by streaming could be one step toward leveling the playing field when in-person performance returns.
"I'm hoping that translates into a broader, more diverse audience when we move back to the live platform," she said.
Aleskie also thinks the pandemic could spotlight other problems within the performing arts and inspire solutions.
"We don't live in a country that supports artists' creative processes; we support output," she said. What she meant is that when the Hop brings in an artist, they're paid for their performance, not for the six months or a year or two they spent creating and perfecting it. With opportunities to perform scarce, she said, "the entire artistic ecosystem is in danger of collapsing."
Aleskie suggested that the pandemic is an opportunity to consider alternative models of compensating artists, citing countries such as Germany, where artists' creative time is subsidized.
"We're struggling with how we can support artists in their journey, not just their delivered package, so that we're getting the best of what the artist can offer," she said.
Such solutions may not be on the immediate horizon. But, as audiences continue to feel the loss of the arts in their lives, the pandemic may drive home just how critical those creative encounters and experiences are.
In Mittelman's words, "There's an awareness of how much the arts matter, because everyone is missing the arts so much right now."
Upcoming Events
Courtesy Of Anna Colliton
Emerald Rae
Hey St. Johnsbury! #Getdowntown!
Saturday, September 26, 11:15 a.m., various St. Johnsbury locations. Free.
When you think of Vermont's unique downtown districts, what do you imagine? Maybe it's the mouthwatering aroma of a locally sourced burger, or the feel of a craft brew on your tongue. Perhaps you hear the sweet strains of live music by one of the state's many gifted songsters, or picture picking out the perfect item from a little boutique.
Catamount Arts, the Town of St. Johnsbury and their partners team up to offer familiar downtown attractions — including performing artists — in a physically distanced format. The second installment of Hey St. Johnsbury! #Getdowntown (the first was September 12) draws locals outdoors for live entertainment, food trucks and shopping spread throughout various open-air locations.
Circus artist Troy Wunderle, Burlington spoken-word poet Rajnii Eddins and regional fiddler Emerald Rae (pictured) lend their talents. Folks hopping from performer to performer can splurge on sidewalk shopping along the way.
One of the day's highlights is the Three Rivers Trailhead Center grand opening, preceded by a 13.4-mile gravel ride departing from the center. The course gains 1,271 feet in elevation and treats riders to spectacular views.
Visit catamountarts.org for the full schedule of events for this civic celebration that's bound to boost morale for area residents.
— Kristen Ravin
Lyric Theatre presents New Leaf: An Outdoor Musical Cabaret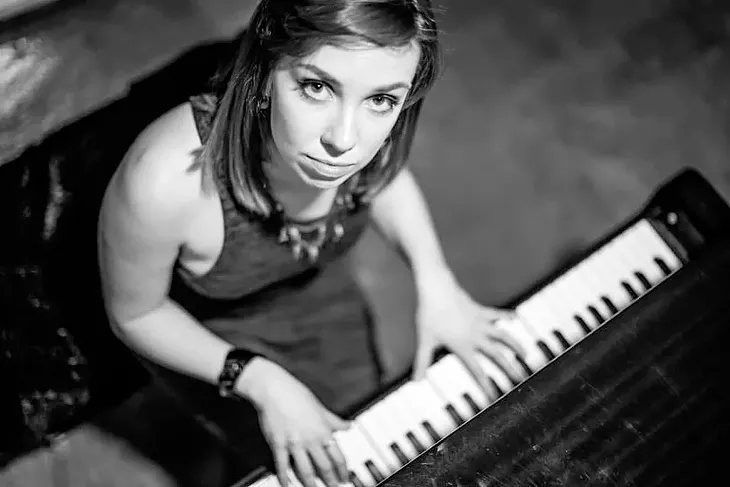 Courtesy
Andriana Chobot
Saturdays, September 26 and October, 5 p.m., Trapp Family Lodge, Stowe; Sunday, September 27, 2 p.m., Snow Farm Vineyard, South Hero; and Sunday, October 4, 2 p.m., Burlington City Hall steps. Free. lyrictheatrevt.org
Is it possible to view the extraordinary events of 2020 through a positive lens? The folks at Lyric Theatre think so. As the world collapsed into chaos in the spring, the community theater company sprang into action to help those in need. The beleaguered group, grappling with an unprecedented postponement of its performance of Matilda, quickly pivoted to churning out face coverings for the city of Burlington, producing about 24,000 masks and counting.
With that kind of positivity, change and hopefulness in mind, the group presents New Leaf: An Outdoor Musical Cabaret. The show is composed of selections from popular Broadway musicals, spanning old favorites such as The Sound of Music to neo-classics such as Rent to newer works including Fun Home and Hadestown. Under the supervision of artistic director Pearl Guerriere and musical director Andriana Chobot, new faces and Lyric veterans come together for a show that brings light to dark times.
— Jordan Adams
It's Fine, I'm Fine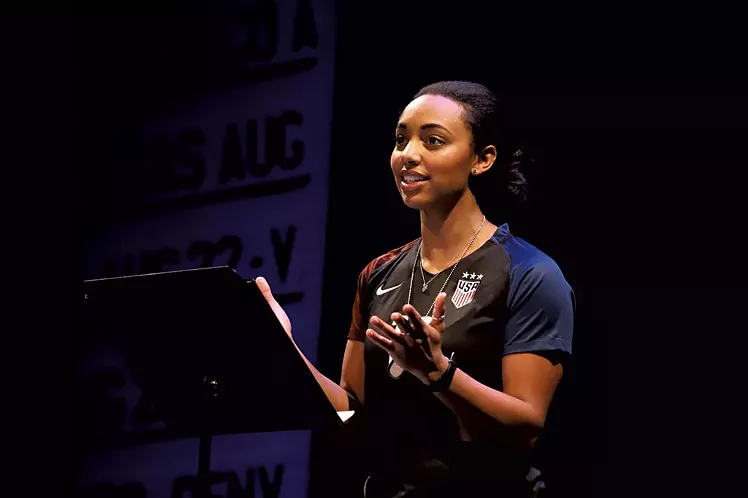 Courtesy Of Heidi Reynolds
Stephanie Everett
October 7 through 25, Tuesday through Saturday, 7:30 p.m., and Thursday, Saturday and Sunday, 2 p.m., presented by Northern Stage, Barrette Center for the Arts, White River Junction. $45 adults; $19 students; tickets on sale September 23. northernstage.org
Cue the lights — live performance returns to Northern Stage this October. "Our audience is ready," producing artistic director Carol Dunne said. "We owe it to the community that's supported us." It's Fine, I'm Fine is a one-woman show written and performed by Stephanie Everett, who created it during her Northern Stage Experiential Learning term at Dartmouth College.
As the first of the 74-member League of Resident Theatres to produce live theater with permission from the three theater artist unions, the White River Junction-based company has chosen a new play rather than something familiar. "It's the perfect play for right now because it's a story of resilience," Dunne said. It's Fine, I'm Fine is the first in the company's Tiny Necessary Theater series, which will present four works.
Everett developed the play in collaboration with Dunne, who nurtured the script with a workshop performance in 2018. Dunne is directing, largely with online rehearsals, and steering a creative team that will provide full theatrical effects. "The lighting will be almost a character," she noted.
The play recounts the story of Everett's experience as a college varsity soccer player whose sports career ended early after she suffered multiple concussions. Everett's struggle to adapt is hopeful and heartbreaking, with a dose of humor.
The theater will limit seating to 25 percent of capacity and take numerous safety precautions. The show runs 60 minutes without intermission. It will be available to stream on demand October 22 through November 29.
— Alex Brown
Chris Thile With Aoife O'Donovan
Courtesy
Chris Thile
Wednesday, October 21, 8 p.m., online. $15; free for students and members. hop.dartmouth.edu
Mandolinist Chris Thile is known for playing in the progressive bluegrass band Nickel Creek, which broke out in the early 2000s with an Alison Krauss-produced, self-titled record. A MacArthur Fellow, Thile also plays with the similarly styled string band Punch Brothers. Most recently, he was host of the American Public Media radio variety show "Live From Here," which was a continuation of the long-running "A Prairie Home Companion."
For his performance as part of the Hopkins Center for the Arts' Hop@Home online series, Thile teams up with longtime collaborator Aoife O'Donovan, an Irish American singer-songwriter who's also connected to the former "A Prairie Home Companion" scene. O'Donovan and Thile appeared together on the Grammy-winning 2011 album The Goat Rodeo Sessions, which also featured classical cello master Yo-Yo Ma. O'Donovan has worked extensively with veteran recording artists from across the folk and roots spectrum, including Nickel Creek fiddler Sara Watkins and crossover Americana act Greensky Bluegrass.
— Jordan Adams
Moira Smiley, Seamus Egan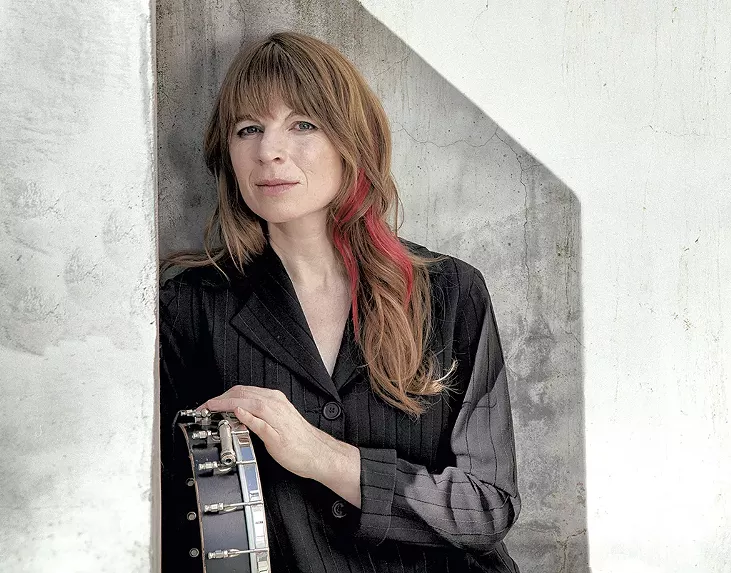 Courtesy Of Alexandra Defurio Photography
Moira Smiley
Friday, October 23, 7:30 p.m., presented by UVM Lane Series, livestreamed from the UVM Recital Hall. $20. uvm.edu/laneseries
Moira Smiley has rightly been called a brilliant musician, a vocal polyglot and an innovator; her music, haunting, thrilling and genre bending. As a composer, she's known for works stripped down to just voice and body-as-percussion-instrument, as well as choral and instrumental pieces for film, television programs, video games, theater, dance and a multitude of albums. She's even got a project retelling the story of Narcissus that involves cellphones. And voice, always voice.
Smiley has traveled a long way from her birthplace in rural Vermont: She's studied and performed from Appalachia to Bulgaria, Ireland to Indiana (where she earned a degree in piano performance). She's toured with tUnE-yArDs, Solas, the Lomax and Folklife projects, Billy Childs' "Laura Nyro Re-imagined," and her own stunningly original ensemble, moira smiley and VOCO. From pop to polyphony, opera to experimental art song, this performer, composer and educator has carved out a most extraordinary international career.
She returns to Vermont next month for a livestreamed concert from the University of Vermont Recital Hall, also featuring local bassist extraordinaire Tyler Bolles. Smiley shares the bill with frequent collaborator Seamus Egan. Once a teen prodigy on a heap of instruments, he later founded the Irish supergroup Solas and has composed for other artists and numerous films — including the soundtrack for The Brothers McMullen, which featured a breakout hit for Sarah McLachlan. Like Smiley, Egan has pushed traditional music forward with contemporary twists and turns. At UVM, he performs with Québécois guitarist Yann Falquet.
— Pamela polston
The Queen's Cartoonists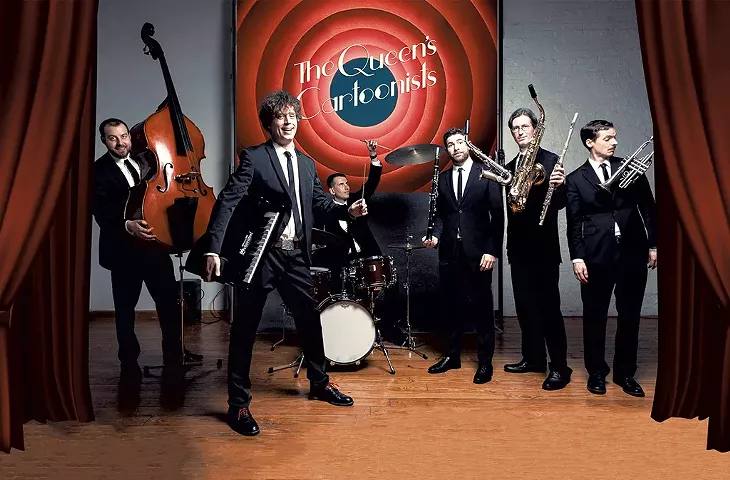 Courtesy
The Queen's Cartoonists
Friday, October 16, 7 p.m., South Lawn of Shelburne Museum, $35. flynnvt.org
Generations have been introduced to some of the world's most recognizable music through its placement in cartoons. For instance, comically inept hunter Elmer Fudd sings, "Kill the wabbit, kill the wabbit," to the tune of Richard Wagner's "Ride of the Valkyries" in the classic "Looney Tunes" short "What's Opera, Doc?" New York City group the Queen's Cartoonists revel in the connection between music and animation and dedicate their entire act to celebrating the music of cartoons.
The group plays a rollicking mix of popular jazz and classical works that have been featured in animated pictures, such as Aram Khachaturian's mallet-heavy "Sabre Dance" and Edvard Grieg's menacing "In the Hall of the Mountain King." More than just a music performance, the sextet's live shows feature projections to which the ensemble plays along, creating a live score for classics such as "The Pink Panther," "Tom & Jerry," and many newer, lesser-known titles.
— Jordan Adams
The American Dream Play Reading Series: Ma Rainey's Black Bottom by August Wilson, with François Clemmons
File Caleb Kenna
François Clemmons
Sunday, November 1, 4 p.m., online. Admission TBA. middleburyactors.org
Like most theater troupes, the Middlebury Acting Company is on an extended intermission. In the meantime, it's exploring alternative methods of connecting with audiences and fulfilling its social mission. For example: the American Dream Play Reading Series, a collaboration of the company and Middlebury's Town Hall Theater.
The online play-reading group is intended to "create a community of people interested in reading and discussing some seminal, relevant plays that directly pertain to issues of racial and economic inequities in our country." First up in that series, which runs the first Sunday of every month for six months beginning in November, is Ma Rainey's Black Bottom by August Wilson, inspired by the real-life blues singer Ma Rainey.
The play is set in a recording studio in the 1920s and centers on escalating tensions between Rainey's band of Black blues musicians and the white producers who seek to exploit their talents. For each installment of the American Dream series, attendees will read that month's play in advance — scripts are available for purchase at the Vermont Book Shop in Middlebury. During a Zoom chat, a moderator will guide discussion about the play, and guest artists will read selections aloud. For November, the guest is Middlebury actor and opera-trained singer François Clemmons, famous for his role as Officer Clemmons on the children's TV show "Mister Rogers' Neighborhood."
— Dan Bolles
Middlebury College presents Jupiter String Quartet
Courtesy Of Sarah Gardner
Jupiter String Quartet
Though the term "chamber ensemble" connotes a small group of musicians, Jupiter String Quartet create a sound with astronomical heft. Composed of violinists Meg Freivogel and Nelson Lee, violist Liz Freivogel (Meg's sister), and cellist Daniel McDonough (Meg's husband), the Illinois-based group is internationally renowned for its stirring neo-classical work.
Equally inspired by core classical and modern sources, the foursome's finely intricate work is full of tension and catharsis. Collaborations with like-minded artists such as Australian pianist Bernadette Harvey and Malaysian American composer Su Lian Tan are as refined as they are captivating.
The group is also known for its pedagogic zeal, as its website indicates: "The Jupiters place a strong emphasis on developing relationships with future classical music audiences through educational performances in schools and other community centers." It's no wonder Middlebury College has been inviting Jupiter String Quartet back since 2010.
— Jordan Adams