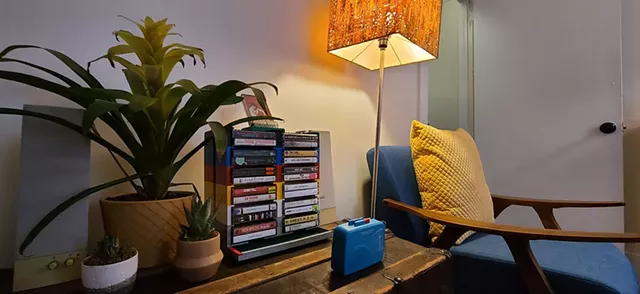 Jordan Adams
Antique steamer trunk and Lego cassette tower
Until about three years ago, I had never lived alone. Throughout my twenties, and a little bit of my thirties, I bounced around from apartment share to apartment share, racking up more than 30 roommates in the process. Almost every new abode was fully furnished by the people with whom I'd moved in. This kept me from accumulating basic things, such as furniture and décor. And with every move, including two cross-country relocations, I purged much of what I did have.
I finally moved into my first solo apartment in 2018. The first few days there were hilarious, because I had nothing but a mattress on the floor and my stereo. During year one, I spent a lot of time and money filling out the space. I ordered a bed frame. I snagged some stuff from my parents' house. I found an excellent secondhand sectional couch. I happened upon an exquisite orange velvet wingback armchair at a local thrift store.
But then I just kind of stopped. After taking my apartment to perhaps 65 percent of its potential, I lost my drive. I'll get to it someday, I thought.
"Someday" came around the end of March this year when, you guessed it, the pandemic ensured I wouldn't be leaving my house much for who knew how long.
Since then, I've brought my place up to about 95 percent. But I didn't do so just by throwing money at it. Yeah, I did some of that, strategically spreading out my purchases over months. But I got the most satisfaction from figuring out how to organize and enhance the space with items I already owned.
My apartment is one of seven in a three-story 19th-century Victorian. The floor sags, making right angles scarce. The paint is so thick that some of my doors don't properly close. And the house has been chopped up, added onto and Frankensteined into the crisscrossing mess of units it now holds. I often joke that it's Burlington's Winchester Mystery House, minus the ghosts.
Technically, my apartment is classified as a "one bedroom-plus." I have two legitimate bedrooms, each with a window and a closet — but you have to walk through one to get to the other. Again, the layout makes no sense.
The back bedroom doesn't get as much light, so I initially chose the brighter room for my bedroom. The other one became a dumping ground for excess stuff — including even more items I took from my parents' house when they sold it in the spring of 2019.
I managed to sell a bunch of that stock at a summer yard sale. Whatever didn't move I returned to my spare room, thinking I'd sell it online or something ... someday.
Eight months had passed when we entered the pandemic shutdown. After the culture shock of the new reality wore off a month or so later, I became incredibly motivated to make my home as cozy and wonderful as possible. After all, I wasn't spending time anywhere else.
First, I took all of the junk out of the back room and photographed everything I wanted to sell. Retail hadn't fully reopened yet, so the secondary market was booming. I listed a solid wood folding game table with four matching chairs on Facebook Marketplace. Within seconds of finalizing the post, a buyer contacted me. Forty-five minutes later, the table was gone and I had an extra $150.
My selling hot streak continued. I sold an enormous telescope, five boxes of vintage hardbound books, and all of my childhood toys that I didn't want to keep.
After clearing out the back room, I decided to make it my bedroom and do something else with the front room. Endowed with a little extra pocket money, I ordered a few plush green rugs, a floor lamp with a cork shade, and a faux midcentury-modern armchair.
I accented the room with a 100-year-old steamer trunk that my mom's paternal grandfather brought to America when he and his family emigrated from Italy. And a colleague who sells antiques gave me a great deal on a couple of smaller side tables. When I decided to move a bookshelf and a stationary bike into the space, I realized I'd created a quasi health spa and reading room.
Jordan Adams
Music nook
I didn't change much in my living room, other than moving my record shelves and turntable from in front of a window to an adjacent wall. After fussing with a few different chairs in the newly opened space (including the orange wingback), I decided to pull out one piece of my sectional to create a music-listening nook.
Making small changes like this can be a bit like disrupting a house of cards. Relocating the sectional piece created a small vacuum that needed to be filled. I'd been trying to stay out of enclosed spaces, including retail stores, as much as possible, so I scoured online marketplaces almost hourly.
I finally found the perfect end table to fill that void, but it was a 90-minute drive from Burlington. Normally I wouldn't go that far for something I could eventually find closer to home. But the table was perfect, and what else was I doing that weekend?
Besides, to make the trip more worthwhile, I made a 45-minute detour to pick up an adorable ceramic purple lamp I found on Craigslist.
Later, while spinning some vinyl from my now-cozy listening area, I realized I needed to reorganize my records. I have a bunch of different shelves of various sizes, all with different capacities. My organizational system is a hybrid of genres and eras, and each section was packed to the gills.
This is a problem for a music nut. Was I just supposed to stop buying records because I didn't have space for them? Hell no. After shuffling things around, I managed to rehouse my wax so that each section had plenty of room to grow. The space was there; I just had to find it.
This vinyl victory made me think about my collection of cassette tapes. I browsed some display cases online but didn't like anything. Then I had a brainstorm: Could I make a cassette tower out of my massive Lego collection, one of the only childhood treasures I hadn't sold off?
I quickly discovered that building Legos sans blueprint is a brutal exercise in trial and error. After about eight hours of tinkering, spread over two days, I successfully constructed a double-sided, 48-cassette tower that rotates on a special lazy Susan Lego piece. I put it in my reading room, along with a cheap portable cassette player and powered speakers.
I've made countless other little organizational improvements, too: I put up shelves I'd ordered ages earlier but never opened. I shifted the contents of my closets so everything fits better. I finally framed and hung a bunch of art, including an amazing abstract painting I made in the first grade — it had been sitting in a box of memorabilia my mom had saved.
All of this reminded me of something a friend's mom said shortly after I moved in to this place. She asked how everything was going. I told her it was a work in progress. She laughed and said, "Jordan, that's what having a home is."
I really get that now.