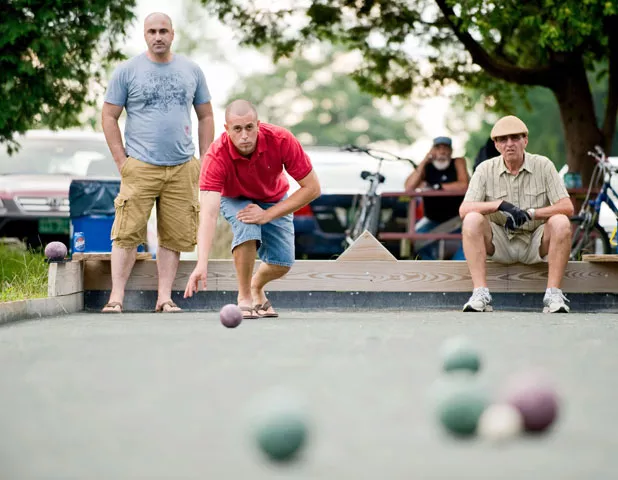 More than a century ago, Irish immigrants regularly muddied Boston Common with their Gaelic football matches, while boxing gyms in Brooklyn and Manhattan reeked with the sweat of Italians and Jews literally fighting for their place in U.S. society.
The old American story of sports as a means of cultural preservation and a rite of assimilation is being played out again today in Burlington. Now it's Vietnamese spiking volleyballs at Roosevelt Park, Bosnians rolling bocce balls at Oakledge Park, and Somalis, Sudanese and Congolese heading soccer balls at Starr Farm Park, Leddy Beach and practice fields at the University of Vermont.
This week, while the rest of the world turns its attention to the summer games in Beijing, Seven Days finds plenty of international competition on display here at home.
Somali Soccer: Leagues of African Nations
It's a long way from a dusty football pitch in the Dadaab refugee camp in northern Kenya to the ankle-high grass of a soccer field in the New North End of Burlington. That's the distance traversed by most of the 30 or so Somalis who gather every evening for friendly but spirited matches in Burlington's Starr Farm Park. With occasional mixing of personnel, the same two teams - United Boys and Vermont New Boys - play one another more than 100 times a year, from mid-April to late October. The two sides are evenly matched, as evidenced by last Sunday's 5-5 draw.
"One day one team wins, and another day the other team wins," explained Shadir Mohamed, who casually coaches both squads.
Many of the players became friends in Dadaab or in Kakuma, another crowded refugee camp near Kenya's border with Somalia. There's not much to do in those barren, baking camps. Playing soccer is how the Somalis, now mostly in their teens or early twenties, passed the years prior to their resettlement in Vermont.
Other groups of African immigrants - Congolese, Sudanese and Liberians - meet for regular matches at various venues in and around Burlington. The Somalis mostly stick together, although players from Turkey, Kosovo and Jamaica occasionally take part in the matches between the United Boys and Vermont New Boys. A couple of guys from Cote d'Ivoire and Congo joined the Starr Farm match on Sunday; shouts in French announcing their arrival mixed in with the Somali trash talk - and some English.
"Shoot the fucking ball, man!" one player screamed as a teammate dribbled near the opponents' goal.
"Hey, watch your English!" someone else yelled in response.
The banter is usually accompanied by smiles and punctuated by loud laughter. "We come here to have fun," one of the United Boys, Yassin Omar, noted after the roughly 90-minute match, which was played without a half-time break.
A referee blew his whistle whenever the ball rolled into one of the drainage ditches that serve as boundary markers on a field with no chalk lines. Grinning broadly, the middle-aged ref also flashed a yellow card after one of the Vermont New Boys complained too long about a call. "We play by international soccer rules," Mohamed pointed out.
They're loosely enforced, however. About half the players ran relentlessly up and down the field, sometimes flying face-first onto the wet grass as they battled for the ball. Sharp slaps resounded as kicked shots whacked into defenders' chests or backs. A half-dozen spectators - like the players, all male - offered encouragement and criticism as the sky darkened and the bugs thickened.
The quality of play was generally high, even spectacular. One goal was scored by a backwards kick that the keeper never saw coming. But this is amateur soccer played by African immigrants attending school or working days as dishwashers, messengers and construction laborers. The same goalie who was surprised by the heel kick later botched a lobbed shot that should have been an easy save. That goal inspired much merriment on both sides.
The matches become more serious when the Vermont Somalis face off against squads of compatriots from Syracuse and Utica. They travel in vans to those upstate cities a couple of times each summer, with the New York Somalis paying reciprocal visits to Burlington.
The Vermont New Boys and United Boys are devoted to their sport - which, as Noor Bulle, 18, pointed out, is "the only one we play."
All the players will be watching intently the next couple of weeks as Cote d'Ivoire, Cameroon and Nigeria bid to win an Olympic men's soccer gold medal for Africa. Somalia doesn't have a national team of its own. The chronically chaotic country has been without an effective government for the past 17 years.
"We're trying to make our community stronger," Bulle said on Sunday as he watched the match from the sidelines due to a torn meniscus. "These games help bring us all together, keep us in touch with one another here in America."
- KEVIN J. KELLEY
Vietnamese Volleyball: New Home Court Advantage?
There's a lot of competition for - and on - the volleyball court at Burlington's Roosevelt Park. On a recent partly sunny afternoon, the first dry day in a week, Frank Nguyen enviously eyed the eight players who were warming up for the next scheduled game. He'd been waiting an hour for a chance to play, but the single court in these three vibrant green acres of Burlington's Old North End was booked solid.
Ten other waiting players - all Vietnamese - chatted, dug into coolers and watched along with family members as the game began with a viciously targeted back-court serve from a lanky twentysomething. The ball hit the court line, just eluding a gray-haired man in a stenciled, blue Trinity College T-shirt.
"That's Son Dang serving," Nguyen whispered. "He's tough."
Dang's next serve wasn't quite as expertly placed, though it took the maximum three hits for his opponents to get the ball back over the net. The sun suddenly broke free of western clouds and cast long shadows across the court, throwing the players on the eastern side into temporary disarray. Nguyen sighed as he held his 2-year-old son.
"I probably won't get to play today," he said. "But just watching is pretty."
Nguyen, 39, has been playing casual volleyball in Burlington since 1990, when he arrived in Vermont as part of a refugee resettlement program. His local playing history includes a stint on a now-defunct YMCA team.
But it's the outdoor, after-work pick-up games that draw large, multigenerational crowds to the sidelines of the v-ball court - 400-odd people of Vietnamese descent live in the Queen City. "They just started in May in Battery Park," Nguyen said. "More and more people came . . . every day. I'm not sure why, but the Vietnamese community just took notice."
Nguyen noted that increasing numbers of spectators and a lack of parking drove the games from Battery to Roosevelt Park. "We used to be much more tightly knit," Nguyen said. "But people get busy, you know . . . people get older. That's why this is so much fun. The North End is also closer to most of our homes . . ."
But there's another theory for the location shift: In an effort to better serve the players, and prevent erosion, Burlington Parks & Rec converted the Battery Park volleyball court from grass to sand.
The Vietnamese don't like it. "The old court was too sandy," offered a dusty-haired young boy as he examines the flat tire of his mountain bike. "Some people think that beach volleyball is the only kind, but real games are placed on hard courts."
Soccer and volleyball are the equivalent of football and baseball in Vietnam, and, though the country's national v-ball squad did not make the roster of 24 teams competing in this year's Olympics in Beijing, a quick survey of the crowd confirmed just how seriously the game is taken. When service began, even three young girls - who just a minute earlier had been squealing and spitting soda at each other - fell silent and turned in unison to watch.
The daily games at Roosevelt begin at 5 and end at sunset. Teams assemble loosely and differ from day to day. The quality of play also varies - word has it the best games take place on the weekends. While all of the games are currently dominated by male players - most in their late twenties and early thirties - a small contingent of teenage girls often takes the court before and after the day's main events.
Throughout the afternoon, changing groups of player-hopefuls, parents and grandparents, and kids on bikes revolved around the court, and the play didn't miss a beat even as a minute-quick rain turned the dirt dark and slick.
"Too dark for a new game now," Nguyen said as he gathered up crackers and plastic cups. He kept one eye on his son as the little boy dizzily circled a maple tree. "I'll just have to find a way to get here a little earlier tomorrow."
- MATT SCANLON
Bosnian Bocce: BBC World Service
Smajo Sehovic didn't seem distracted by the competitive banter of his opponents, or the interference of his swarming grandchildren, as he crouched next to the clay court last Thursday evening at Oakledge Park in Burlington. Under the bill of his straw flat cap, the 63-year-old Bosnian gazed resolutely at the pallino - the smaller, target ball - while clutching a larger, green ball in his right hand. Then he released the orb, which landed on the dry clay with a muffled thud. Sehovic watched as it rolled obediently toward the target.
"Green is better," the referee announced, awarding Sehovic one point.
Sehovic got serious about organized bocce in 1987. At that time he was raising a family in his hometown of Banja Luka, Bosnia. Twenty-one years later, after being displaced by the war in the Balkans, Sehovic and his family are back in the game on the bocce courts of Oakledge Park.
In this quiet corner of the park, a small community of Bosnians - now naturalized citizens like Sehovic - meet twice a week as the Burlington Bocce Club, a.k.a. BBC. Last week, the players and their families took over the picnic tables and set up additional lawn chairs along the perimeter of the courts, smoking, playing, and chatting amongst themselves.
"It's a social game," said Sehovic, who was sitting next to his granddaughter Elma. "I'm relaxed when I play bocce. If I have a headache during the day, I come here and it's gone. It's like therapy." Before the courts were built, Sehovic and his friends played wherever they could find a level lawn.
That changed two years ago when Zander Ponzo, a retired UVM professor, teamed up with the Bosnians to formally establish the BBC and advocate for the construction of courts to the Burlington Parks & Recreation Commission. With its approval, Ponzo, who is half Italian and half Russian, sent
a grant proposal to the National Italian American Foundation. He made the case that bocce is to Burlington's current Bosnian community what it once was to the city's Italian-Americans. Last June the BBC received $3000 from the NIAF in addition to an anonymous donation of $2000 to finance construction.
Ponzo now enjoys his retirement playing on the courts he and the Bosnians built and now maintain together.
"It's a great addition to Parks & Rec," said Ponzo. "I think without the Bosnians we don't have a club, and without them we don't have bocce courts, either. They've been instrumental, and I think this club fits in perfectly with the ethos of Burlington."
He added that watching the Bosnians play and interact in their language reminds him of the old Italian men he watched play bocce as a child in New York City - his "old country."
"Those guys were very colorful, but I didn't understand them," Ponzo said. "So in some ways I feel comfortable here, because at times I don't understand the Bosnians, either."
For Sehovic, playing bocce reminds him of simpler times before the war. "So many good things happen while playing bocce," he said, presumably talking about the athletic challenge of the game as well as the good energy that surrounds it.
Sehovic's daughter Lejla was introduced to bocce back in Bosnia and, according to her father and other league players, is an excellent player.
"I'm not that good," she demurred modestly after winning a match. "I just play for the social aspect. It's better than sitting at home watching TV. Plus, I enjoy my father's friends; they're funny people." Lejla also plays doubles with her husband Maruan when she's not chasing her children around the courts.
"I like to be here," Sehovic said between long drags of his cigarette. Acknowledging the large crowd assembled, he added, "It doesn't matter if I play or not, I like to be around the court. It's as close to home as we get here."
- MIKE DIBIASIO