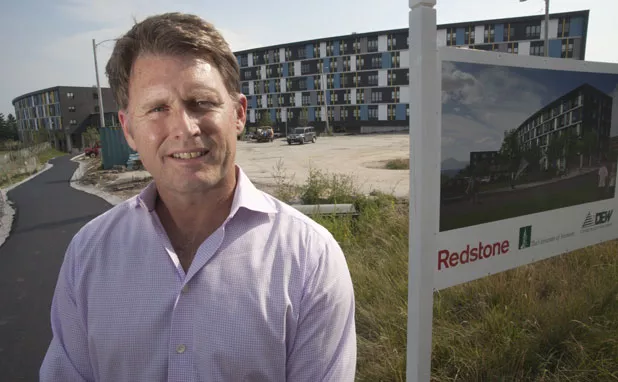 Matthew Thorsen
Doug Nedde
Apartment vacancies in Burlington typically last about as long as snowballs in summer. That's because the Queen City's vacancy rate rarely rises above 1 percent, compared to the 5 percent indicator of a well-balanced market.
But this summer has been different, according to a number of landlords, including Rick Sharp, an attorney who owns a few city apartments typically leased by students. Sharp says vacancy rates are uncharacteristically high this summer for multi-bedroom rental units. About twice as many four-bedroom units are empty now than is typically the case, he estimates.
Sharp's observation is supported by a flurry of apartment ads that recently appeared in the classified pages of local newspapers.
And it's backed by a report issued last month from Allen & Brooks, a South Burlington-based real estate appraisal firm, that suggests demand is no longer vastly exceeding supply in Burlington's student rental market.
"This market appears to have slowed as a result of high rents and competition from the 403-bed Redstone Lofts apartments at the University of Vermont," the Allen & Brooks report observes. It also notes a new 90-bed dormitory is opening at Champlain College this fall.
Sharp, too, attributes roughly 100 of 200 empty large apartments to the nine-month leases currently being offered at Redstone Lofts, which opens next week. Noting that owners of rental properties require 12-month leases, Sharp asks, "Why would students want to pay rent for an entire year if they're maybe not even going to live in Burlington for the summer?"
Could the availability of 144 brand-new college-sanctioned apartments at competitive rents lead to a permanent softening of the student rental market, altering Burlington's historic pattern of too many would-be renters chasing too few off-campus units?
Housing specialists say no. Nor do they think there's a prospect of much relief for noise-weary homeowners in neighborhoods with high concentrations of students.
Doug Nedde, whose Redstone Commercial Group developed the new on-campus housing project, points out that nine-month leases won't be an option after this year. Once the fall semester begins late next month, he predicts, "the vacancy rate for student apartments will be the same as last year, which is virtually zero." At most, Nedde adds, Redstone Lofts might cause Burlington's overall apartment vacancy rate to inch up by half a percentage point from its current level of 0.9 percent.
Erhard Mahnke, coordinator of the Vermont Affordable Housing Coalition, agrees the new student housing will probably have a "negligible" impact on the expensive rental market in Burlington, where landlords typically charge $750 per bedroom.
Redstone Lofts, which is charging from $650 to $1150 per bed depending on the size of the unit, was fully leased weeks prior to its completion. That means roughly 60 percent of UVM undergrads will be living on campus in the coming academic year. Twenty years ago, 55 percent lived in apartments owned or leased by UVM.
UVM has added more than 1000 student beds over the past decade, not counting Redstone Lofts. About 800 students live in the University Heights apartments built in 2006, while another 160 moved into dorms on the former Trinity College campus, where UVM began housing undergrads in 2005. A few more live in the Spinner Place units built as part of Winooski's downtown redevelopment.
Brian Pine, housing director at the city's Community and Economic Development Office, commends the university for opening these spaces. UVM has also initiated a "more collaborative relationship" with the city and with students' neighbors in recent years, Pine says.
But, he adds, the school's administration has not done nearly enough to address noise and vandalism that, according to some longtime Burlingtonians, have actually worsened even as on-campus housing has increased.
While the percentage of UVM undergrads living on campus has risen, the actual number of students living off campus has jumped, from 3265 in the 1994-1995 academic year to an estimated 3990 this year. That's because UVM's enrollment increased during that period from 7228 to 10,194 today.
And UVM has no intention of constructing any additional housing units. "We don't believe the time is right to increase our goal of housing 60 percent of the undergraduate population," Tom Gustafson, vice president for university relations and campus life, writes in an email. He notes that the university currently requires first- and second-year students to live on campus. Extending that requirement to encompass upperclassmen "may affect their decision between coming to UVM or attending one of our peer institutions, many of which don't have these requirements," Gustafson explains.
Anne Breña, a physician who lives with her husband and children on Bradley Street, one of the epicenters of student revelry, comments, "It's really unfortunate that UVM has that attitude."
Her children, ages 10 and 12, are routinely awakened twice a night — first, around 11 p.m. as the Cats begin prowling the downtown bars and again around 3 a.m. when they stumble back to their dens, where parties may continue until dawn. Noise disturbances originate both with "walk-bys" and in specific student houses on Bradley Street and adjacent Buell Street, Breña says.
UVM's apparent decision to stick with the 60-percent-on-campus formula, which is enshrined in an agreement with the city, contrasts with Champlain College's commitment to house all 2000 of its undergrads within three years in units owned or leased by the school. Champlain currently houses 1260 students, and plans to add space for another 750 beds. In addition to building a set of three dorms between Maple and Main streets, the college intends to convert the former Eagles Club on St. Paul Street and the former Ethan Allen Club on College Street into student housing.
Housing advocates and beleaguered local residents, including Breña, welcome Champlain's initiative. But they worry the college's expanding footprint might exacerbate noise problems on residential streets. Breña's home, for example, looks out on the parking lot of the former Ethan Allen Club.
St. Michael's College already houses all 2000 of its undergrads on campus. The Catholic school advertises that as a benefit for prospective students, suggesting that living in dorms and townhouses will enable them to make friends more easily and will strengthen the college's overall sense of community.
UVM could take the same approach, says Sarah Carpenter, director of the Vermont Housing Finance Agency, which caters to low-income residents in search of affordable housing. "Marketed well, on-campus housing becomes a positive part of the college experience," Carpenter observes. "UVM seems not to have done that."
An earlier Allen & Brooks report — released last year — suggested that Champlain's new housing could prompt Burlington landlords to raise rents more slowly and improve dilapidated properties. But any such effect is likely to be minor, due to a series of countervailing factors also cited in that Allen & Brooks assessment from March 2011.
Among those factors: growing tech firms such as Dealer.com are luring a steady number of 24- to 34-year-olds looking for rental housing. And as the local economy improves, a larger share of local high school or college graduates will likely move out of mom and dad's house to seek rental housing. Lastly, fewer young adults are buying homes due to an inability to get mortgages, says Ken Sassorossi, director of Housing Vermont.
He and Mahnke also point out that the supply of government-subsidized rental units is ticking upward more slowly as federal housing programs are cut back. Although income from rental apartments is virtually recession-proof — and the Burlington area has seen some new units built in recent years — Mahnke cautions that "private developers still don't typically build rental housing."
Mayor Miro Weinberger says in an emailed comment that "building more student housing that reduces stress on residential neighborhoods is a key element of my administration's plan for making Burlington more affordable and livable." He says he will soon take up the issue with new UVM president Tom Sullivan.
Even if UVM decides to shift policy and order the construction of hundreds more on-campus beds, a decade could pass before students are sleeping in them. Nedde notes that it took more than eight years to construct Redstone Lofts from planning to ribbon cutting.
In the interim, UVM will continue to strive for more of the "huge improvements" in neighborhoods where large numbers of undergrads live, says Gail Shampnois, director of the university's student and community relations office. One such improvement: a community coalition of students and homeowners established 16 years ago to air concerns and plan ameliorative actions. The coalition helped start a community garden, for example, in the Isham-Greene streets area that is home to hundreds of UVM students.
Shampnois says her office has applied a variant of the "broken-windows theory" that was used successfully to reduce street crime in New York, Los Angeles and other large cities. The strategy aims to involve homeowners in the search for solutions while ensuring that even minor violations are punished. Renters hosting boisterous parties can be fined more than $300 per offense, Shampnois notes. "We've made big gains in reducing the number of large parties," she says.
But CEDO's Brian Pine says that students can blow off noise summonses with no risk of penalties from the university. "UVM seniors aren't able to graduate if they owe … fines for overdue books. But if you owe the city of Burlington hundreds of dollars in tickets for noise violations, that has no impact on your graduation."
Adds Pine, "UVM has an inability or an unwillingness to hold students accountable for their off-campus behavior."