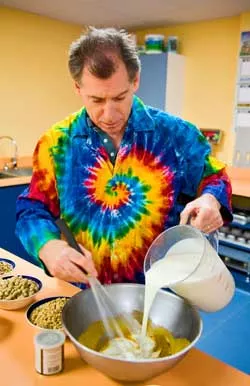 Andy Duback
Peter Lind
They call themselves "Research and Development," a title that smacks of white lab coats and sterile surroundings. They work in an unassuming office park across the street from Comcast in South Burlington. And there would be no Wavy Gravy or Dublin Mudslide without them.
While this facility is less famous than the factory in Waterbury, it's still part of Ben & Jerry's, where whimsy seeps into every pore. When I call PR coordinator Liz Brenna, I get her voicemail message, which starts with an apology that her "Cinnamon Buns" are not currently at her desk and goes on to explain that she may have left in search of a "Chubby Hubby."
There's plenty of flavor inside the building's lobby, too, which looks like one of the company's scoop shops on stimulants. Images of cows (and of cofounders Ben Cohen and Jerry Greenfield) abound. A freezer case invites guests to grab a complimentary Cherry Garcia bar or Vanilla Almond cone. There's a papasan for naps and even a slide, a twisty, two-story alternative route from the chalkboard-walled conference room upstairs.
But I have no time to play. I have stepped into this blue-skied, black-and-white-spotted realm with a mission: to make my very own Ben & Jerry's flavor. For this endeavor, Brenna has hooked me up with Peter Lind, whose official title is Primal Ice Cream Therapist. Yes, it's on his business card.
The "Flavor Gurus," as R&D staff members are publicly known, are carefully guarded. I am not allowed to speak with Lind before our meeting, or even to send him pre-interview questions via Brenna. The day before my arrival here, Brenna warned me that I would probably be restricted to chocolate or vanilla ice cream with whatever mix-ins were being used that day.
That dashed my dreams of experimental flavors such as lavender-white chocolate, pumpkin-cumin or basil with a balsamic swirl and strawberries. Just in case, I loaded a bag with a few different curries before meeting my film crew — Seven Days interns Alexarae Wright and Mike DiBiasio — and photographer Andy Duback at the plant.
When we finally meet Lind, he's wearing a tie-dyed lab coat, which, he points out, "is great for camouflaging everything I drop on it." I am lucky he's found time for me — the R&D team is hard at work preparing to film an episode of the Food Network's "Dinner Impossible" in two days' time. In the show, scheduled to air in October, Chef Robert Irvine will be asked to prepare an ice-cream-themed meal for the Ben & Jerry's annual staff meeting, with Lind and other members of his team as sous chefs.
Lind leads us back to the test kitchen — an ordinary space except for the yellow walls and numerous pint containers. "That's awesome compost!" exclaims intern Wright, noticing two buckets filled with a rainbow of scoops — casualties of a faulty freezer.
What has survived the purge is a pint of cinnamon-spiked chocolate ice cream that Lind has crafted into a complex mole, studded with chipotle and Turkish Urfa chiles. It's for Chef Irvine, but I get first taste.
Lind explains that the five Vermont-based Flavor Gurus create and perfect every pint sold worldwide. Lind still has powder he used in tests of the Green Tea flavor available only in Japan. He notes that Chunky Monkey flopped there; the Japanese balked at munching monkey flesh with their cones.
Hoping the guru will be amenable to my plan, I take out my bag of tricks. Lind grabs a canister of garam masala I brought from home. "That smells amazing," he drawls.
I propose a chocolate ice cream with curry powder. Lind amends this to a curry base with chocolate mixed in. He is also taken with the cans of green and Massaman Thai curry I have brought. "Let's make these a swirl," he proposes.
"You're my new best friend!" I answer.
The Flavor Gurus are not the only professional tasters in the Burlington area. Lake Champlain Chocolates employs quality-assurance testers to take a bite of each batch and tries out new flavors on outside tasters and visitors to its factory. Artisan Coffee has staff to make sure its roasts are just right. At the University of Vermont, Montse Almena-Aliste trains students in "sensory evaluation," the scientific discipline of quantifying tastes and smells.
Lind didn't need such help. The spiky-haired, goateed fiftysomething worked his way through the ranks of kitchens in his native Philadelphia, eventually landing a position teaching pastry and baking at the New England Culinary Institute. Before that, as a Romance languages major at Bowdoin, he briefly ran his own ice cream company. "I kind of blew it," he says. "If I had stuck with it, I would have beat Ben & Jerry's by four years."
In 1988, Lind noticed an ad in the paper seeking people who "'like to play with their food and can keep good records.' I figured I could learn to keep records," he joshes. Out of more than 100 applicants, Lind was among the final two who were asked to write an essay detailing the equipment they'd want if they got the job.
Lind described an RV outfitted with a full lab, "so I can travel the country and go to all the ethnic restaurants and farmers markets and create flavors based on all the great desserts, then send them back to Ben & Jerry's," he recalls. He also requested a chauffeur and a pair of sneakers. "I got the sneakers," he says with a shrug.
Among other real perks of the job, Lind cites the three pints rationed daily to all employees, gym membership and frequent travel. This year, Lind joined Arnold Carbone, "Conductor of Bizarre and D" — that means he's the lead tester — on a trip across Europe making webisodes for the company's "Do the World a Flavor" ice-cream-design promotion.
Smoke billows from the curry as we transfer it from a pan, where Lind has toasted it, to a chilled metal bowl. Lind whisks as he pours the ice-cream base — made of cream, milk, sugar and stabilizers — into the yellow spice mix. On first taste, the curry's earthy flavor is scarce. We dump in the rest; it's still not as strong as I would like, but Lind promises that the tang will intensify with freezing. Into the machine it goes to do just that.
Each Ben & Jerry's flavor undergoes hundreds of revisions before it is considered "finished." Once it is, the recipe goes to the Waterbury factory for a 300-gallon test in the industrial equipment. "A lot of times ingredients don't go in as easily as in the machine here," Lind explains. "Things can get sticky. Over time things can freeze differently. Phish Food was one of those," he recalls. "Karamel Sutra was another. It was a mess, basically."
Then there was Wavy Gravy, of which Lind singlehandedly produced "the first 200 variations." Ben Cohen proposed it with only a name and the description "it's got two swirls and it tastes great." On Wavy's 1993 debut, the pints were swiftly pulled from shelves for a grueling retooling process. "It's all about adjustments," Lind says. "I feel like a chiropractor." Today, he simply refers to the flavor as "hell."
More recently, Lind developed the thin layer of chocolate atop the fudge on the new Flipped Out! — an innovation that prevents the gooey stuff from sticking to the container and makes it easy to, well, flip out.
Although he created modern classics such as Chocolate Chip Cookie Dough, Chubby Hubby and Rain Forest Crunch, Lind is more than forthcoming on his misses. After he added so much rose flavoring to a floral concoction that "you could taste the thorns," one Church Street patron took a lick and commented, "It tastes like my grandmother's underarms." Some of Lind's other favorites didn't even make it that far: He remembers root beer sorbet with a vanilla swirl ("Root Beer Float My Boat") and sambuca-coffee chip, controversially dubbed "Son of Sam."
After just 10 minutes in the freezer, my flavor is ready for its mix-ins. Dark-chocolate-covered almonds are a must, as are salty pistachios. I am less sold on pie crust, but Lind is the boss. We pour the dijonaise-colored concoction into a pastry bag. As I squeeze my mix into the white cardboard pint containers, Lind delicately turns them, swirling in the contents of his bag of Thai curry paste. He puts three pints on dry ice for me to take back to the office, leaving one for our first taste.
The curry flavor has intensified but is still not overpowering. The always boffo combination of curry and chocolate does not disappoint, and the crunch of the nuts results in a fun mouthfeel, abetted by the crumbly piecrust. The swirl starts sweet but slowly coats the back of the throat with a fiery afterburn. Lind labels the pints with my chosen name, "Alice's Seven Days in Curryland," which I later shorten to "Alice in Curryland." To honor Seven Days editor Pamela Polston's request, we have added exactly seven ingredients, including a flurry of sea salt.
Back at the office, my creation gets mixed reviews. General Manager Rick Woods cautiously tries a bite, winces, then comments, "You're freaking me out, man." Polston has a more charitable take: "Best to approach it not as ice cream but as a frozen Indian meal that's a little sweet, a little salty, and a little spicy."
Lind, who says that his favorite flavor "is always the last one I'm working on," thinks our concoction is worth further attention. But then, the Flavor Guru clearly shares some of my tastes — he's a fellow curry nut and, like me, a big fan of Montréal bakery Premiére Moisson. "With a flavor this intense, we might need two gurus to work on it," suggests the expert.
It may take a while. Lind admits he's been working on "the perfect chocolate hazelnut" for 22 years. But I've got time — and big plans for basil and balsamic.