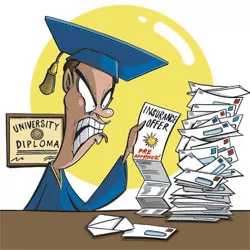 Imagine that you get a letter from an insurance company. Because you or your child attended a certain college, the letter enthuses, you could save up to 10 percent on a car insurance plan. A disclaimer mentions that your school's alumni association receives a fee for allowing the company to market those savings. It also directs you to a website where you can unsubscribe from future communications.
Do you take advantage of the savings? Chuck the letter? Hit that website to opt out of future solicitations? Or do you contact the alumni association directly, worried that your personal information has been sold for profit?
In a process known as "affinity marketing," some companies pay fees to membership organizations — trade and alumni groups, for example — for the right to market discounted services to people on their contact lists. In Vermont, the most visible affinity marketer is Liberty Mutual. The Boston-based provider of home and auto insurance has deals with 750 alumni groups nationwide, including those at the University of Vermont and Vermont state colleges.
The way Liberty Mutual compensates those alumni groups varies from school to school. At UVM, where alumni relations are handled through the UVM Foundation — a legally independent entity incorporated in 2011 to fundraise for the alma mater — Liberty Mutual pays the association based on how many alums it predicts will sign up. At Johnson State College, the alumni association gets a cut for every alum who enrolls.
"The reason that the colleges do it is because it's win-win-win," says Lauren Phillie, director of development and alumni relations at Johnson State. "We get a small percentage of their renewal rates or sign up rates," she says. "The alums get a discount, and if Liberty Mutual wasn't offering the alums a discount, we would never do it."
But some alumni and privacy advocates don't view those partnerships so sympathetically — even if they are legal and lead to offers of cheaper service from a Fortune 100 company such as Liberty Mutual. Affinity marketing isn't new, explains Susan Grant of the Consumer Federation of America, because there has never been a federal law to stop organizations from sharing contact information without their members' consent.
For the corporation, "It's obviously the allure of using an existing channel where there is already people with whom the entity, the partner, has some sort of relationship," Grant says. "We certainly don't have an overarching privacy law like most other developed countries of the world do. It's a real problem. It's very frustrating, because you would think you could at least get something enacted that would give people a choice."
Out of the roughly 10,000 Johnson State alums, Phillie estimates that only three have complained to her about the college sharing their information. "Off the bat, they're like 'Wait a minute, whoa, someone sold my name?'" Phillie says. "But we didn't sell, or share, anybody's name. This is really a Johnson State mailing. We're going into a mutual partnership that they can absolutely opt out of any time."
Phillie doesn't believe the word "selling" describes what Johnson is doing. College officials upload a fresh contact list to a secure website for every approved marketing blast. Johnson's contract with Liberty Mutual prohibits the insurance company from saving those addresses, and no other personal information is shared until the next round of marketing.
"We don't collect any data," says Glenn Greenberg, senior consultant for public relations at Liberty Mutual. "It's really marketing to a list that's provided to us by the alumni association. We adhere to all the solicitation regulations. If someone's on a do-not-call list or something like that, that's noted."
Such assurances don't placate one UVM alumnus who recently registered his own complaint with the UVM Foundation. This fall, Gary Ellenbogen, 58, who lives in New Jersey, received both a letter and an email from Liberty Mutual. In the November letter, which had a seal from the UVM Alumni Association, the company included a pin number for him to redeem those savings. In fine print, the note indicated, "The UVM Alumni Association receives financial support for allowing Liberty Mutual to offer this auto and home insurance program."
In a subsequent series of emails to the UVM Foundation, Ellenbogen decried the "disrespectful and abusive approach your organization has taken to peddle alumni members' privacy" to third parties. Of course, he also wanted off the list.
In response, Rich Bundy, president and CEO of the UVM Foundation, explained that the alumni association's board of directors carefully reviewed Liberty Mutual's qualifications before deciding to partner with the group. He described the convenience of removing individuals from future email lists, and denied his organization "peddled" Ellenbogen's personal information, saying Liberty Mutual "is authorized to use alumni contact information to market this program and only this program."
The federal CAN-SPAM Act of 2003 only requires that companies emailing advertisements allow recipients to opt out of future communications. Instead, Ellenbogen says, he'd like to see the UVM Alumni Association enforce an opt-in policy, where alums would have to consent to receive such communications. In the European Union, companies are required to take that approach.
It's not clear how many of Ellenbogen's fellow alums share his concerns. The Consumer Protection Unit of the Vermont Attorney General's Office hasn't received any complaints about Liberty Mutual's solicitations. And in a conversation Ellenbogen started on the UVM Alumni LinkedIn page — now closed by a site administrator — only two individuals responded. One hadn't received any Liberty Mutual emails. The other expressed her appreciation for the savings.
Alan Ryea, associate VP of alumni relations and development services at the UVM Foundation, says that 23 of the university's 105,000 graduates have contacted his office to opt out of partner mailings.
What other companies are employing the "affinity" approach? Discover recently started offering a branded credit card to UVM alums and parents. At Norwich University, alumni can sign up for a United Services Automobile Association rewards credit card.
Other alumni associations around Vermont have been more reluctant to enter into affinity marketing agreements. Middlebury College has never offered its grads any corporate benefits, according to Meg Storey Groves, associate VP for alumni relations and annual giving. She says vetting the proposals would require significant time and effort, and the school wouldn't want to be seen as endorsing a particular company.
Angela Armour, director of alumni and parent relations at St. Michael's College, explains that the school's alumni board hasn't chosen to offer corporate benefits due to concerns about privacy and flooding inboxes. But alums working in the insurance industry have approached the group, Armour says, and it plans to give the matter some thought this year.
With or without an opt-in policy, St. Mike's and other schools remain free to go that route. That fact, says Grant, is a troubling sign of the times. Ever more personal information is flying across the internet every day, she says, that is worth a lot to companies.
"There is a lot of resistance to any sort of federal legislation on the part of companies, and that resistance is only getting tougher in this era of 'Big Data,' " Grant says. "The presumption is not that you're in control of your information being shared … It's just not where we're at."