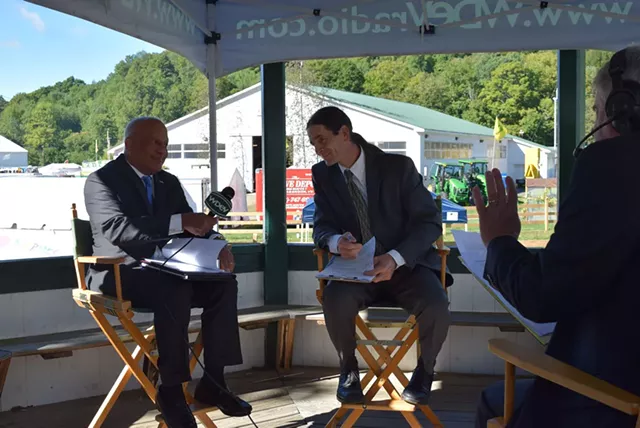 Terri Hallenbeck
Republican candidate for lieutenant governor Randy Brock (left) debates Progressive/Democrat David Zuckerman (center) with WDEV radio talk show host Mike Smith at the Tunbridge Fair last week.
Tom Ostler of White River Junction was just about to bite into an Italian sausage at the Tunbridge World's Fair last Thursday when Sen. David Zuckerman (P/D-Chittenden), a candidate for lieutenant governor, came by and handed him a campaign flier.
"I just really haven't followed the race," Ostler told a reporter after Zuckerman had moved on.
Ostler wore a green T-shirt that declared "Farmers keep Vermont green" and described himself as "pretty liberal." He seemed likely to be a supporter of Zuckerman, who runs an organic farm in Hinesburg. Not necessarily, said Ostler. He said that while he is backing Republican Lt. Gov. Phil Scott for governor, he hasn't given much thought to the lieutenant governor's race.
The contest between Zuckerman and Republican Randy Brock for the state's No. 2 position has indeed remained under the radar. The two candidates, who had their first debate of the general election Thursday morning at the Tunbridge fair, have gotten little scrutiny.
But voters paying attention will find as sharp a contrast between the candidates as any in Vermont politics. Zuckerman, 45, is a gregarious, ponytailed farmer who champions liberal causes. Brock, 72, is a starch-shirted former risk manager who still maintains his Army-trained posture.
Brock and Zuckerman have this in common: Both came to Vermont to attend college and got hooked on the state. Both started their own businesses: Brock International Security Corporation and Full Moon Farm, respectively. Both served four years in the Senate.
But there the commonalities end.
At WDEV Radio's Tunbridge debate — where candidates competed for attention with mooing cows and clucking chickens — Zuckerman touted marijuana legalization as a prime opportunity to bring in new state tax revenues. Brock doubted tax revenues would significantly exceed state costs.
Zuckerman criticized corporate campaign contributions. Brock denounced public financing of campaigns.
Brock emphasized the importance of childhood vaccinations. Zuckerman argued that government shouldn't mandate them.
Zuckerman supported mandatory background checks on all gun sales. Brock opposed any changes to state gun laws.
Zuckerman, who started his political career at age 25 as a member of the Vermont House, can't seem to finish a sentence without invoking the name of Sen. Bernie Sanders (I-Vt.). His fliers prominently declare, "Endorsed by Bernie."
Brock, a former state auditor, didn't get into politics until he retired from Fidelity Investments. Ever at ease with numbers, he contests Zuckerman's claims about jobs added in Vermont over the last six years and tells his audience that Vermont has fewer people employed in 2016 than it did in 2007.
Brock cautions that Vermont can't afford to chase the first-in-the-nation initiatives that Zuckerman promotes, such as single-payer health care. "Would you want to be the first person to have a heart transplant?" Brock asked as the two candidates met for the second time, four days later, at Sen. Bill Doyle's (R-Washington) Johnson State College political science class on Monday.
"I think it'd be great to be first, Randy," Zuckerman countered later in the discussion, arguing that Vermont can lead the nation in green jobs.
Brock's cautious reserve, on display during their first two encounters of the general election, is his selling point, but it hampers his ability to ignite an audience. In an interview, he conceded that when he ran against Democratic Gov. Peter Shumlin in 2012, he never got voters' attention. As much as he tried to sound the alarm that year about the troubled Vermont Health Connect insurance exchange, it would be two more years before anyone heard it.
How will Brock counter his own quietude? He deadpanned: "First, I'm going to get a Donald Trump wig and I'm going to say some really outrageous things." He is, in fact, no fan of Trump and the most unlikely person to say anything outrageous.
Zuckerman has his own Achilles' heel. If he is going to win over Vermont voters in November, the Prog is going to have to prove he's more than head cheerleader for leftist causes — specifically, that he can govern responsibly.
It's an area Brock intends to exploit. Five times in Vermont history, Brock reminds his audiences, a lieutenant governor has been called upon to serve as governor.
"The first governor — 1797, Thomas Chittenden — died in office," Brock says. "The person filling that office has to have the kind of background and focus and ability to be able to step up if need be."
For Brock, that qualifies as a zinger.
Tale of Two Podiums
This is how things go when you are a candidate running against a 42-year incumbent senator:
Half an hour before Sen. Patrick Leahy (D-Vt.) was scheduled to hold a Monday morning press conference at Burlington High School, his Republican challenger, Scott Milne, stood on the public sidewalk across the road.
Milne had announced on short notice that he'd be there and hoped to catch reporters on their way to the Leahy event. For a podium, Milne had repurposed a discarded plastic sign-holder, to which he taped his campaign sign. When reporters attached their microphones, the weight was almost too much for the flimsy structure to hold.
Milne called on Leahy to release documents that would indicate what, if any, involvement he had in Northeast Kingdom development projects that were funded by an immigration investment program known as EB-5. Those enterprises are now under federal and state investigation. Milne argued that Leahy should also release any correspondence related to motion picture projects that received EB-5 funding. Last week, VTDigger.org reported that Leahy's daughter, Alicia Leahy Jackson, is a Motion Picture Association of America lobbyist.
"It should not be this difficult to get information out of a U.S. senator," Milne said, calling for legislation to subject members of Congress to federal public-records laws.
And this is how things go when you are a 42-year incumbent senator running for reelection:
As Milne finished up his impromptu press conference, Leahy walked into the BHS lobby, where a throng of cheering students and teachers greeted him. Awaiting Leahy was a wooden podium, a backdrop of smiling students and a phalanx of reporters.
Leahy was there to celebrate a six-year, $2.8 million grant intended to help low-income Vermont students realize they can go to college. By all indications, the 47-year-old Talent Search program that Vermont Student Assistance Corporation administers is as worthy as they come.
BHS senior Kujtim "Queet" Hashani stepped up to the microphone to say that the program, which assisted his older brother, was now helping him scout for colleges and prepare for the SAT exam.
Congress actually approved funding for the grant last December as part of the omnibus appropriations bill, and VSAC, one of 458 grant recipients across the country, learned about its share in August. Seven weeks before Election Day, Leahy went to BHS to take credit for bringing home the bacon in front of news crews without ever having to hint that, by they way, he's running for reelection.
Mission accomplished, Leahy started to leave without opening the press conference up to questions. He had to catch a plane, he protested, but reporters closed in on him anyway.
He stopped to answer a question about what he had specifically done to secure the grants from Congress. "I worked like mad for them," he said, noting he's on the Senate Appropriations Committee. "I spent a lot of evenings, a lot of weekends, to get extra money."
VSAC president Scott Giles concurred that Leahy's seniority helped him secure more money for the program nationally, which gave VSAC a better chance at getting a share.
Leahy was less eager to answer other questions — EB-5 related ones. He grew more irritated as reporters echoed Milne's complaints. "You can't just attack people," Leahy fumed, arguing that Milne has focused his entire campaign on criticizing him. "What is his position on getting students higher education? He hasn't said a word."
Milne has, rather deliberately, focused his campaign to suggest that Leahy and other longtime incumbents are the issue.
As Leahy stood surrounded by reporters, a BHS staffer rescued him.
"We're so happy you're here," she said, drawing the senator into a cluster of students and staff for photos. "Any other teachers want to get in with this great man?"
Suddenly, late-for-his-plane Leahy had plenty of time for selfies. Minutes passed as he chatted with students about Franklin Roosevelt and Winston Churchill.
Reporters waited him out. As Leahy finally made his way to the door, he was asked: Did he know Charles Leamy, an immigration lawyer who worked on the discredited EB-5 projects? Leamy had contributed $5,000 to Leahy's reelection campaign in 2014, just as EB-5 developer Bill Stenger was called up by the U.S. Securities and Exchange Commission to answer some pointed questions.
"I may have met him, but it doesn't ring a bell," Leahy said.
As Leahy reached a car waiting outside, reporters asked more EB-5 questions that Milne had raised. Leahy shot back: "If he's accusing me of doing something, he should call the U.S. Attorney's Office. I'm tired of him ... He makes baseless charges."
Maybe so, but Milne also managed to make the senator veer from his upbeat script.
Friendly Fire?
Imagine Rep. Cynthia Browning's surprise when she learned she was among 20 Democrats pictured in a Republican ad that criticizes retiring Gov. Shumlin's legacy.
Browning is a Democrat from Arlington, but she has been a consistent thorn in the side of the Shumlin administration and her own party's House leadership. Anybody who's spent more than five minutes watching the Vermont legislature would figure that out.
In 2014, Browning sued Shumlin to find out how he planned to finance his since-dropped plan for universal health coverage. She periodically stands with Republicans at press conferences as they rail against Democratic decisions.
Yet the Washington, D.C.-based Republican State Leadership Committee included Browning's head shot in a recent digital ad campaign and on a website, shumlinlegacy.com. The group said she and a slate of other Democrats are responsible for helping Shumlin leave a legacy of "higher taxes" and "less local control." It also singled out some of the most conservative Dems in the Statehouse, including Rep. Jim Condon of Colchester and Sens. John RoDgers and Bobby Starr, both of Essex/Orleans.
The list was clearly assembled by somebody outside Vermont who viewed all Democratic legislators who face Republican opponents as equally reprehensible.
"This may be another sign of Republican incompetence," says Browning, who is an equal opportunity critic. "This is really, really sloppy."
Vermont Republicans see Browning differently. She is in a two-seat district in which Republican Brian Keefe is running against her and Rep. Steve Berry (D-Manchester). Who would House minority leader Don Turner (R-Milton) like to see win in November? Keefe and Browning, he says, without hesitation.
When Fair Game asked RSLC spokeswoman Ellie Hockenbury last week why Browning was targeted, she said, "These are all Democrats who empowered or were ineffective in stopping the worst of Gov. Shumlin's legacy."
Days later, however, Browning was gone from the website. Why? Hockenbury wouldn't say.