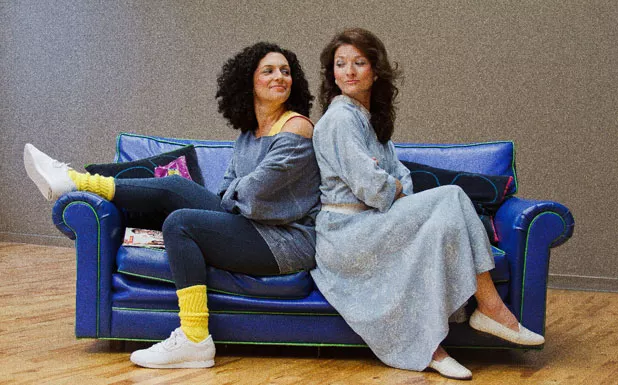 Even if you were born after all the iterations of The Odd Couple — the 1965 Broadway play, the 1968 film, and the TV sitcoms and cartoons of the '70s and '80s — Neil Simon's Tony Award-winning comedy is so ingrained in American culture that you're most likely familiar with the set-up: Two mismatched roommates drive each other bonkers.
Most people think of those roommates as men (in the movie, Jack Lemmon and Walter Matthau played neat-freak Felix Unger and slob Oscar Madison, respectively). But at Main Street Landing Black Box Theater this weekend, Burlington-based Girls Nite Out Productions, which exclusively produces plays with strong female roles, presents Simon's 1985 female version of the classic.
Instead of Felix and Oscar, we have Florence Unger and Olive Madison. They don't play poker, as their male counterparts did, but Trivial Pursuit. And instead of double-dating the Pigeon sisters, these leading ladies look for love with the Spanish Costazuela brothers who live upstairs.
So do these female characters come across as real women, or are they just Oscar and Felix in drag?
"The women in the show, for the most part, aren't all that girly," says this production's director, Kathryn Blume. "They're kind of broads. They're tough; they're funny. They work to connect and communicate with each other, but they're about as bad at it as men are."
Olive is a successful television producer, but she's kind of a slob at home. "It's not that she's dismissive of her surroundings; it's just that she has other priorities," says Blume, who confesses, "if you came to visit my house, you'd see that I'm the same way."
As the play opens, Olive is living alone, having kicked out her gambler husband about eight months earlier.
Florence, by contrast, is the consummate housewife — tidy, organized and meticulous. But her marriage is coming apart. "She's beside herself," Blume says. "Her entire identity has been wrapped up in being a wife and a mother." When Olive invites Florence to live with her, chaos ensues.
The action unfolds in a swirl of blue eye shadow, big hair and neon-colored tracksuits. "We have planted [the production] firmly in the 1980s," Blume says, "partly because the costumes and hair are so much fun, but also because there are parts where the dialogue does feel a little dated."
For the most part, it's all fun and games, but there's a heart in this play, too, notes Blume. "Both of these women have had their marriages end, and they're dealing with grief, loneliness," she says.
Blume says casting this show was a dream come true — Kim Jordan plays Olive, and Lis Gerber plays Florence. In a typical audition, says Blume, "a little bell goes off" every once in a while when an actor is just right for the role. "In this case, the bell went off for every single woman who ended up getting cast," she raves. "They were exactly what we're looking for. Half the work was casting, and once you've done that you just sort of let them loose."
"The Odd Couple — Female Edition," produced by Girls Nite Out, Main Street Landing Black Box Theater in Burlington. Thursday and Friday, October 4 and 5, 8 p.m.; Saturday, October 6, 2 p.m. and 8 p.m.; Sunday, October 7, 2 p.m. and 6:30 p.m. $18-20. flynntix.org