John Walters
Gun-rights supporters making donations to the Federation of Vermont Sportsmen's Club for a lawsuit against S.55 while others wait in long lines to receive free 30-round magazines.
Last Friday afternoon the Vermont Senate gave final approval to S.55, a bill that includes four measures designed to prevent gun violence: mandatory universal background checks for gun purchases, raising the legal purchasing age to 21, and bans on bump stocks and high-capacity magazines. Within 24 hours, gun-rights advocacy groups mustered more than 1,000 supporters to rally in Montpelier for their cause and pick up some 30-round ammunition magazines, which would be prohibited under S.55.
RECOIL, a gun-enthusiast publication, and Magpul, the manufacturer that provided 1,200 mags without charge, organized the event, dubbed Green Mountain Airlift. A long line of eager recipients, many dressed in hunter's orange and camouflage gear, stretched down the sidewalk in front of the Statehouse and along State Street.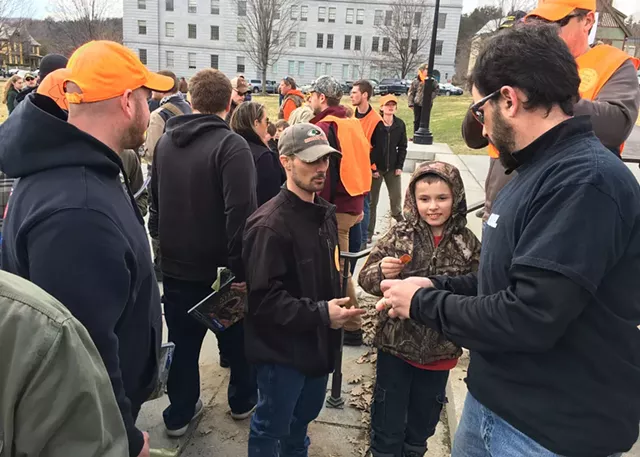 John Walters
RECOIL Magazine executive director Rob Curtis handing out free 30-round magazines,
Friendly politicians and movement leaders gave speeches promising a fight against what they see as an infringement of their rights. Their cause has suffered unprecedented setbacks this year. Now their challenge is to build a counter-offensive on two fronts: the legal and the political.
"Our attorneys are bitin' at the bit right now," said Ed Cutler, president of Gun Owners of Vermont. Evan Hughes, vice president of the Vermont Federation of Sportsmen's Clubs, said a lawsuit is "almost certainly inevitable" and may be pursued in both state and federal courts.
The federation was accepting donations to cover legal fees, which could run $100,000 or more, according to the group's president, Chris Bradley. They must have gotten a good start on Saturday; supporters lined up to hand over cash and checks.
The crowd was well behaved, though there were shouts of discontent — mostly aimed at Republican Gov. Phil Scott. As a candidate, he promised to block gun-control legislation, but now he's prepared to sign S.55 and two other gun bills, as well. Shouts of "Impeach Phil Scott!" and "We need a new governor!" could be heard.
Several Republican lawmakers addressed the crowd, urging an electoral focus on the House and Senate. "You gotta vote," urged Rep. Patrick Brennan (R-Colchester). "We need more pro-gun people in the legislature!"
One officeholder did speak directly against Scott: Democratic Sen. John Rodgers of Essex-Orleans, a staunch opponent of gun regulation. "The governor, who we all supported, went back on his word," Rodgers said. "He sold us down the road!" People in the crowd shouted "Treachery!" and "Traitor!"
Republican politicians appear to understand that challenging Scott would be a losing proposition, not to mention a stunning act of political apostasy. Gun-rights advocates were less measured. Cutler, ever the firebrand, talked boldly of taking on the incumbent, perhaps with multiple candidates. "If he vetoes the bill, we'll forgive and forget," he said. "If he doesn't, well, we have heroes on both sides." (One of those "heroes," pro-gun Republican gubernatorial hopeful Keith Stern, attended the rally but was not invited to speak.)
Cutler also promised to bring the fight to Burlington itself — the heart of darkness for gun-rights advocates. "We're definitely going to target" Sen. Phil Baruth (D/P-Chittenden) and Senate President Pro Tempore Tim Ashe (D/P-Chittenden).
Cutler is aiming very high there. But it is possible that a motivated bloc of voters could turn certain legislative races.
"In some of the rural communities, particularly House races, it will have an impact," said Sen. Dick Sears (D-Bennington), after the S.55 vote on Friday. He likened it to the 2000 election, in which several incumbent lawmakers lost their seats after voting in favor of the same-sex civil unions law.
Vermont Republican Party chair Deb Billado believes that the gun issue will help the GOP, which has had trouble recruiting legislative candidates. "A lot of people are very interested," she said. "This will generate candidates."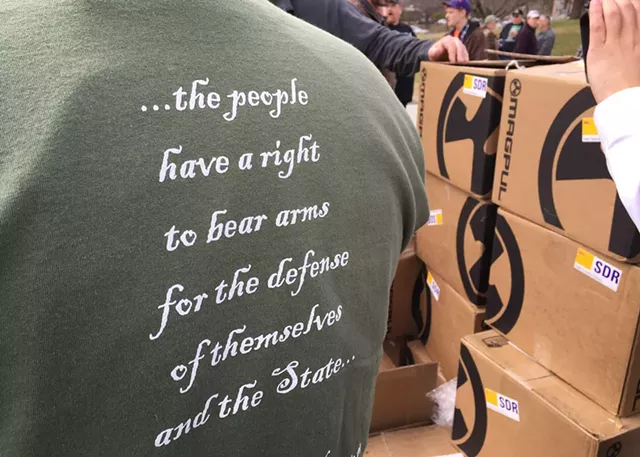 "This changes the dynamic in some districts," acknowledged Terje Anderson, chair of the Vermont Democratic Party. But overall, he believes, the gun issue isn't as predictable as one might think. "People are motivated on both sides," he said. "The question is, who gets more motivated?"
Anderson, who lives in the Franklin County village of Montgomery, has noticed a dynamic similar to that of the gun-rights rally. "When I talk to my [gun-owning] neighbors about it, they're not mad at the legislature; they're mad at Phil Scott," Anderson said. "There's a palpable anger toward Scott." Anderson thinks that Stern, or another pro-gun candidate, could pull significant votes from the incumbent in both the Republican primary and the general election.
"I don't know how it can not hurt him," acknowledged Billado of the governor's pivot away from his pro-gun stance. But, she added, "Phil Scott is an extremely smart man. He wants to do what's right. He will figure that out."
The stakes are high for the gun-rights community. For years, its members have held gun legislation at bay through their dedicated advocacy, making guns "the third rail of Vermont politics," according to Anderson. Now, for the first time in living memory, they've been knocked back on their heels by a wave of gun-regulation support. Suddenly their opponents are just as motivated, and seemingly more numerous. If they can't deliver on their promises of retribution at the ballot box, their political power may be a thing of the past.
Their cause won't be helped if there are divisions between the party faithful and its governor. Speaking of which, how about this rather inflammatory tweet from Saturday?
"A sad day in Vermont. Repub Gov breaks repeated pledge; will sign bill taking rights from law-abiding citizens with no increase in safety."
The author was VTGOP vice chair Brady Toensing, who lobbied for a gun manufacturer during the S.55 debate. Toensing declined to be interviewed, but he did email a statement. "Laws like this, which are driven by politics and emotion rather than constitutionality, are why we have three branches of government," he wrote. "This law will be challenged in court."
A top GOP official threatening his party's governor with legal action is something you don't see every day. A sign of bad blood between party and leader? Sure seems like it. Gun owners make up a big portion of the party's activist base.
At the rally, Rep. Janssen Willhoit (R-St. Johnsbury) told the crowd that Scott is "not worried about his race, but I'm worried about mine." If gun-rights supporters are disenchanted with Scott, they may well decide to stay home. And that might kill Republican hopes to gain ground in the legislature.
Failure to Communicate
The collapse of CoverageCo is a story that's just beginning to unspool. The carrier, which had provided wireless service along 150 miles of state highway and in 26 previously unserved communities in rural Vermont, is on the verge of disintegration. Townshend's Grace Cottage Hospital depended on the company for cell service.
Last Thursday, the House Energy and Technology Committee sought answers from Public Service Commissioner June Tierney. Her testimony raised a lot of questions about the structure of the CoverageCo deal and the state's apparent lack of commitment to rural connectivity.
The deal was "a gamble" on the state's part, she said. And it was a partnership in which the state had no regulatory authority. That means, according to Tierney, "We can't force [financial] disclosure." So the state is in the dark regarding the firm's finances. The company is now owned by Rose Park Advisors, a Massachusetts investment firm, and Vermont has nothing more than a "point of contact" with them, she said.
More good news: "The CoverageCo project was never completely built out," said Tierney. "We are assembling information on how much."
That'd be nice to know.
CoverageCo is a subsidiary of Vanu Inc., a company that was the brainchild of Vanu Bose, who was by all accounts a brilliant innovator. He died unexpectedly last November at age 52. Along with Bose, noted Tierney, "significant impetus for the arrangement died as well." Which is a nice way of saying that the state essentially laid its trust and a $4 million capital investment on the slender branch of one man's genius.
Also, CoverageCo's service was 2G, which is rapidly becoming obsolete and is, Tierney said, "not worth the investment" it would take to rebuild. Clay Purvis, director of telecommunications and connectivity for the state, told the committee that it would be "difficult or impossible to adapt to 4G or upgrade from 2G ... I don't think CoverageCo was ever prepared to make those upgrades."
That seems astoundingly shortsighted in an industry that evolves at warp speed. Put all these items together, and there are legitimate grounds to question the state's decision making and oversight.
Now, let's turn to the bad news about the future.
The state is investing precious little money in expanding wireless service, even as every politician and official trumpets the need for boosting the rural economy. According to committee member Rep. Laura Sibilia (I-West Dover), that figure this year is a mere $400,000.
Tierney told the committee that the state has a clear policy of extending wireless service to all but granted that the reality is somewhere off in the distance. "There are 'North Stars' in statute," she said. "We steer toward them. Patience is required."
At this point, patience must be in short supply in areas that have been hearing empty promises for years — and especially for communities that have just had wireless service snatched away.
Media Note
There's yet another departure to report at WCAX-TV. Eva McKend, coanchor of the 5:30 p.m. and 11 p.m. newscasts, is about to leave for the nation's capital and a career opportunity too good to pass up: She will be a Washington, D.C.-based correspondent for Spectrum News, a regional cable news group owned by Charter Communications.
"I look forward to the new job, but it's bittersweet," she said. "I love Vermont. I've been able to amplify the voices of people of color in Vermont. It's difficult to leave that behind." McKend is the only black news anchor in a state whose media corps is almost entirely white.
Her departure, tentatively set for April 13, leaves WCAX news director Roger Garrity with another opening to fill. "She came in the day after Kristin [Kelly] announced her departure and told me she had a new job," Garrity recalled. (Kelly, longtime 6 p.m. anchor, announced in mid-March that she was becoming a spokesperson for Green Mountain Power.)
Quite a few WCAX-ers have left since the Martin family sold the station last May. Garrity insisted that that's a coincidence. He pointed out that every departing staffer was leaving for a better job or for family reasons. "Not one person has walked in and said, 'I can't stand working here anymore,'" he said.
That may be true. Of course, people who work in the media business know that it's unwise to burn bridges. "Take This Job and Shove It" is a classic song, but it's not an effective career-building technique.