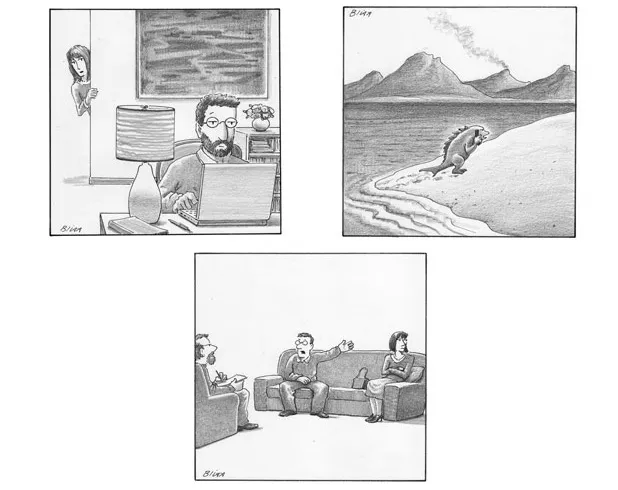 Are you a fan of the New Yorker cartoon-caption contest in the back of the magazine? Do you think yours are funnier than the ones the editors choose? Then get yourself to the Burlington Book Festival this Friday night, 'cause Phoenix Books is hosting a live contest featuring three single-panel cartoons by Harry Bliss.
The Burlington resident and New Yorker cartoonist — who also contributes a weekly panel to this newspaper — will give a brief presentation about cartoons and what makes them funny. Then participants will work in teams of four to six people to come up with captions for the three cartoons you see here. (Take this as an opportunity to get your creative juices flowing in advance. The images are also on view at Phoenix Books.)
"We did this at the New Yorker festival a couple years back, and it was so much fun," Bliss says. Likewise, this Saturday's event in Burlington "should be a blast," he predicts.
Adding to the frivolity are three funny judges of the contest: Josie Leavitt and Kevin Byers are local standup comics; and Jim Romanoff is a food columnist for the Associated Press whom Bliss assures is "a hilarious guy." The judges will read the funniest captions aloud and choose the winners. And there will be prizes — including the glory of having the winning captions published in Seven Days next week!
New Yorker Cartoon Caption Contest With Harry Bliss, Friday, September 20, 7 p.m. at Phoenix Books Burlington. burlingtonbookfestival.com