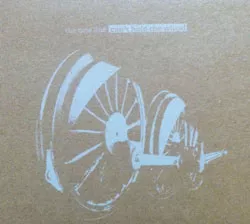 (Self-released, CD, digital download)
Though it's sometimes a risky proposition, the commingling of disparate musical cultures can often produce enlightening results. In the best cases, such as Abigail Washburn's marriage of Appalachian and Chinese music traditions with the Sparrow Quartet or, more famously, Paul Simon's landmark album Graceland, a savvy composer can highlight complementary qualities in far-flung styles that inspire listeners to view each with a new perspective. Brattleboro's Brendan Taaffe is one such songwriter. His new record with his band the New Line, Can't Hold the Wheel, is an absorbing mixture of American and African musical styles, presented through a collection of reimagined Americana classics. Or, as Taaffe puts it on his Bandcamp page, "music from the intimate borderlands of indie folk and Afropop."
Two instruments with symbiotic tones are found throughout the recording and forge the album's multicultural sonic identity. The first is the mbira, a traditional African thumb piano with origins in Zimbabwe — where Taaffe recently traveled to study with masters of the instrument. The second is likely more familiar to Western audiences: the banjo.
Taaffe enlisted North Carolina-based banjo virtuoso Adam Hurt, who plays the steel-string banjo common to American roots music as well as a version of that instrument's West African ancestor, the gourd banjo. Together, the banjos and mbira both complement and contrast with each other. The former's languid, piercing ripple weaves around the rounded tones of the latter, creating a complex and delicate tapestry that breathes new life into 12 timeworn favorites.
Joining Taaffe and Hurt on songs such as Dock Boggs' "Danville Girl," Dylan's "Nobody 'Cept You" John Prine's "Speed of the Sound of Loneliness," along with a handful of traditional tunes, is a cast of top-notch talent. Ace engineer Colin McCaffrey recorded and produced the record, chipping in on electric guitar and bass. Stefan Amidon added percussion and vocals and contributes to the record's often dreamy aesthetic. His brother is Brattleboro's Sam Amidon, a singer known for his own ethereal manipulations of American folk music. Rounding out the group are trumpeter Mike Olson and vocalist Heather Masse, of Joy Kills Sorrow and the Wailin' Jennys renown.
The result is a stark, stirring and surprisingly accessible work that, like its spiritual cousin and probable inspiration Graceland, honors the musical heritages of the disparate cultures from which it was born.
Can't Hold the Wheel by the New Line is available at brendantaaffe.bandcamp.com. The New Line play Headroom Stages in Brattleboro on Friday, December 6, and Sweet Melissa's in Montpelier on Saturday, December 7.