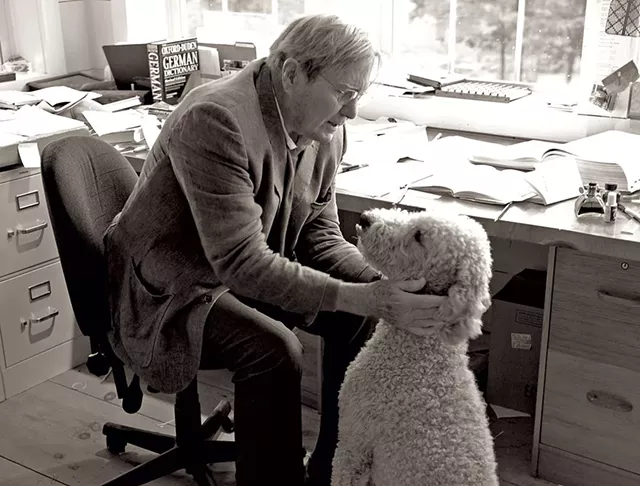 COURTESY OF RICHARD BROWN
Galway Kinnell and his dog
A munificently talented and prolific generation of American poets is leaving us. In recent years, we've lost Adrienne Rich, Philip Levine, Maxine Kumin, Daniel Hoffman, Carolyn Kizer, Galway Kinnell, and, in 2017, John Ashbery and Richard Wilbur — all writers born in the 1920s.
One of those losses has particular significance for Vermonters. This month, Collected Poems was published as the final testament to Kinnell, who had a home in the Green Mountain State for more than 50 years. The volume assembles poems from all 14 books he published in his lifetime, along with seven newer poems. The book is beautifully paced in chapter-like sequences and introduced with a copious retrospective essay by poet Edward Hirsch.
Locals will have a chance to celebrate both book and poet on Wednesday, December 13, at the St. Johnsbury Athenaeum. The book's coeditor, Barbara Bristol, will join readers Tune Faulkner, Jody Gladding, Melissa Hammerle, Bob Joly, Reeve Lindbergh and Lisa von Kann. For newcomers to Kinnell's work, the event will reveal a writer whose poems are especially accessible via their vibrant and often comic storytelling. They are wonderful to read aloud, full of sonic complexities.
Kinnell was born in 1927 in Providence, R.I., the son of a carpenter and a house cleaner, and grew up in the ramshackle mill town of Pawtucket, moving as a teen to New Hampshire. At Princeton University, his classmate was poet W.S. Merwin. After earning a master's degree and doing some teaching, Kinnell spent much of a decade traveling in Europe and the Middle East, including more than a year in Iran, the setting of his novel Black Light.
Returning to an America in tumult, Kinnell worked to promote integration and voter registration with the Congress of Racial Equality and the Student Nonviolent Coordinating Committee. In 1968, with other writers and editors, he signed a pledge to refuse payment of taxes in protest of the Vietnam War. The anguish and strife of that epoch appear ferociously on the page in Kinnell's long poem The Book of Nightmares (1971).
In 1960, for $800, Kinnell bought a 1750s-era house in Sheffield, in the Northeast Kingdom. For many years, he divided his time between Vermont and numerous colleges, where he taught literature and creative writing. Eventually, he received an endowed professorship at New York University.
In 1982, Kinnell won the Pulitzer Prize for Selected Poems, which shared the 1983 National Book Award for Poetry with Charles Wright. Kinnell served as a chancellor of the American Academy of Poets and produced vital translations of poets such as François Villon and Rainer Maria Rilke, along with editing an "essential" edition of Walt Whitman. From 1989 to '93, he was Vermont's state poet, a post later renamed poet laureate.
When he retired from teaching in 1995, Kinnell moved full time to Sheffield, where he died in 2014 of leukemia.
Interviewed for the 2005 book Vermont Writers: A State of Mind, Kinnell told Yvonne Daley that he made his home in Vermont because "it's good to live in a place where you're not entirely disapproved of, where you're in some sort of basic agreement with most of the people about how the political life should be organized, about what is the role of the human in the environment ... There's a general respect for the land and the other creatures, which in my mind is essential."
Kinnell would always speak of humans as "creatures," not granting us a higher status than animals but rather viewing us as exalted by our existence among them. In audacious and generous poems such as "The Bear," "The Porcupine," "Flies" and "Saint Francis and the Sow," humans are reawakened by transformative encounters with beasts that are marvelous yet real.
Kinnell described Sheffield as "a little out of the way. You can't get anywhere by driving through the town. It's off by itself, unassuming." And he told Daley that he appreciated the way his neighbors "respect poetry but don't idealize it."
Kinnell had a dual subsistence, combining a home on North Country land that he loved with the excitement of traveling as a bard-for-hire to various universities in the U.S. and abroad. "I take sustenance from wanderlust," he told Chard deNiord — the current Vermont poet laureate — in an interview that will be included in the forthcoming book from University of Pittsburgh Press I Would Lie to You If I Could. In the process, Kinnell wrote splendidly and sensuously of wild locales and cityscapes, and about the denizens of very different places.
Whether the details are urban or rural, his strongest poems have the vigor and precision of acutely observed nature writing. And they demonstrate his special expertise with a flexible yet pressurized poetic line.
Collected Poems by Galway Kinnell, introduction by Edward Hirsch, Houghton Mifflin Harcourt, 640 pages. $35.
Made of phrases deployed in accumulating clauses that extend into sentences, grammatically complex and complete, Kinnell's texture is distinctive. After his first couple of books, he abandoned patterned stanzas and end rhyming in favor of custom-built forms, but he retained from poetic forebears an abiding sense of cadence. Through his Collected Poems thrums a metrical pulse, and the vowels often reverberate as though a line of verse were a flexing plank struck by the voice.
Over the years, Kinnell became nearly as revered for his public readings as for his publications. His recitations in a resounding baritone verged on song while remaining grounded in speech. Strong Is Your Hold, the final book published during his lifetime, includes a CD on which the poet addresses his reader poem by poem, demonstrating his blend of oratory and everyday speaking.
During one of his readings at Dartmouth College, attended by this writer in the mid-1980s, a woman with a restless child was in the audience. Concerned about the noises the little boy was making, she rose to leave, but Kinnell said, "No, don't go — he's my tuning fork."
The poet's charm at such moments may have been part of the performance, but this response harmonizes with how his poems constantly celebrate our presence as bodies. Kinnell's artistic credo was sacramental carnality, both skeptical and prayerful. He wrote exactingly of parenting and childhood — the miraculous arrival of babies and their avid, clamorous growing — and of ardent existence. In "The Quick and the Dead," he describes our "fellow creatures" devouring a buried body: "the underdigging / and jiggling and earthing over and mating / and birthing forth." (All quotations are from Collected Poems.)
Is his work autobiographical? The characteristic Kinnell poem has an identifiable first-person narrator and a recognizable setting or dramatic situation, often unfolding like a compressed story. He might refer directly to a personage called Galway Kinnell (as in "This happened to your father and to you, Galway," from "Sheffield Ghazals") and incorporate the names of family members, lovers and friends. Yet poems are a mongrel species; they can be as documentary as nonfiction and as inventive as fiction.
In a late poem, "It All Comes Back," the narrator/father offers his grown son Fergus a trio of options with check boxes, inviting him to select which outcome the poet should give to a poem about an embarrassment suffered by the "character" of Fergus as a little boy. The moment is hilarious and piercing, reminding us how writers utilize and transmute their own lives and those closest to them.
Longtime readers of Kinnell are familiar with his almost continual tinkering with older poems. Many of us recall seeing him make changes with a pen in a printed book even while at a rostrum giving a reading. There are at least three published versions of the poem "Feathering," for instance, and discerning readers might well disagree on their relative merits.
In other cases, revision clearly paid off. As first published in When One Has Loved a Long Time Alone, the poem "Oatmeal" was baggy, meandering; in A New Selected Poems it was briefer by a third and much more taut in rhythm.
Likewise, when Kinnell edited Whitman, he dismantled that ceaselessly revising ancestor's "final" Leaves of Grass and created a montage of what he believed to be the most intense and eloquent segments from earlier editions.
Some readers enjoy comparing variations, and Kinnell's older books are mostly in print or not hard to find used. Now, this new Collected Poems provides definitive renderings of Kinnell's poetry in a majestic hardcover volume. Gathering the poems in one place for those who've long loved his work, it's also a welcoming gateway for newcomers.
"Blackberry Eating" (1980)
I love to go out in late September
among the fat, overripe, icy, black blackberries
to eat blackberries for breakfast,
their stalks very prickly, a penalty
they earn for knowing the black art
of blackberry-making; and as I stand among them
lifting the stalks to my mouth, the ripest berries
fall almost unbidden to my tongue,
as words sometimes do, certain peculiar words
like strengths or squinched,
many-lettered, one-syllabled lumps,
which I squeeze, squinch open, and splurge well
in the silent, startled, icy, black language
of blackberry-eating in late September.
From "When One Has Lived a Long Time Alone" (1990)
When one has lived a long time alone,
one wants to live again among men and women,
to return to that place where one's ties with the human
broke, where the disquiet of death and now also
of history glimmers its firelight on faces,
where the gaze of the new baby meets the gaze
of the great granny, and where lovers speak,
on lips blowsy from kissing, that language
the same in each mouth, and like birds at daybreak
blether the song that is both the earth's and heaven's,
until the sun rises, and they stand
in the daylight of being made one: kingdom come,
when one has lived a long time alone.
Everyone Was In Love (2006)
One day, when they were little, Maud and Fergus
appeared in the doorway naked and mirthful,
with a dozen long garter snakes draped over
each of them like brand-new clothes.
Snake tails dangled down their backs,
and snake foreparts in various lengths
fell over their fronts. With heads raised and swaying,
alert as cobras, the snakes writhed their dry skins
upon each other, as snakes like doing
in lovemaking, with the added novelty this time
of caressing soft, smooth, moist human skin.
Maud and Fergus were deliciously pleased with themselves.
The snakes seemed to be tickled, too.
We were enchanted. Everyone was in love.
Then Maud drew down off Fergus's shoulder,
as off a tie rack, a peculiarly
lumpy snake and told me to look inside.
Inside the double-hinged jaw, a frog's green
webbed hind feet were being drawn,
like a diver's, very slowly as if into deepest waters.
Perhaps thinking I might be considering rescue,
Maud said, "Don't. Frog is already elsewhere."
Poets Remember Galway Kinnell
Asked about the impact of Galway Kinnell's work on their own lives and practice, Vermont poets were specific.
Baron Wormser, now living in Montpelier and former poet laureate of Maine, wrote in an email of Kinnell's rootedness in a particular earth, "the autochthonous that goes with us each day, a sort of inner shadow — rags and nightmares, bears and deer — that wants a poet to pull forth its raw glory. Beneath the casual-seeming prosody, there is the taut romanticism of a clear-eyed lover who is, accordingly, ever-bewildered."
Julia Shipley of Craftsbury (a contributing writer to Seven Days) observed that Kinnell "did gorgeous things with language: 'The bee is beautiful / She is the fleur-de-lys in the flesh.' That's so playful and apt and fun to say! But he wasn't just playful; he made music from his melancholy, too."
Shipley noted that Kinnell's New York Times obituary called him "plainspoken." "Sure, he used regular words: bee, brick and joggers. But he also wrote, 'Would that muck were an ointment a chthonic / apothecary oozes up in the earth's devastated places.' Plainspoken, my ass — oops, I mean my fleur-de-lys."
Greg Delanty, now teaching at Saint Michael's College, remembers eagerly waiting as a young poet in Ireland for an imported copy of Kinnell's Selected Poems. He called Kinnell "such a great poet and such a great reader of poems, both his own and others — I don't think there has ever been a better reader aloud of Whitman, for instance. Galway himself comes from the Whitman line and is very much a poet of the mouth — just read 'Blackberry Eating' aloud."
Several of his poet comrades mentioned Kinnell's skill at unearthing old words, offering them not like antique curios but as just right for the task at hand.
When Vermont poet laureate Chard deNiord was interviewing Kinnell for the book I Would Lie to You If I Could, he asked where he found "words like plouters, pronotum, noggles, sloom, drouking, moils, gowpen and dunch." Kinnell replied that he treasured a 1925 Webster's International Dictionary containing "old words that have stuck to my brain ... They're actual words, except perhaps I made up 'dunch.' 'Moils' and 'pronotum' are still words in good standing. Others, unfortunately, have passed out of usage. I hate losing them, so I use them."
Also by email, Jody Gladding of Calais recalled first discovering Kinnell's poetry in The Book of Nightmares. "Along with Denise Levertov, Kinnell seemed to me to embody the lyric poet, lyric as in the poet who sings and, in that singing, steps out of linear time and holds open the moment for us.
"The lines I return to," added Gladding, "are from 'Under the Maud Moon'":
And in the days
when you find yourself orphaned,
emptied
of all wind-singing, of light,
the pieces of cursed bread on your tongue,
may there come back to you
a voice,
spectral, calling you
sister!
from everything that dies.
And then
you shall open
this book, even if it is the book of nightmares.